Quality Systems, Inc. (NASDAQ:QSII) continues to be on the cutting edge of commerce as the company offers a new way to take advantage of its medical record services. Just over a week ago, the company announced that it would offer both the NextGen Electronic Health Record (EHR) product and the NextGen Enterprise Practice Management (EPM) on a subscription basis. The products will be available as a bundle for $799 per practice per month, or practices can choose either individual offering for $599 per month. It seems likely that most medical or dental practices will opt for the full package which should help to drive very predictable revenue for QSII.
In conjunction with the new service roll out, the company is also offering a money back guarantee. The guarantee is in regards to concerns from customers who are anxious to commit capital to a record keeping program without knowing if the program will comply with evolving federal regulations. But since the offering is designed as "Software As A Service" or SAAS, the company can actually continue to upgrade the offering to meet regulations and the customers will never need to install new modules or perform any of the tedious maintenance.
Now some analysts are concerned that QSII is making a promise that will be difficult to keep. After all, it is difficult to know exactly what the long-term regulations will look like and it could become costly to maintain that commitment. QSII is not adjusting its balance sheet with a contingency liability for if it were not able to satisfy customers. Management has stated that the wording in the contract is such that they believe the risk of a cash outlay is relatively non-existent.
The market appears to like the new program as the stock was up 4.6% last week (all of the gains were from Friday's rally of more than 8%). Medical records have gotten a lot of attention as the President has made it clear that this is a priority for his administration. There are potentially billions of stimulus dollars expected to flow into this industry and returns on investments could be substantial! However, even without a dime of stimulus spending, the industry (and Quality Systems specifically) should grow at an attractive rate.
This is because the medical industry is largely behind the times when it comes to keeping track of medical records. I'm sure you have seen plenty of doctor's offices where records are stored by hand in a room full of manila folders. Whether the government enforces a change in technology or not, many doctors offices are beginning to see the value in efficiency and accuracy that comes with electronic medical records.
And Quality System's new approach to its service reaches out to small doctors offices or individual practices. I believe we will continue to see strong revenue growth in the coming quarters, and as an investor, I am impressed with a reasonable multiple on the stock. Looking at the current year (ending March 31, 2010) analysts are expecting the company to earn $2.04 per share. Now this figure may be conservative, but assuming it is correct, the stock is trading at a PE of 23. That's not cheap by any means but it is a far cry from the PE on Medical records competitor Athena Health (NASDAQ:ATHN) which is nearly 50. In fact, ZachStocks has suggested in the past that it may be worthwhile to use a pairs approach where one buys Quality System and shorts an equal dollar amount of Athena Health. At any rate, Quality Systems is in a strong position to offer gains over the coming quarters.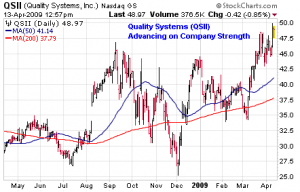 Disclosure: Author does not have a position in QSII.