Valero Energy Corp (NYSE:VLO) is a refining and marketing company. VLO closed flat at $44.95 on March 27, 2013. VLO had been trading in the range of $20.00-$48.97 in the past 52 weeks. VLO has a market cap of $24.85B with a beta of 1.53. With the recent pullback, investors can review the long-term position for VLO, which has higher margins with a fair priced cash flow.
All Ethanol Plants Running
Valero Energy had resumed production on March 21, 2013 at an ethanol plant in Linden, Indiana, the last of several plants that the company idled in 2012 due to poor margins. The Linden refinery was idled last year. When running, it can process about 43 million bushels of corn into 120 million gallons of denatured ethanol and 370,000 tons of co-products. Valero spokesman Bill Day said, "Improved margins have allowed the plant to be operated profitably, which led to the restart".
Operations resumed at a Valero facility in Bloomingburg, Ohio, in early March and a plant in Albion, Nebraska, was restarted last month. With the restart of the Linden, Indiana, plant, all 10 of Valero's U.S. ethanol facilities are online.
Analysts' Calls and Estimates
On March 15, 2013, Barclays reiterated its overweight rating and increased its target price to $75 (from $70) for VLO. Analysts currently have a mean target price of $50.46 for VLO, suggesting 12.26% upside potential. Analysts, on average, are estimating an EPS of $1.08 with revenue of $30.98B for the current quarter ending in March, 2013. For 2013, analysts are projecting an EPS of $5.66 with revenue of $128.19B, which is 7.89% lower than 2012. However, for 2014, analysts are predicting an EPS of $5.73 with revenue of $137.86B, which is 7.50% higher than 2013.
Improving Cash Flow
VLO's free cash flow had improved significantly and turned positive in mid-2010. VLO's free cash flow resumed its increase in early 2012 and reached $1.86B by the end of 2012. The current price to cash flow ratio of 13.40 remains reasonable and is well below its high in early 2011.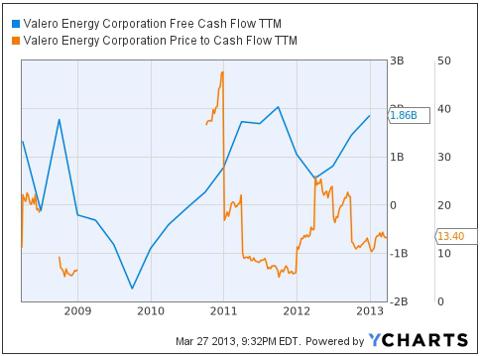 Click to enlarge
Source: YCharts.com
There are a few positive factors for VLO:
Higher revenue growth (3-year average) of 29.2 (vs. the industry average of 10.9)
Higher operating margin of 2.9% and net margin of 1.5% (vs. the industry averages of 2.2% and 1.4%)
Lower P/B and P/S of 1.4 and 0.2 (vs. the industry averages of 2.2 and 0.3)
Lower Forward P/E of 7.7 (vs. the S&P 500's average of 13.9)
VLO generates a strong operating cash flow of $5.27B with a levered free cash flow of $1.53B
VLO currently offers an annual dividend yield of 1.78%
Technically, the MACD (12, 26, 9) indicator is showing a bearish trend, but the MACD difference continues to converge. RSI (14) is nearly neutral at 52.18. VLO is currently trading above its 50-day MV of $43.87 and 200-day MA of $32.80. The next resistance is $47.79, the R1 pivot point, followed by $49.99, the R2 pivot point, as seen from the chart below.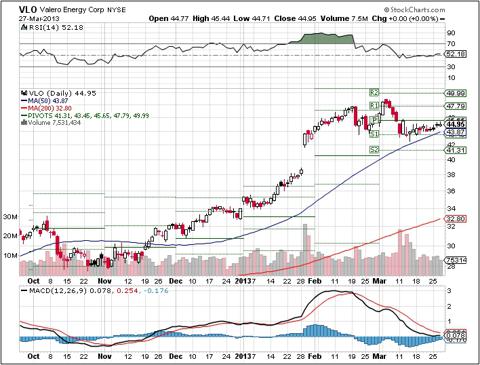 Click to enlarge
Source: StockCharts.com
How to Invest
By using cost-advantaged crude or residuals for about two thirds of its feedstock, Valero has historically delivered higher margins than its competitors. In the near-term, the price seems to be stabilizing above its 50-day MA. For long-term investors, a credit put option spread of June 22, 2013 $39/$41 put can be reviewed. Investors can also review the following ETFs to gain exposure to VLO:
Dynamic Energy E&P (NYSEARCA:PXE), 5.02% weighting
Dow Jones U.S. Oil & Gas Exploration & Production Index Fund, 4.91% weighting
S&P Equal Weight Energy ETF (NYSEARCA:RYE), 2.74% weighting
Note: All prices are quoted from the closing of March 27, 2013. Investors and traders are recommended to do their own due diligence and research before making any trading/investing decisions.
Disclosure: I have no positions in any stocks mentioned, and no plans to initiate any positions within the next 72 hours. I wrote this article myself, and it expresses my own opinions. I am not receiving compensation for it (other than from Seeking Alpha). I have no business relationship with any company whose stock is mentioned in this article.