By Sumit Roy
Natural gas was steady above $4/mmbtu after the Energy Information Administration reported that operators withdrew 95 billion cubic feet from storage last week, above the 90 bcf withdrawal that most analysts were expecting. The withdrawal was also bullish compared to last year's build of 50 bcf and the five-year average build of 8 bcf.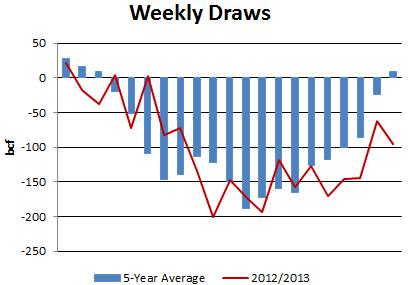 In turn, inventories now stand at 1,781 bcf, which is 642 bcf below the year-ago level and 59 bcf above the five-year average (calculated using a slightly different methodology than the EIA).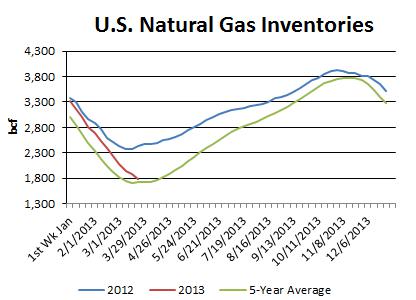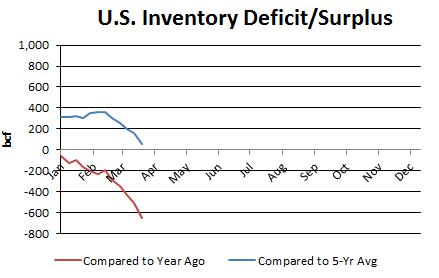 The weather last week was much colder than normal and last year at this time. Looking forward, the NOAA's six- to 10-day outlook calls for more chilly weather across the Midwest and on the East Coast.

NOAA Six- to 10-Day Outlook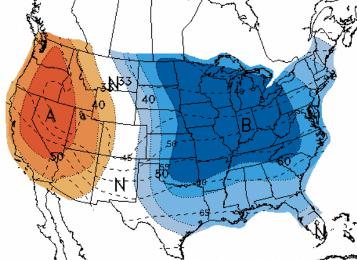 Meanwhile, the number of rigs drilling for natural gas in the U.S. fell by 13 last week to 418, according to Baker Hughes.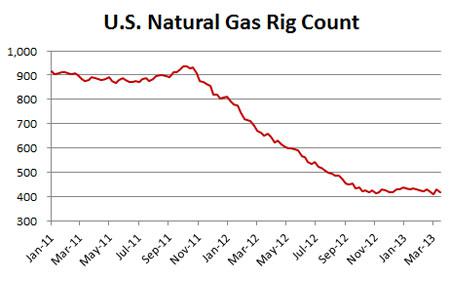 Natural Gas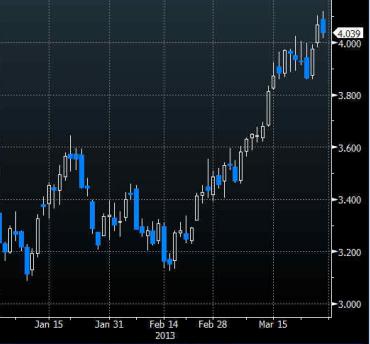 Bottom Line: The latest inventory report from the EIA was bullish as the surplus over the five-year average fell another 103 billion cubic feet to stand at 59 bcf. The seemingly never-ending cold snap across the East Coast and Midwest is set to continue in April, and thus we are likely to see inventories fall into a deficit vs. the five-year average in the coming weeks. The draw to be reported next Thursday is likely to be in the triple-digit range, pushing inventories close to 1,680 bcf.
Depending on the extent of the cold weather during the first week of April, the following week could see a smaller but still-sizable draw, leading to a winter-carryout just above 1,600 bcf, or 100 to 130 bcf below the five-year average. While chilly temperatures have lent a hand to bulls in recent weeks, the withdrawals from inventories we've seen have been large even on a weather-adjusted basis. Whether this is a sign of the beginning of the long-awaited decline in U.S. production remains to be seen. Once temperatures moderate and inventories begin to increase seasonally, we will be better able to gauge how tight the supply-and-demand balance really is.
In the meantime, we expect prices to establish themselves between $4 and $4.30, just on the basis of the low end-of-winter storage carryout that is now essentially in the bag.