April 10, 2009 was not a "Good Friday" for The Boeing Company (BA), as it culminated a spate of bad news!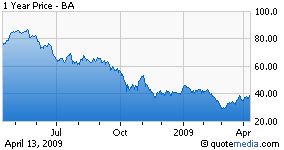 First, the Company announced that its net orders for the first quarter of '09 totaled a negative 4 shipsets, as previous orders for 32 787s had been cancelled, which more than offset the 28 orders it had received for other models.
Then it was learned that Defense Secretary Gates appears to be intent on terminating a number of programs, including the Army's Future Combat Systems program – for which Boeing is the prime contractor – and the Air Force's F-22 Raptor – for which Boeing is an associate contractor.
Subsequently, Boeing announced that it will adjust production at its Everett facility, with the 777 declining from 7 aircraft per month to 5, while 747-8 and 767 rates will be maintained at current levels of about 1 each per month, rather than being sped up; that announcement also included the admonition that these production decisions, coupled with unfavorable price escalation, would reduce Q1-09 earnings by ~ 38¢ per share.

Finally, it was reported that S&P's Rating Services is reviewing Boeing's debt for a possible downgrade from A+.
What's next? Probably a reduction in the production rate at the Renton facility, where the 737 is assembled, as a consequence, in part, of the success of Bombardier and Embraer (ERJ) in getting orders for their newest single-aisle aircraft.
It's been 38 years this month since the sign was erected asking, "Will the last person leaving SEATTLE – Turn out the lights." Some think it will be resurrected.
Is there any hope for investors? Feature this: The progenitors of that sign prospered in the real estate market, as buildings were then selling for less than construction costs. Sound familiar?
Just remember: for every over-reaction, there's and equal and opposite over-reaction!
--John N. Simon