Before getting into the specifics of the opportunity for a double or triple, which I provide at the end, some background industry explanation is needed.
Part 1: Industry Opportunity
In order to understand why Just Energy (NYSE:JE) stock could double or triple, we need to back up and understand both the market opportunity and the company balance sheet.
The deregulated energy market in the US is a massive opportunity. Most people, do not yet even realize that the gas and electric markets for residences and businesses has even been deregulated. For the first time, utilities have the chance to become a growth industry. Unfortunately, for most utilities, they still have very slow growth as they have not explored exploration outside of their local market. Examples of these legacy companies include Public Service Enterprise Group Inc. (NYSE:PEG), Consolidated Edison Inc. (NYSE:ED), American Electric Power Co., Inc. (NYSE:AEP) Duke Energy Corp. (NYSE:DUK), and many others.
Over 20 states have already been deregulated for alternative suppliers of both gas and electricity (24 for electric and 21 for gas). In fact, about 54% of the US population has now been deregulated for both gas and electricity and 76% for either gas or electricity.
What does this do?
This splits your utility bill into 2 sections, one for delivery and one for supply, and allows you to shop around for the best rate on the supply part of the bill, all the while still getting one bill from your existing utility company. In other words, in most cases, you continue to pay your utility company and they pay the third party supplier, like Just Energy. So, it's no additional effort and no additional bill for you. Here is some more detail:
Delivery
The delivery portion of your bill remains the same after deregulation. This fee is for the transportation of the utility over the electric wires or gas pipes that go into your home or business. You will continue to pay the delivery portion without competition as it has not been deregulated. This makes sense since those pipes and wires are maintained by your local utility company and you continue to call them if you ever have a problem. This part of the bill makes up about 40% of the overall bill.
Supply
The other part of your bill, the supply portion, is where there is now choice and where Just Energy operates. A traditional utility company, such as Dominion Resources (NYSE:D), NRG Energy, Inc. (NYSE:NRG), can now move into another market to compete against the legacy utility company. The supply part of the bill makes up to about 60% or so of the overall bill. This is where there is the opportunity for significant savings.
Savings
Companies like Just Energy can typically save customers (whether residential or electric) about 3-8% off of the supply portion of gas and 10-30% off of the supply portion of their electric bills, depending on a few variables and the price movement of the underlying commodity. This amount can vary beyond those levels, but that is a fairly common range.
Why Are Alternative Suppliers Cheaper: Just Energy's Cost Advantage vs. Legacy Utility Companies
There are a few reasons why these new suppliers are cheaper than the legacy suppliers. It is NOT because they are run more efficiently, although they typically are since they have not been run as monopolies for years. The reason that the alternatives are cheaper is that typically, legacy suppliers must have a level of inventory or guaranteed supply, 6 months in advance. Alternative suppliers can buy much closer to the date of consumption and, therefore, never have to pay for this time value. The time value of this spread provides for a significant amount of the savings gap. It means that legacy suppliers are forced to pay a higher rate for the same gas and electricity, on average. There are rare times where the price of natural gas moves so substantially, that for a couple of months, the legacy supplier has a price advantage, but this advantage is fleeting. The alternative supplier should have a cost advantage the overwhelming majority of the time.
As an example, a local company to me, Systrum Energy, once told me that they had been more expensive than the legacy utility for only 3 months out of the prior 6 years or so.
Furthermore, the legacy utility has no ability to increase or decrease their utility price to compete. They have no choice what they charge. By law, they must charge customers precisely what they themselves pay. They are not permitted to earn a profit on the commodity, so they have no real control over what they charge.
Alternate Suppliers Gaining Share Rapidly
With alternative suppliers saving customers about 10% or so on their overall bill, many residential and commercial customers are now switching over. The majority of the population in deregulated states will opt for an energy choice program over the next decade.
Why is this extremely likely?
We know it has already happened in some locations where deregulation has been around longer. In the UK, the market has been deregulated for years and everybody shops around for the best price. In the US, in Texas, where it has been deregulated since 2002, most everyone there now shops around.
Most states, other than Texas that have been deregulated are now entering the growth period that accelerates. For example, in New Jersey, the penetration is now about 10% of residential homes. In Ohio, one of the highest states of penetration, the figure is about 25%. For these states and the others, penetration was nearly zero just several years ago.
Part 2: Just Energy Completely Misunderstood
Just Energy Misunderstood in Several Key Ways: Number 1 - Market Leader in New Market
Just Energy is a market leader in a growing, relatively new industry - deregulated utility services operating across 6 Canadian provinces and in 13 states and has recently entered the U.K. market. Just Energy is not a traditional utility company that pays a dividend steady eddy. The market opportunity is massive.
Number 2 - Hedging and Its Relationship to the Balance Sheet
Just Energy hedges all of its positions even before the gas or electricity has been spoken for. In rare cases, a very small minority, under 2%, of inventory is permitted to float (according to my conversations with management, 100% was covered, according to the Q3 JE Presentation; a very minor amount is left to float). The key point is that they actually lock in the gap between what they are paying for the electricity or gas and what they are charging.
Looking at their balance sheet and historical financials, however, seems to indicate the opposite. Ah, the big mystery!
Why? This is key to understand the valuation.
Just Energy's hedges are on their books. But, their customer agreements are not! They are only booking, for SEC filings, one half of the equation.
For example, in 2009 when natural gas prices went from 8 to 4 (see graph on the right), Just Energy's books appeared to have taken a major hit. Equity went from materially positive to substantially negative. In all, they look like they lost over $1B in a swaps position for 2009. But, this is not so! Unfortunately, Just Energy is not permitted to account for customer contracts on their balance sheets. They are considered off-balance sheet items and, as management says, "they have no choice because of accounting laws." This does not change the fact that they are a part of the company and that the losses from 2009 that were reflected were not an accurate picture of the company's actual health. Natural prices have continued to decline since that time making this superficial problem appear to be an ongoing problem. Again, this is not true for the reason stated above.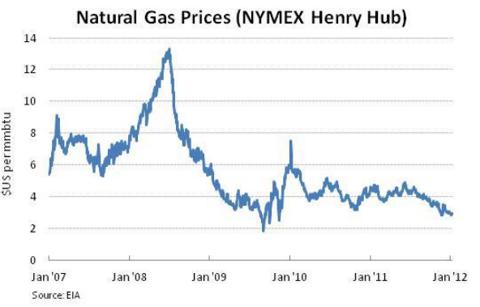 Source: Company Presentation
If natural gas prices ever showed a dramatic increase, the opposite effect would impact them and they would inaccurately show incredible growth in equity. Even if prices are flat, the contracts with existing customers will roll off and the spread will be formally realized on their books. It is just in cases where there is a substantial decline that the impact appears inaccurately negative.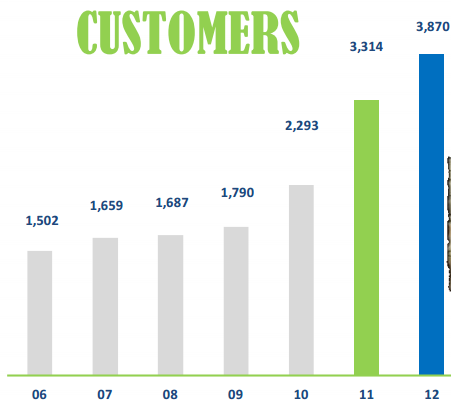 Source: Company Presentation
Number 3 - Growth
When is the last time you saw a utility with a customer growth curve that looked like this?
Both Just Energy's customers and Net Customers are growing at a healthy clip. They are locking in returns based on fairly predictable data, such as churn, which is a fairly stable number, which should decline over time. Churn in the US, where deregulation is new, is about 20%. In Canada, where deregulation is more mature, churn is only 10%. In both cases, rates of churn are declining and I expect the churn in the US to approach that of Canada over time as it matures.
Number 4 - Embedded Future Margins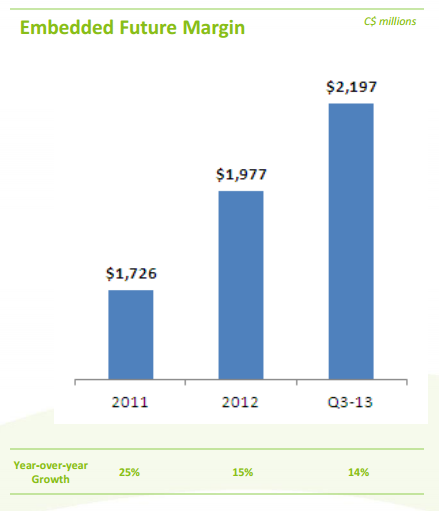 Source: Company Presentation
Just Energy defines Embedded Future Margin as "a five-year rolling measure of management's estimate of future contracted gross margin. It is the net cash flows that will be generated by existing contracts over their life."
This metric is critical because it strips out the noise of a new account. New accounts are costly, or, at least, they appear that way. The one time aggregation cost is around $160 in year 1 to acquire the customer with no recurring expense other than to renew them further. This acquisition cost pays off in 12-14 months.
An average customer lasts for 6 years in Canada and 3.9 in the US. Unfortunately, this renders the business a cash intensive business, especially one which is trying to ramp up growth and paying such a hefty dividend at the same time.
In my opinion, although I am not advocating this, the better strategy would be to suspend the dividend and use the capital to grow the company further and faster, since the return is more attractive. However, I recognize that many shareholders are probably overwhelmingly holding it just for the current dividend and that if Just Energy pursued a policy like this, the stock would fall. Nonetheless, the point is that the investment opportunities for growth are both very attractive and very large, and they should continue to invest as much as they responsibly can and I believe they are.
The Embedded Future Margins are growing in the mid-teens, even in the most recent quarter and has been attractive over any period of time I could find.
The fact that Just Energy's income statement looks relatively weak is because of the large cash outlay to acquire new customers. But, just 12-14 months after this outlay, it should already be a worthwhile return. But, Just Energy has really only just starting ramping up marketing about 2 years ago. So, they are just now finally realizing a breakeven return from customers acquired during that first year of ramped up effort.
Just Energy pays a 12.3% dividend at the time of this writing, having just cut it to $0.84 cents. This is even more than some of the highest yielding names, like Annaly Capital Management (NYSE:NLY), Pitney Bowes Inc. (NYSE:PBI), and Windstream Corporation (NASDAQ:WIN).
Finally, the Math: How Can This Stock Double or Triple?

The above chart, Residential Table 1, demonstrates Just Energy's model for residential consumers only. In this model, I've used the actual sales and marketing expenditure for the company, but shown the results exclusively for residential. Obviously, they've spent marketing on commercial, where the numbers are also attractive, but this will demonstrate the point I'm trying to make clearly.
The acquisition cost per customer is shown at the top. This is taken directly from Just Energy's quarterly presentation. The sales and marketing is from their quarterly filings and the churn is also from the quarterly presentation.
What this demonstrates is that if marketing is simply held constant starting in 2013, profit growth explodes. The only reason that FFO has not exploded is that Just Energy continues to reinvest very heavily in growth through marketing. But, at any time, they can reduce marketing at their discretion. If they do this, note that they will still grow, albeit more slowly. But, by doing this, they also realize a massive jump in profit growth.
Equally significant, if Just Energy ever needs to generate more cash flow, they can simply reduce marketing. If marketing is reduced even further than flat, profit growth actually grows even larger, albeit at the cost of further growth even further in the future (Table 2).
In any case, the above model shows how rapidly FFO could jump. This obviously excludes other costs, such as overhead in the above example, but those costs should not be dramatically different. What is key here is that in only two years, operating profits could explode or more importantly, it can at any time Just Energy chooses.
The marketing dollar leverage for Just Energy is incredibly powerful and at some point is going to be realized.

Just Energy has forecasted 2014 EBITDA of about $220 million or $1.57/share and has stated its goal of growing EBITDA 10-12% annually. JE missed this goal this year, but not by that much, and, more importantly, should resume a more normalized growth level next year as the short-term investments start paying off.
Currently, Just Energy is paying a dividend of $0.84/share or about $117 million per year. This is about 53% of EBITDA (117 divided by 220). Given the data that I presented previously showing the returns of invested capital, I am comfortable that this EBITDA growth level will be achieved. However, if EBITDA grows at 10% for 2 years, by FY 2016, EBITDA should approach $270 million on regular growth alone. But, this does not include one other substantial accounting change.
In fiscal year 2011, Just Energy made an acquisition where the contract stemming from that acquisition are being amortized. It shows up on JE's income statement as "Other operating expenses." If you read the annual report, Just Energy breaks out what this expense is for. However, this expense is misleading because it's not really fully recurring, or at least not recurring beyond 2 more years. In fact, it will completely disappear in just two more years once the contracts have been fully amortized. Once that happens, the expense will decline dramatically to virtually zero. Only bad debt expense, share based compensation and some other tiny non material items will remain. In all, "Other operating expenses" should decline by over $100 million permanently unless they make another acquisition. This decrease in "Other Operating Expenses" will result in an EBITDA increase by another $100 million.
Coupled with annual 12% EBITDA growth, EBITDA in 2 years' time could surpass $370 million. More importantly, using a more appropriate adjusted EBITDA to back out the capital which the company uses to market to new customers, what the company calls adjusted EBITDA, the figure could approach $500 million.
In terms of valuation, Duke Energy , with a much lower growth rate, trades at an EBITDA multiple of 13.5. Using 8 times EBITDA of the $370 million unadjusted number and the company is worth $3 billion. Using the adjusted multiple, which, I would argue is actually more appropriate, and the valuation is much higher. Either way, with the current market cap under $1 billion, this stock could easily double and possibly much more.
Disclosure: I am long JE. I wrote this article myself, and it expresses my own opinions. I am not receiving compensation for it. I have no business relationship with any company whose stock is mentioned in this article.
Disclaimer: Just Energy (JE) is currently a holding in Advisor Capital Management's private account composite, Income with Growth, and the personal holdings of firm employees. There is no guarantee of future results based on opinion and research provided. The firm's opinion on JE can change at any time.