The U.S. dollar is minting 8-month highs after appreciating 5.4% in the last 60 days. Sunday night's sell-off tested the 38.2% Fibonacci level, where prices quickly bounced. June futures are now at 83.50, and will likely close the week above their 20-day MA (dark blue line).
83.50 remains the line in the sand -- from current levels, I say tails from here. I see limited upside and will be scaling into bullish trades in select commodities and FX crosses on anticipation of a lower dollar in the weeks ahead.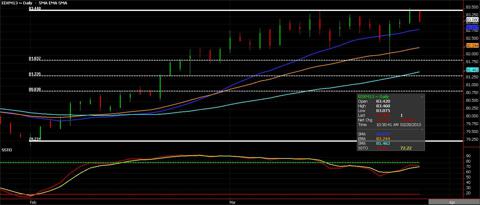 I remain friendly to all FX crosses other than the kiwi and aussie, both of which look heavy to me at current levels. As for commodities, I see the metals and agriculture complexes being most influenced by a weaker dollar. Gold and silver have tread water for weeks now, but I think capital will find its way into these two metals in the very near future. As for the Ags… wind was taken from bulls' sails today on a bearish USDA report. But I actually see this presenting a buying opportunity. I've advised clients to be buyers of new crop corn and wheat from lower levels and, perhaps a little off the beaten path, I like longs in soybean meal as well. The meal curve is still inverted, meaning investors can buy forward contracts at a discount to the front month.
Even though the U.S. dollar and copper are two contracts I rarely trade, I always follow them as they help me navigate entries and exits in related markets. I'll use Fibonacci levels on the greenback to consider profit targets in long commodity trades. A settlement below the 34-EMA (orange line) would be the first significant bearish development, in my eyes. Ultimately, I think it's possible to see a trade back to the 50-day SMA (light blue line) in the coming weeks.
Risk Disclaimer: The opinions contained herein are for general information only and not tailored to any specific investor's needs or investment goals. Any opinions expressed in this article are as of the date indicated. Trading futures, options, and Forex involves substantial risk of loss and is not suitable for all investors. Past performance is not necessarily indicative of future results.
Disclosure: I have no positions in any stocks mentioned, and no plans to initiate any positions within the next 72 hours. I wrote this article myself, and it expresses my own opinions. I am not receiving compensation for it. I have no business relationship with any company whose stock is mentioned in this article.