Duchenne muscular dystrophy (DMD) is the most common type of dystrophy in children, with a prevalence of approximately 1 in 3,500 to 1 in 4,700 male births[1, 2]. Despite extensive genetic characterization of the disease, survival remains limited to the second and third decades of life[3]. Briefly, DMD results from mutations in the dystrophin gene. The dystrophin gene is responsible for the production of a protein, "Dystrophin," which is found in both muscle cells (skeletal and cardiac cells). Dystrophin plays a role in the normal function of muscle fibers. DMD patients have deletions or mutations of the dystrophin gene, which ultimately leads to the synthesis of an abnormal dystrophin protein. Production of abnormal dystrophin leads to formation of abnormal muscle fibers and ultimately leads to DMD.
Advances in treatment have improved the survival rates of DMD patients, however the mean age of survival remains low (approximately 25 years)[4]. While current treatments may slow disease progression, new therapies have the potential to improve quality of live and improve survival rates[5]. One such therapy involves "exon-skipping" technology. Exon-skipping is an RNA-targeted therapy; meaning that the therapy targets the messenger RNA (mRNA; think of messenger RNA as the intermediate between a gene and it corresponding protein). Exon-skipping therapies are designed against a specific region of an mRNA that harbors a disease-causing mutation. The exon-skipping therapy prevents the disease causing exon from contributing to the final protein sequence. Although the disease causing mutation is present in the mRNA sequence, the exon with the mutation is "skipped" during the translation of the mRNA into a protein, theoretically leading to synthesis a viable/functional protein.
Sarepta Therapeutics (SRPT; formally AVI BioPharma), is currently evaluating an exon-skipping drug, eteplirsen (formally AVI-4658), for the treatment of patients with DMD. Biochemical data from a Phase IIb extension study indicates that eteplirsen treatment increases the amount of Dystrophin positive muscle fibers in DMD patients. While the biochemical data suggest that eteplirsen can alter dystrophin production, more information is required to determine if the change in dystrophin expression will produce a clinically significant improvement in patients with DMD. Although eteplirsen may provide a new therapy for DMD, it is important to look more closely at the trial and the subsequent data (see below for discussion).
Background: SRPT Jumps Following Phase IIb Data
SRPT stock closed at $14.84 on Oct. 2, 1012. Following the release of 48-week data, SRPT jumped to $44.93 on October 3rd. If eteplirsen eventually receives FDA approval, SRPT could be worth significantly more than the share price in October 2012. However, investors may want to approach SRPT long positions with caution. While SRPT made significant gains following data from the Phase IIb study, it is important to note that the trial only enrolled 12 patients. Investors may find it useful to closely examine the trial design/data to determine if the results from the Phase IIb study justify the current SRPT valuation.
The Phase IIb trial provides biochemical validation that eteplirsen can restore some level of dystrophin. The clinical data indicate that eteplirsen may prevent a decrease in clinical performance (6 minute-walk test), but it is uncertain if eteplirsen can improve clinical performance (compared to baseline). Additionally, it is important to note that 2 of the 10 patients from the Phase IIb study were excluded from the clinical analysis due to rapid progression of DMD during the treatment.
Study Design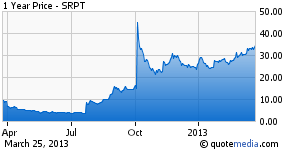 The Phase IIb eteplirsen data is intriguing, but is important to note that the Phase II trial consists of only 12 patients. Initially 8 patients received eteplirsen and 4 patients received placebo.
Initial Trial Design:
*Eteplirsen 30 mg/kg/wk; n=4
*Eteplirsen 50 mg/kg/wk; n=4
*Placebo/delayed treatment; n=4 (at week 24, Placebo patients switched to Eteplirsen: 30 mg/kg/wk; n=2, 50 mg/kg/wk; n=2)
To be included in the trial patients must "Achieve an average distance within 200 meters and 400m ±10% (i.e. within 180m and 440m) while walking independently over six minutes"[6]. If a patient's walk score was greater than 440m, then the patient did not qualify for the trial. SRPT has noted that the trial was designed to target patients that would likely decline over a 48-week period, therefore the trial did not allow "healthier patient based on higher 6-minute walk test at screening."
Data
Biochemical Measure of Dystrophin: Immunofluorescence
The Phase IIb trial provides data on impact of eteplirsen on dystrophin production (as tested by immunofluorescence) and a clinical performance (6-minute walk test). While the eteplirsen Phase IIb trial undoubtedly provides clinically relevant data in the realm of DMD treatment, more clarity is needed before eteplirsen will garner approval from the FDA. For example, the dystrophin production data is measured by the "mean change from baseline in % of dystrophin positive fibers"(primary study endpoint).
At 48 weeks, the eteplirsen 30 mg/kg/wk cohort(n=4) had a 52.1% mean change in dystrophin positive fibers, whereas the 50 mg/kg/wk cohort(n=4) had a 41.7% mean change in dystrophin positive fibers. However it is important to note the amplitude of changes in dystrophin expression for subjects in each treatment cohort. The change in dystrophin positive fibers ranged from approximately 40-60% in the 30 mg/kg/wk cohort, whereas the amount of dystrophin positive fibers ranged from approximately 30-60% in the 50 mg/kg/wk cohort. In terms of dystrophin expression, it appears that the 30 mg/kg/wk and 50 mg/kg/wk dose provide a similar impact on dystrophin expression.
It is also noteworthy that two patients (monozygotic twins) in the 30 mg/kg/wk cohort displayed increased dystrophin expression at 24 and 48 weeks, but they became non-ambulatory by 24-weeks and therefore were unable to conduct the 6-minute walk test.
Clinical measure: 6-minute walk test
The 6-minute walk test (6MWT) is a secondary study endpoint, and the primary clinical endpoint (the primary study endpoint is the biochemical measurement of dystrophin). The 6MWT is an exercise test that is used to periodically evaluate exercise tolerance in patients with cardiac, pulmonary, and neuromuscular disease [8-10].
At 36 weeks, the eteplirsen-treated cohort (n=4) walked approximately 15 meters less than their baseline 6MWT. At 36 weeks, the delayed treatment cohort (24 week placebo, followed by 12 weeks of eteplirsen) walked approximately 70 meters less than their baseline. At 48 weeks, the eteplirsen-treated cohort (n=4) walked approximately 8 meters more than their baseline 6MWT. At 48 weeks, the delayed treatment cohort (24 week placebo, followed by 24 weeks of eteplirsen) walked approximately 61 meters less than their baseline. The 48-week 6MWT data indicated that the eteplirsen treatment may improve 6MWT compared to baseline. However, by 62 weeks the 6MWT had returned to the levels observed in week 36. At 62 weeks, the eteplirsen-treated cohort (n=4) walked approximately 16 meters less than their baseline 6MWT. At 62 weeks, the delayed treatment cohort (24 week placebo, followed by 38 weeks of eteplirsen) walked approximately 78 meters less than their baseline[11].
Analysis of 6-minute walk test data
While the data may indicate that eteplirsen impacts the 6MWT performance, the inconsistency between 6MWT data between 36, 48 and 62 weeks makes data more difficult to interpret. For example, does the increase in the increased 6MWT performance at 48 weeks represent a true clinical improvement, or is a result of experimental variation that is inherent to the 6MWT? The 6MWT appears to be somewhat reproducible in a clinical setting, but several factors may impact performance (test administrator, course length, course memory) [12]. For example, patients can make a clinically significant improvement in the 6MWT between the 1st and 2nd attempts on the same day[12]. Given the small sample size, it is difficult to know if the improvement of the 6MWT at week 36 is directly related to eteplirsen treatment or experimental variation. An n=4 for the contented eteplirsen cohort may limit the conclusions that can be drawn regarding an increase in performance from baseline.
During the conference call to discuss the 48-week data, Chris Garabedian, CEO, remarked that "Of the 50 milligram per kilogram eteplirsen patients, all of the patients saw an increase in their 6-minute walk test distance from 36 weeks and three of the four showed improvement, which we are defining as more than 10 meter increase in meters walked from the 36-week time point." SRPT has elected to administer two different 6MWT at each time point but they select the highest 6-minute walk score for every time point. It would be interesting to know if the patients would still display a "³ 10m" increase in walking distance. Since SRPT has defined 6MWT "improvement" as "³ 10m" increase, it would also be useful to know the score for the replicate walk test. For example, are there examples where patients displayed more than a 10m change between replicate 6MWTs administered on the same day?
Overall, the Phase IIb eteplirsen data indicates that eteplirsen may offer a clinical benefit to a cohort of DMD patients. However, a lager trial is required to more accurately determine the clinical benefit of eteplirsen treatment. As with any clinical trial, sample size is extremely important to demonstrate reproducibility and to identify both efficacy/side-effects. A small trial may not provide an accurate summary of a drug profile and a small trial may not have the power to capture the genetic variation that may actually occur in the real-world patient population. It is important to note that patient germline genetic variation can impact the efficacy/toxicity of a drug response[13].
Other Considerations: Safety
To date, eteplirsen has been well tolerated (no treatment related adverse advents).
Eteplirsen relies on a morphilino-based system for "exon-skipping." Despite the fact the eteplirsen is well tolerated, more studies will be required to assess the long-term effect of a therapeutically relevant dosage. While eteplirsen does not appear to cause any serious adverse advents, it is important to note that eteplirsen is based on morpholino chemistry, and morpholinos have been shown to cause off target effects/toxicity[14]. Clearly, eteplirsen was selected for its efficacy and relative lack of toxicity, but it will be interesting to determine if therapeutically relevant doses of eteplirsen produce unwanted side-effect in a larger/longer trial. For example, are there any long-term toxicities related to the morpholino chemistry (ex. The morpholine subunits)?. Alternatively, are there any non-specific targets of the anti-sense technology (i.e. Does eteplirsen bind to/interact with DNA or RNA molecules other than the dystrophin mRNA?).
Final Note:
Future value drivers for SRPT: Progression of eteplirsen to a Phase III trial and/or a partnership deal with big biotech/pharma. Given the hype surrounding eteplirsen , any positive news may move SRPT to higher levels. SRPT will likely to continue to make gains as it moves to Phase III trial however, long-term investors should wisely consider trial design and results from the Phase IIb study. If the eteplirsen data is not reproducible in a larger (Phase III) trial, or if the data reveal any severe adverse reactions, SRPT shares may take a significant hit. Remember that even promising drugs fail during a late stage trial[16]. Buyer beware…
References:
1. Emery AE: Population frequencies of inherited neuromuscular diseases--a world survey. Neuromuscul Disord 1991, 1(1):19-29.
2. Dooley J, Gordon KE, Dodds L, MacSween J: Duchenne muscular dystrophy: a 30-year population-based incidence study. Clin Pediatr (Phila) 2010, 49(2):177-179.
3. Verma S, Anziska Y, Cracco J: Review of Duchenne muscular dystrophy for the pediatricians in the community. Clin Pediatr (Phila) 2010, 49(11):1011-1017.
4. Passamano L, Taglia A, Palladino A, Viggiano E, D'Ambrosio P, Scutifero M, Rosaria Cecio M, Torre V, F DEL, Picillo E et al: Improvement of survival in Duchenne Muscular Dystrophy: retrospective analysis of 835 patients. Acta Myol 2012, 31(2):121-125.
5. Abdel-Hamid H, Clemens PR: Pharmacological therapies for muscular dystrophies. Curr Opin Neurol 2012, 25(5):604-608.
6. NCT01396239: Efficacy Study of AVI-4658 to Induce Dystrophin Expression in Selected Duchenne Muscular Dystrophy Patients. 2011.
7. Sarepta Therapeutics' CEO Discusses 48-Week Results From the Phase IIb DMD Study (Transcript)
8. ATS statement: guidelines for the six-minute walk test. Am J Respir Crit Care Med 2002, 166(1):111-117.
9. McDonald CM, Henricson EK, Han JJ, Abresch RT, Nicorici A, Atkinson L, Elfring GL, Reha A, Miller LL: The 6-minute walk test in Duchenne/Becker muscular dystrophy: longitudinal observations. Muscle Nerve 2010, 42(6):966-974.
10. Henricson E, Abresch R, Han JJ, Nicorici A, Goude Keller E, Elfring G, Reha A, Barth J, McDonald CM: Percent-predicted 6-minute walk distance in duchenne muscular dystrophy to account for maturational influences. PLoS Curr 2012, 4:RRN1297.
11. Therapeutics S: REALIZING THE POTENTIAL OF RNA ‐ BASED TECHNOLOGY. In: 31st Annual JP Morgan Healthcare Conference: Sarepta Therapeutics Inc at JPMorgan Global Healthcare Conference. 2013.
12. Ziegler B, Rovedder PM, Oliveira CL, de Abreu e Silva F, de Tarso Roth Dalcin P: Repeatability of the 6-minute walk test in adolescents and adults with cystic fibrosis. Respir Care 2010, 55(8):1020-1025.
13. Wheeler HE, Maitland ML, Dolan ME, Cox NJ, Ratain MJ: Cancer pharmacogenomics: strategies and challenges. Nat Rev Genet 2013, 14(1):23-34.
14. Gerety SS, Wilkinson DG: Morpholino artifacts provide pitfalls and reveal a novel role for pro-apoptotic genes in hindbrain boundary development. Dev Biol 2011, 350(2):279-289.
15. PAN Pesticides Database - Chemicals: Morpholine
16. Rafferty MA: Managing change in biotech: setbacks and failures. Nat Biotechnol 2007, 25(9):1059.
Disclosure: I have no positions in any stocks mentioned, and no plans to initiate any positions within the next 72 hours. I wrote this article myself, and it expresses my own opinions. I am not receiving compensation for it. I have no business relationship with any company whose stock is mentioned in this article.