Like many of the stocks in our recent articles, this week we're covering a stock from our High Dividend Stocks By Sector Tables, - Seadrill, (NYSE:SDRL). Seadrill has been lagging the market in 2013, thanks to a weak 4th quarter earnings report, and reduced earnings in 2012. However, analysts are now projecting strong future growth for SDRL, resulting in a very low 5-year PEG:

Near term, SDRL looks undervalued on a 2014 PEG basis, and also has a 2013 PEG below the 1.00 threshold:

Click to enlarge
Dividends: For tax reasons, SDRL prepaid its March 2013 $.85 dividend in December, which bumped up its 2012 total payout, which would've been $3.66 without that prepayment.
Concerning 2013 dividends, SDRL management stated on its recent earnings release, "A regular dividend of at least US$0.85/share should be expected for the first quarter, 2013. Final confirmation of the first quarter dividend will be given in the first quarter earnings release in May 2013, with anticipated distribution in June 2013." (Source: Seadrill website)
Another concern has been the sustainability of SDRL's dividend, due to the upcoming sale of the majority of its Tender rig fleet. However, SDRL is replacing that fleet with ultra-deepwater rigs, which command much higher dayrates, which should help its cash flow in the long run.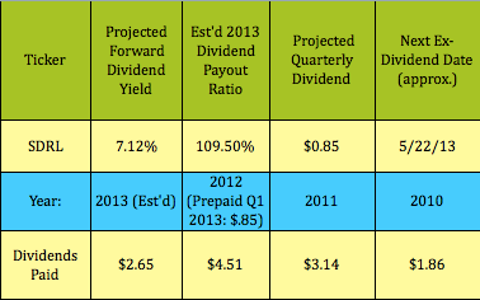 SDRL also offers options trades, which we list in our Covered Calls Table and Cash Secured Puts Tables. Unlike many of the stocks in our options table, there's currently an interesting contrast between SDRL's October Calls and its dividends, i.e, the call options are lower than the upcoming 2 quarterly dividend payouts:

Click to enlarge
SDRL's October puts offer a much better payout, and give you a breakeven that's around 9.5% above SDRL's 52-week low. You can see more details and over 30 other high yield trades in our free Cash Secured Puts Table.

Click to enlarge
Financials: SDRL's ratios look better than its peers, excepting its higher debt load. However, it does have an Interest Coverage ratio of 11.33.

Click to enlarge
Performance/Ownership: SDRL lags far behind most of its large cap drilling peers, when it comes to institutional ownership, so there's certainly plenty of room for more institutional support, a factor that would potentially help lift its share price, which is now barely up over 1% in 2013:

Disclaimer: This article was written for informational purposes only and is not intended as investment advice.
Disclosure: The author owned SDRL shares at the time of this writing.
Disclosure: I am long SDRL. I wrote this article myself, and it expresses my own opinions. I am not receiving compensation for it (other than from Seeking Alpha). I have no business relationship with any company whose stock is mentioned in this article.