This is a subject on which many of you are, no doubt, very familiar. I extensively research the coal markets which, particularly in the last two years, are largely dependent on natural gas prices. For this reason, I've spent a lot of time trying to fully understand the shale gas/fracking/horizontal drilling revolution. This article is for those of you that want a better understanding of how natural gas has gotten where it is - both in terms of production and price. I also hope that it will help give you the baseline understanding necessary to adequately assess the energy market.
Shale Gas, Fracking & Horizontal Drilling
First, a little bit of background. Shale gas is exactly as it sounds, natural gas found in shale formations. Shale gas was first mined over 150 years ago but hasn't been profitable to extensively mine until relatively recently. The advent of hydraulic fracking is the catalyst which has allowed for producers to tap into these massive deposits. As you can see in the below EIA forecast, the shale gas boom will not be ending anytime soon.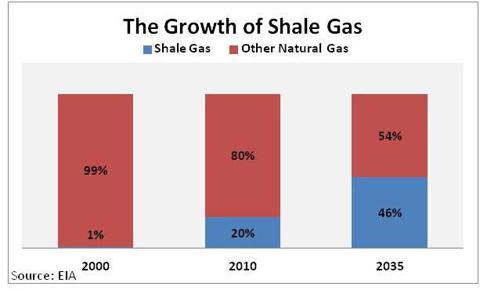 Hydraulic fracking is the process of pumping pressurized fluid into a shale formation to create fractures which will release the oil or natural gas held in the formation. Again, it's a process that has been around for some time but has only recently been developed to efficient levels. At present, the majority of all new oil/gas drilling is utilizing hydraulic fracking.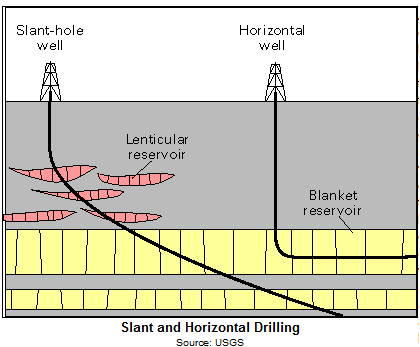 Another development, horizontal drilling (shown above), has also played a major role. In the past, oil and gas wells were dug straight down. Eventually slant wells were developed and, more recently, horizontal wells. The impact has been dramatic. Deposits that were not economically feasible for a vertical well were now open for development. Huge sources of supply have become available and single wells are able to produce vastly larger amounts of oil and gas than previous. The below graph from EIA illustrates this nicely. The number of well starts in Pennsylvania has decreased; yet despite this, as more horizontal wells come on line, more and more gas is being produced.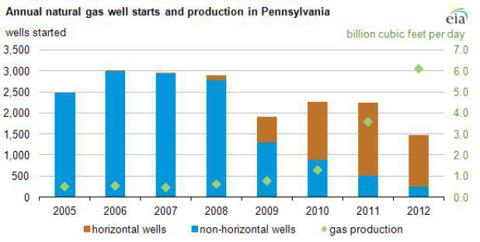 Natural Gas Trends & Future Prices
These advances are what has led to the glut of natural gas production in recent years. In 2008 natural gas prices peaked at $13/MMBtu, last year they dipped below $2/MMBtu. This is as a result of oversupply as producers struggle to bring down production as rapidly as possible by idling rigs and shifting to wet-only production (oil production where natural gas is a byproduct).
There are several issues keeping natural gas prices low. First, there are many natural gas-only producers so, although it may be beneficial to curtail gas production, they cannot afford to stop as then their cash flows would also come to a halt. Secondly, an extremely mild winter in 2011/2012 agitated an already troublesome problem as inventories of gas soared.
However, we have begun to see gas prices increase. Many analysts forecast a $4.50-$5.00/MMBtu price for most gas-only producers to make a profit and prices have been heading in that direction. This is due, in large part, to idling of dry gas production. The below chart from Bentek Energy (somewhat dated, from a conference presentation in Sept. 2012) nicely illustrates this trend. The chart details rates of return for wet/dry wells by formation (they included their price assumptions at the bottom).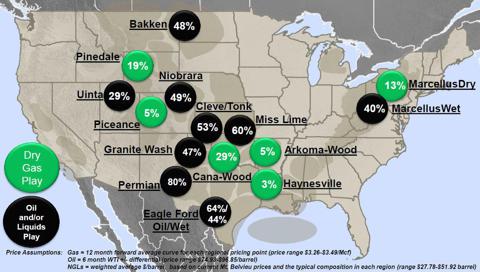 It seems to be an untenable position and, eventually, natural gas prices will have to rise.
Conclusion
Hopefully this puts the current natural gas market in context for some of you. Undoubtedly, for many this is an oversimplification but my goal was to outline the broader market trends in an easy-to-understand way. There are many producers of natural gas in the U.S.; the top five being Exxon (NYSE:XOM), Chesapeake Energy (NYSE:CHK), Anadarko (NYSE:APC), Devon Energy (NYSE:DVN), and BP (NYSE:BP) - (the Natural Gas Supply Association publishes quarterly lists of companies and average daily production). Obviously, any natural gas producer has a wide range of factors that need to be considered before investing (other assets, financial position, etc) but I'll give my opinion on the fundamental piece that should be part of any analysis - natural gas prices. Barring a LNG export terminal coming on line (a whole different topic) I would expect natural gas prices to settle above the PRB/ILB coal price/MMBtu and below the NAPP/CAPP price/MMBtu; somewhere in the range of $4.50-$5.00/MMBtu by this time next year.
Disclosure: I have no positions in any stocks mentioned, and no plans to initiate any positions within the next 72 hours. I wrote this article myself, and it expresses my own opinions. I am not receiving compensation for it (other than from Seeking Alpha). I have no business relationship with any company whose stock is mentioned in this article.