My regular readers know that I tend to gravitate to value and/or income plays in most of recommendations and additions to my own portfolio. However, I do allocate a portion of my portfolio to more aggressive positions. I particularly like stocks that are trading in the $2.50 to $5 range as I find they tend to be underfollowed and some of my best gains over the years have come from stocks in this range for some odd reason. Six weeks ago, I penned an article "2 $3 stocks Well Positioned For The Current Risk On Environment." The piece covered Himax Technologies (HIMX) and McEwen Mining (MUX). McEwen has done little since the article and is still just under $3 a share. HIMX on the other hand has exploded some 85% since then on the back of being a potential major player in the emerging wearable computer movement (Full disclosure: I took half my position off for a 50% gain).
This shows the promise and some of the randomness of this sort of speculative investing in under the radar stocks. Here are two more $3 stocks that could provide significant gains should the current "risk on" environment continue.
GT Advanced Technologies (GTAT) provides crystal growth equipment and solutions for the solar, light emitting diode (LED) and electronics industries worldwide.
Four reasons GTAT is going higher from just over $3 a share.
The company has a robust balance sheet with approximately 45% of its market capitalization in net cash.
Revenue growth is scheduled to resume in FY2014 after almost a 30% decline this fiscal year. Even with revenue fall off, the company is expected to make 28 cents a share in profit this year. The company made over $1 a share in FY2011.
The stock jumped some 10% Thursday on the announcement of a significant contract. Despite the bump today, GTAT still sells near the bottom of its five year valuation range based on P/E, P/B, P/CF and P/S.
The stock sells at less than 9x 2014's forward earnings and has a five year projected PEG of under 1 (.97).
Merge Healthcare Incorporated (NASDAQ:MRGE) develops software solutions that facilitate the sharing of images to create an electronic healthcare experience for patients and physicians worldwide. It operates in two segments, Merge Healthcare and Merge DNA.
4 reasons MRGE will go higher from under $3 a share:
Two insiders bought 20,000 shares in February. It was the first insider purchases since May of last year.
The four analysts that cover the stock have price targets of $3.50 to $5 a share on the stock. Dougherty & Company, a small analyst shop, upgraded the shares to Buy in mid-February.
Analysts expect 5% to 7% revenue growth over the next two years and the stock sports a five year projected PEG of near 1 (1.19).
The stock traded more than double the current price less than a year ago and the stock has good technical support just below this level (see chart).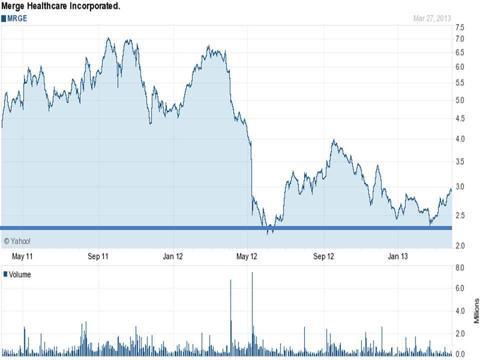 Disclosure: I am long GTAT, HIMX. I wrote this article myself, and it expresses my own opinions. I am not receiving compensation for it (other than from Seeking Alpha). I have no business relationship with any company whose stock is mentioned in this article.