Back in January, we listed Kodiak Oil and Gas (NYSE:KOG) as one of our picks for Best 13 Stocks for 2013. Since that time, the stock has barely budged. This Bakken Formation darling has potential, but it is also obvious that the stock is not moving, so what is an investor to do?
The good: Kodiak has grown its oil production more than 100% in each of the last 3 years. It has 150,000 acres of land and seven drill rigs operating. Kodiak has quarterly EPS growth of 181% and quarterly revenue growth of 137%. It is forecast to increase EPS 50% per year for the next 5 years, giving it a miniscule PEG of .37. This year's EPS are expected to be up 2400% over last year's. It is run well too, with gross margins of 79% and operating margins of 32.5%.
The bad: Kodiak has increased debt while spending cash at a heavy rate. This leaves it with a debt-to-equity ratio of 1.06. Additionally, while it is projected to increase EPS significantly in the next few years, it has not shown that it can do it yet. This leaves investors in the dreaded state of "uncertainty." Can it produce profits and if so, when?
Also, the fact that the CEO announced that guidance on oil production may change due to Kodiak's attempting new production methods does not instill confidence in investors.
The resolution to this uncertainty over production costs, and more specifically - earnings - will be the key to when this stock eventually moves.
Chart
You can see the sideways movement between $10 and $8 since mid-August. Additionally, you can see that KOG is making a series of lower highs and higher lows, and forming a pennant. This will lead to a breakout in one direction or another, but in the mean time, it is likely to continue consolidating between $9.50 and $8.75.
Additionally, using the oscillator as a gauge for momentum, KOG has been neither over-bought nor over-sold since last July. This exemplifies the listless movement of the stock price.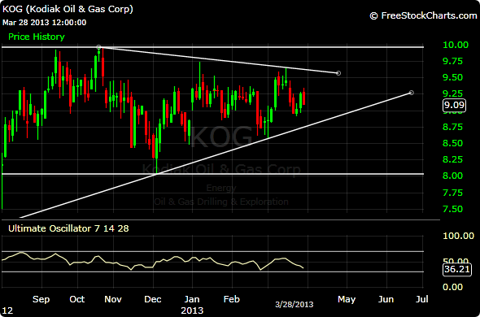 Click to enlarge
The Play
If you are holding the stock, you can obviously just wait, but why not make money while you wait? There are a few option strategies that take advantage of a range bound security. There are different characteristics, advantages, and disadvantages to each, but one of my favorites is called a butterfly. It provides defined risk, which I like.
Without writing a whole article on this options strategy (which incidentally is not allowed on Seeking Alpha), I would just say that it is built to make money if a stock stays in a given range until the options expire. I would look to put on a butterfly with wings at $8 and $10 and the body at $9, for about .35 - .40. This can give a maximum profit of .60 -.65, or about 150+%. So if you are familiar with options, consider that strategy on this stock, especially if you are holding the stock and waiting for it to move. I would become more cautious with the strategy if the stock broke out of the pennant pattern.
Kodiak competes against many oil and natural gas companies, including U.S. Energy Corp. (NASDAQ:USEG), Northern Oil and Gas (NYSEMKT:NOG), Continental Resources (NYSE:CLR), and EOG Resources (NYSE:EOG).
Disclosure: I have no positions in any stocks mentioned, and no plans to initiate any positions within the next 72 hours. I wrote this article myself, and it expresses my own opinions. I am not receiving compensation for it (other than from Seeking Alpha). I have no business relationship with any company whose stock is mentioned in this article.
Disclaimer: We do not know your personal financial situation, so the information contained in this article represents an opinion, and should not be construed as personalized investment advice. Past performance is no guarantee of future results. Do your own research on individual issues.