James River Coal Company (JRCC) is one of the ripest stocks on the market for profit seekers. The stock is continuing to trend negatively and, in my opinion, is heading towards bankruptcy, but the short-term, day-to-day volatility provides a really great trading environment to make quick hits in either direction. While the duration of the trades might be short, this high-volatility pattern has been taking place for a sustained period and with the current state of the coal industry and the underlying uncertainty behind JRCC as an individual company, that volatility only stands to increase in the coming months.
There are two trading strategies that can be used with this stock. The short-term strategy focuses on trading within the stock's trading range. The long-term strategy is a short position with protection.
Short-Term Strategy
As noted, the first of our two strategies for JRCC focuses on trading within a given trading range. As noted, the volatility of the stock lends itself to quick, determined bounces. In fact, the bounces can even be characterized as somewhat predictable. Of course, no stock is certainly predictable, and a stock with high volatility like JRCC is even harder to predict. But if you analyze the chart - 50-day, 100-day, 200-day - you'll notice that the stock rarely breaks out of its trading range. For analysis, I use a moving average envelope (period: 10; % variance: 10). You can use a wider range or Bollinger Band analysis, but I tend to keep a tight range on the envelope, especially in a stock that moves as quickly as JRCC.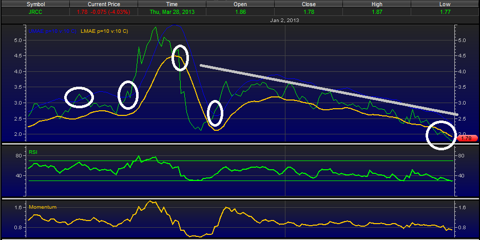 As noted in a previous article, the stock most often stays predictably within its trading range. Uncertainty arises when the stock breaks out of its trading range, which is has done now five times in the past 150 trading days. In order to hedge your risk against the rallies (up and down), I recommend selling 2% away from the upper or lower band. By employing this strategy, you'll miss out on the beginning of any potential huge runs in the stock, but the consistent returns you gain will outweigh any opportunity cost in the rare missed breakout.
While this strategy is steeped in technical analysis, it is also grounded by fundamentals. The overall trend of the stock is lower for several glaring reasons. However, the company has enough short-term liquidity on its balance sheet to insure that bankruptcy won't happen within the next few months. During those months, they're holding on for a recovery in coal. Any big news could push the price of coal higher, and coal miners will rise with that optimistic tide. It is a race against the clock for JRCC - will they remain solvent long enough to see a reemergence in coal? By trading within the range, the individual investor can take advantage of volatile bounces on a negative trend.
Long-Term Strategy
The long-term strategy on this company is bearish, and we'll look to maximize profit potential with that strategy. With a long-term horizon, I recommend being short this stock for several reasons noted in the linked articles. The industry outlook is negative and JRCC is an underperformer in an underperforming industry. The company lost $3.97 per share in FY 2012 which amounts to roughly $142 million for the year. Analysts forecast that the company will continue to lose in FY 2013 - consensus projections stand at a loss of $6.01, or $216 million. Here's a snapshot analysis of the company's current asset and debt allocation.
| | |
| --- | --- |
|   | Year Ending 2012 |
| Total Cash | $127 million |
| Other Current Assets | $151 million |
| Total Current Assets | $278 million |
| Total Assets | $1,204 million |
| Current Liabilities | $127 million |
| Long-Term Debt | $546 million |
| Total Liabilities | $949 million |
With the company forecast to lose another $216 million in FY 2013 and $154 million in FY 2014, liquidity is quickly becoming a concern. When those retained earnings hit the balance sheet, cash will quickly begin to evaporate. Shortly (2015), the $546 million in long-term debt will be payable. It would take a strong turnaround, though, for the company to make it to 2015.
If you agree that the coal industry is headed for further trouble and that JRCC is a laggard within that industry, then you should be short shares of the company. To maximize profit potential within the downtrend, you can sell monthly puts (betting that the stock is fairly valued and won't go down significantly by the expiration date).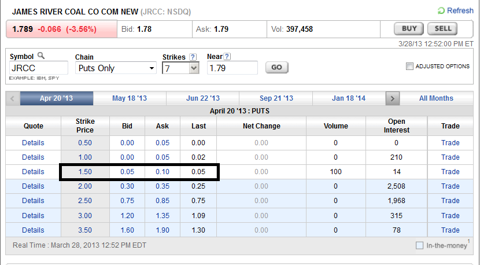 If you're a retail investor willing to short 5,000 shares of JRCC ($8,950 investment), you can sell 50 April $1.50 put options to protect your investment. You'll collect a premium of $250 ($.05 x 5,000 = $250) and will keep your short position as long as by the expiration date of April 20, 2013, the underlying stock price is not under the striking price of $1.50. If the stock does fall below the strike price, you'll have to deliver those 5,000 shares short to the put buyer at a price of $1.50, so if you believe unequivocally that the stock is long-term headed lower and that this is an attractive price point, your downside is opportunity cost for further gains below $1.50 by the expiration date. Make sure you're selling puts with a strike price below the current price for maximum profit potential.
Conclusion
I'm openly bearish on JRCC as a company, but I'm excited about the ways to make money on the stock even though the general trend is negative. If you stay disciplined here then you stand to make some good money. From a short-term perspective, trade within the ranges and don't get greedy for a breakout. The discipline will yield you the best gains. For a long-term trade, short JRCC and sell put options for income. Enjoy the ride. It's bumpy out there.
Disclosure: I have no positions in any stocks mentioned, and no plans to initiate any positions within the next 72 hours. I wrote this article myself, and it expresses my own opinions. I am not receiving compensation for it (other than from Seeking Alpha). I have no business relationship with any company whose stock is mentioned in this article.