After a successful article discussing proved reserves and valuations of Mississippi Lime pure-plays Sandridge (NYSE:SD), Red Fork (OTCPK:RDFEY) and Austex (OTCQX:ATXDY), I got a number of questions about other Australian-traded oil companies with US assets, such as Aurora Oil (OTCPK:AAGLF) and Sundance Oil (OTCPK:SDCJF). Since Sundance recently released its reserve update and Aurora released guidance after a successful bond offering, an update seems timely.
In the Mississippian focused article, I highlighted the proved reserves of Sandridge, Red Fork and Austex, reviewed the reserve growth since the previous reserve update, and compared the proved reserve values to the enterprise values of each of these companies. The cheapest appeared to be Austex, trading at less than 1/2 of its proved reserve value. Red Fork appeared to be the most "expensive," trading at over 5x its proved reserve value. And Sandridge appeared to be reasonably priced, trading near its proved reserve value.
Sundance Oil:
Sundance Oil recently updated its proved reserves, which can be seen here: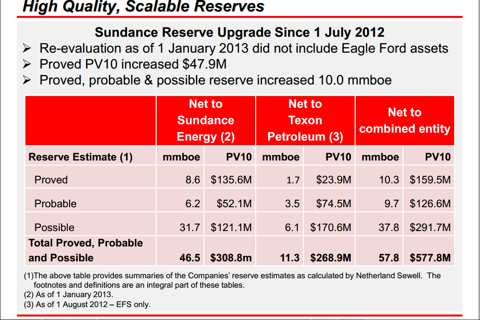 As can be seen above, Sundance's proved reserve value is $160 million. This compares to a market cap of $433 million and an enterprise value of ~$270 million. Sundance trades for 1.7x its proved reserve value, closer to Red Fork's 5x proved reserve value, and much more richly priced than Sandridge or Austex. Looking at historical reserve levels for Sundance isn't as straightforward as with the other companies, as Sundance just divested an asset in the Bakken to QEP (NYSE:QEP) and acquired a company, Texon, in the Eagle Ford.
Aurora Oil
Aurora updated its reserves earlier in the year, and its report can be seen here: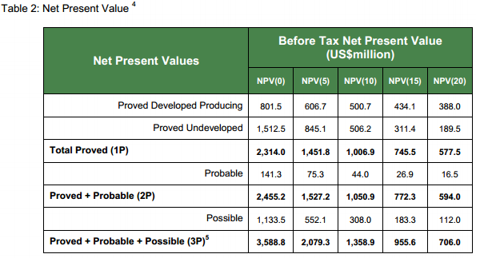 Since that report, Aurora purchased an asset for approximately $150 million. It is unlikely the asset had a greater than $150 million proved reserve value, and Aurora debt-financed the purchase. Aurora's market cap is ~$1.5 billion and its enterprise value (before the purchase) was $2 billion, with $500 million net debt outstanding. This compares to a $1 billion proved reserve value from the reserve report. Adjusted for the acquisition, that yields a $2.15 billion enterprise value and a $1.15 billion proved reserve value.
Aurora trades for ~2x its proved reserve value, a lower valuation than Red Fork and a higher valuation than Sundance, Sandridge and Austex. One thing this reserve comparison highlights is just how cheap Austex is compared to its peers, particularly Red Fork and Aurora. Another thing it highlights is that public companies, particularly Australian public companies with US assets, seem to generally trade at a premium to their proved reserve value. It is unusual to find ones that trade at a discount to their proved reserve value.
Here is Austex's reserve report again: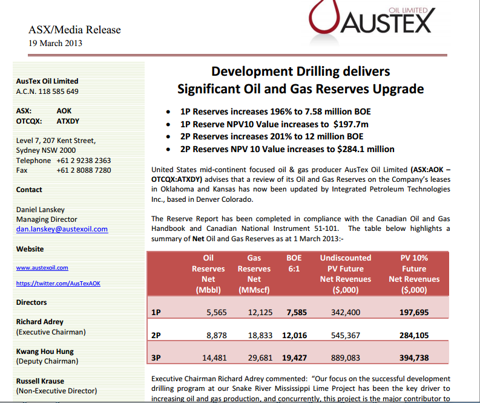 One other observation about Aurora - its stock has gone up by 10x in the past three years, as its proved reserve value has shot up from a very low number to over $1 billion. Companies with rising production and cash flow, like Aurora, seem to be attributed high valuations in the market. This may explain the high valuation compared to proved reserves for Red Fork and the higher than proved reserve value for Sundance, but does not explain the substantially lower than proved reserve value for Austex. Austex is a small cap public company, which implies additional risks. Caveat emptor.
Disclosure: I am long OTCQX:ATXDY. I wrote this article myself, and it expresses my own opinions. I am not receiving compensation for it (other than from Seeking Alpha). I have no business relationship with any company whose stock is mentioned in this article.