As reported earlier by Bloomberg and various other outlets, Gazprom (OTCPK:OGZPY) 2012 profit fell 37% to 556 billion rubles ($17.9 billion). News of this, while not at all unexpected, once again highlights one of many problems the company has - transparency.
On Investor Day March 8 the company was still publicly saying it was expecting 2012 earnings to be roughly in-line with 2011, yet on the 27th the company announced a 37% earnings decline. Surely this annual decline didn't materialize in just 3 weeks?
I mentioned Gazprom and some of the problems weighting on its valuation in my previous article. In this one I would like to further expand upon it.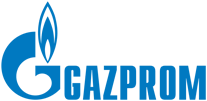 The earnings decline did not surprise me as the current company valuation prices in market expectations of an enormous profitability decline without one having actually occurred just yet: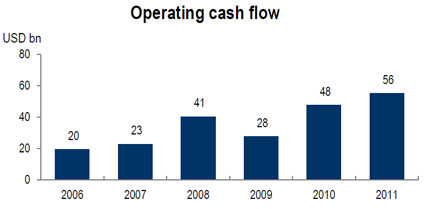 Going long the stock at a P/E below 3 and P/B around 0.34, my personal expectations called for a 60-70% EPS decline in the medium term. When the market prices such a large and visible company as if it was going into a terminal decline it is rare that Mr. Market is completely and utterly wrong, and in most cases a big decline is to be expected.
The important questions are: is the company really going bankrupt, how big of a decline to expect and what happens to the company if stabilization takes too long? The answer to the first question is trivial: no, Gazprom is not going bankrupt. The 2 remaining questions are tricky.
Earnings Decline:
As I previously mentioned, I expect a mid-term EPS decline of 60-70% from the 2011 highs. While income from gas sales is likely to dip even further, it's going to be slightly offset by rapidly rising income from oil sales of Gazprom Neft (OTCQX:GZPFY) and power generation business of Gazprom Energoholding.
With gas deliveries to Europe on the decline, electricity rates being low and gas prices at a high level, Gazprom is under pressure from its European customers to reduce prices, as many power plants utilizing gas have to stay below 50% utilization due to poor margins and lack of demand.
To offset this, Gazprom is making opportunistic purchases of various small power-generating businesses in Europe, such as potentially buying a 433MW E.ON plant in Hungary. As Gazprom can supply gas to its own subsidiaries cheaper than to its European clients, margins and profitability of such plants are set to rise if acquired.
When looking farther out towards the horizon, Gazprom is going to continue its diversification away from Europe and towards Asia and the recent deal with China which would see Gazprom supply 38 billion cubic meters of natural gas annually for 30 years starting from 2018 is a good step towards that goal.
What if the turnaround takes too long?
There are several potential scenarios that could unfold:
The current management headed by Alexei Miller (who was appointed by Putin to lead the company in 2001) successfully adjusts the company to the changed market in a reasonable timeframe.
The turnaround takes too long with a moderate to serious earnings decline, causing the Russian government to replace the company management.
The turnaround takes too long with a catastrophic income decline, causing Gazprom to become truly troubled due to its high CAPEX and debt levels. This would trigger either direct support from the government or alternatively the company could be broken down into pieces.
The "I am curious about Russia, but don't like Gazprom" option:
I can fully understand the reasons why someone would want to stay away from Gazprom stock as the company is not without issues. That being said I believe that at the current price levels, it's going to be hard not to make money on it even if the company ends up being broken down into pieces (unless the government royally screws the minority shareholders, which is of course a real risk).
There is a different and safer option for a play on Russia though: with Russia as a whole currently being the cheapest country out of the entire MSCI Emerging Markets index (with a PE below 7), you could always just make a diversified bet via Market Vectors Russia ETF (NYSEARCA:RSX) and be done with it.
Disclosure: I am long OTCPK:OGZPY. I wrote this article myself, and it expresses my own opinions. I am not receiving compensation for it (other than from Seeking Alpha). I have no business relationship with any company whose stock is mentioned in this article.