I first wrote about HomeStreet (NASDAQ:HMST) back on Feb. 25 and must admit that I am down 9% since making my initial investment at the time. Since that time I can't find any news for the stock to be down this badly while the market keeps going higher. That's why I'm considering this a dip to buy, especially with the announcement on March 28 that the stock will begin to pay a $0.11 dividend starting April 22, or thereabouts.
The company has only been public for about a year now and this will be the first dividend that the company pays out. If someone was to project the company to continue paying the $0.11 dividend each quarter for the next year that would equate to a 2% yield based on today's (28Mar13) closing price of $22.34. Since becoming a publicly traded company the stock split twice and doubled your investment if you were in on it from day one. CEO Mark Mason seems pretty optimistic about future dividends saying, "Assuming our continued success, we anticipate continuing to declare dividends going forward."
HomeStreet is a bank that's been around since 1921 and headquartered in the heart of the Pacific Northwest, Seattle. The company offers a variety of services to consumers and businesses alike in the states of Washington, Oregon and Hawaii and recently opened a mortgage center in Pasadena, California. HomeStreet is a one stop shop for personal banking, business banking, home loans, income property financing, insurance and investment services.
Fundamentally HMST is a really inexpensive stock trading at only 4 times projected one year earnings and 3.6 times trailing twelve month earnings. Earnings growth for the next year is projected to be 7.1% which is not too bad for the relatively small region of the Pacific Northwest, though I'd expect to see that number jump tremendously if the company can continue to expand into California. Financially the company has one of the highest return on equity values I've ever seen in a bank at 47%, showing that it is very profitable with its investors' equity. The company's operating (35%) and net profit margins (28%) are also some of the strongest in the entire banking sector, regional banking or otherwise.
I compared both Key Corp (NYSE:KEY) and SunTrust (NYSE:STI) against HMST in my last article I wrote on March 11 and they are both up at least 3% since Feb. 25 while HMST is down 9% so one could argue that HMST is definitely not best of breed in tough times when it comes to the regional banks. But I believe HMST is growing and growing big by taking that first step of entering California recently. California is a tough place to do business with its many state mandated regulations and HMST will experience growing pains as it does so, but I believe those growing pains will bear fruit in the near future, and now as an investor I will get paid 2% to see that growth come to fruition.
On a technical basis in my article I wrote on March 11 I stated, "The stock is actually looking like dead money right here, I'd look for the 20 and 50-day SMAs to act as resistance for now and see what happens in the next couple of days. If it cannot break those barriers I'd look for a drop to about $22.81 as the first floor of support." The stock did exactly that, hitting the 20-day SMA and retreating all the way down to the current $22.34 mark on almost 5x average volume. The relative strength index sits at 26.99 which signals that it is in oversold territory, but looks like it still has downward trajectory. The moving average convergence-divergence graph looks to be bearish as well. However, with the strong volume evidenced today I believe that all the bearishness may have been flushed out and would look for the stock to bounce nicely back to at least test the 20-day SMA (currently at $24.57) for a 10% gain. If we don't get a bounce in the near term for the stock I would watch for it to test the 200-day SMA at $21.60 and if it gets below that it will test the next level of support at $20.64 for an 8% risk.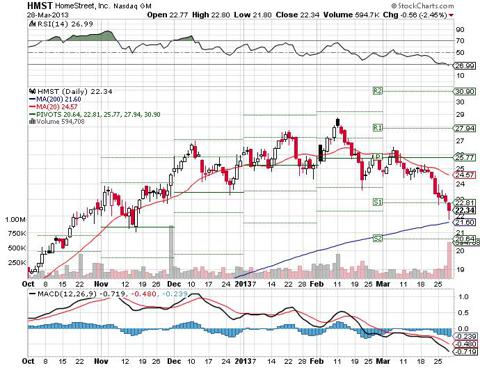 Click to enlarge
Conclusion
I continue to see growing pains for this up and coming company and especially in the near term. If you don't have the stomach to handle any further dips I'd suggest maybe sitting this one out, but personally I have intended to purchase several lots of the stock and have only purchased 20% of my stake so far and will look to purchase another lot on this,nd now I get paid to wait.
Disclaimer
These are only my personal opinions and you should do your own homework. Only you are responsible for what you trade and happy investing!
Disclosure: I am long HMST. I wrote this article myself, and it expresses my own opinions. I am not receiving compensation for it (other than from Seeking Alpha). I have no business relationship with any company whose stock is mentioned in this article.