Two share classes worth investigating
Ever wonder why some companies seem to have two listings, and two different prices on those listings? Let's look at one of those companies, Royal Dutch Shell, and try and find out what an investor would need to know before making a purchase.
Looking at the investor website, I was able to glean this information: Royal Dutch Shell PLC Class A shares (NYSE:RDS.A) and Royal Dutch Shell PLC Class B shares (NYSE:RDS.B) are dual share classes with equal economic interest in Royal Dutch Shell. Royal Dutch Shell is incorporated in England and Wales, but is a tax resident of the Netherlands. The Class B shares come with a dividend access mechanism, which does not require the withholding of a 15% Dutch tax on dividends that the Class A shares are required to pay. That is the only difference.
Since taxation is the only difference in structure between share classes, it seems like a logical place to start to analyze the two.
Taxation
Focusing on the perspective of a US investor making an investment in Royal Dutch Shell, first we will analyze the tax implications of the investment being made in a taxable account. Here is a table that summarizes the tax implications for both share classes.
Share Class

RDS.A

RDS.B

Dividend Tax Rates

Foreign Tax Withheld

15%

0%

Normal Applicable US Rate

0-23.8%

0-23.8%

Capital Gains Tax Rates

Foreign Tax Withheld

N/A

N/A

Normal Applicable US Rate

0-23.8%

0-23.8%
At first glance, RDS.B appears to clearly be the more desirable choice. This seems to make even more sense when you consider that both share classes pay out dividends that yield more than 5% at their current prices. Take 15% off of your dividends and you are losing more than .75% off your investment annually. This, however, does not take into account US tax law regarding foreign taxes paid. This allows for a dollar-for-dollar credit for foreign taxes paid, restoring what you lost on your dividend when you file your taxes. Keep in mind, though, that the foreign tax-credit is subject to the dreaded Alternative Minimum Tax (AMT). This will reduce the credit you are able to take. Here is another table summarizing the dividend tax consequences for RDS.A investors who are and are not subject to the AMT.
RDS Class A Shares

Subject to AMT

Yes

No

Foreign Tax Withheld

15%

15%

Cancel Effect at Tax Time

(<15%)

(15%)

Net Foreign Tax Effect

0-15%

0%

Normal Applicable US Rate

0-23.8%

0-23.8%
So for taxable accounts, the only tax advantage that Class B shares have over Class A shares is for those investors who are subject to the AMT. For everybody else, these two share classes have equal tax consequences, making them equally preferable from a tax perspective.
Now let's look at the two share classes for somebody who is investing through a Roth IRA or a tax-deferred account, like a Traditional IRA.
Share Class

RDS.A

RDS.B

Dividend Tax Rates

Foreign Tax Withheld

15%

0%

Normal Applicable US Rate

N/A

N/A

Capital Gains Tax Rates

Foreign Tax Withheld

N/A

N/A

Normal Applicable US Rate

N/A

N/A
In these types of accounts RDS.A still has the 15% foreign tax withholding, while RDS.B does not. There are no US taxes applicable, and no foreign tax credit to recover the foreign tax that was withheld. Therefore, this reduction in your dividend becomes a permanent loss. Knowing this, RDS.B is certainly the more favorable choice in an IRA or similar account from a tax perspective.
Price Discrepancy
Using Yahoo Finance I pulled historical prices for RDS.A and RDS.B shares. I used the closing price on the first trading day of the month going back to the beginning of 2008. This graph compares the price of the two stocks over the last 5+ years.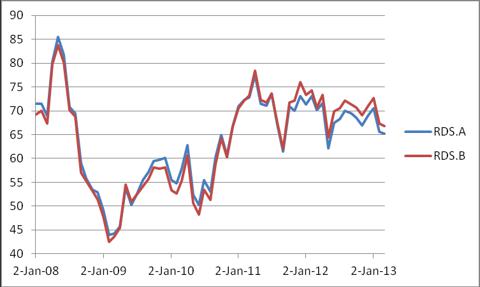 Here is another graph showing the % premium for RDS.B over RDS.A over the last 5+ years.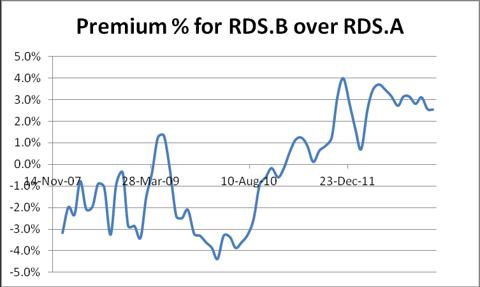 The two share classes have stayed relatively tight over the last 5+ years with RDS.B trading at between a 4% discount and 4% premium to RDS.A in this time frame. It is certainly interesting to note that RDS.B has oscillated between a discount and premium multiple times over this time frame. You would expect that if one share class held more appeal than the other that it would be able to consistently hold a premium, even if that premium approached 0% from time to time.
Over the last two and a half years RDS.B has been able to maintain its premium, though, with an average difference between the two share classes of right around 3%. This is enough of a difference that it appears from a pure-price perspective that RDS.A would be the better investment at the moment. Here are some key metrics to compare the two:
| | | |
| --- | --- | --- |
| Share Class | RDS.A | RDS.B |
| Share Price | 65.16 | 66.82 |
| P/E | 7.68 | 7.88 |
| Dividend Yield | 5.28% | 5.15% |
The differences in valuation are small, but since they represent equal economic interests in Royal Dutch Shell, once again RDS.A has a more compelling price.
Bringing it all together
Certainly from a tax perspective there are many situations where RDS.B would be the choice share class to invest in. When the taxes balance out though, I think it would be wise to buy the cheaper stock. That at the moment is RDS.A. Here is a flow chart to sort it all out.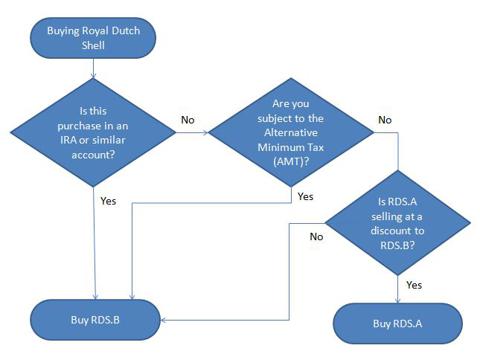 So what do you think? Are there any other dual share-class structures you are interested in? Leave a comment below.
Disclosure: I am long RDS.B. I wrote this article myself, and it expresses my own opinions. I am not receiving compensation for it (other than from Seeking Alpha). I have no business relationship with any company whose stock is mentioned in this article.