Android is in its death throes! Well, this may be overstating a bit, but I do believe that the Smartphone OS landscape will be very different in 4 years -- and that Android OS, by Google (NASDAQ:GOOG), will be the loser. My basic thesis is that Windows Phone 8 (WP8) from Microsoft (NASDAQ:MSFT) and BlackBerry 10 (NASDAQ:BBRY) will take massive market share from Android, and Apple's (NASDAQ:AAPL) iOS will maintain or slightly gain market share. (See Part 1 and Part 2 for the basic rationale, and Part 3 for my market share predictions up to 2016.)
In this part, I address the recent introduction of Samsung's (OTC:SSNLF) Galaxy S4 phone, and what this means for my hypothesis.
The recently announced GS4 is set to go on sale by AT&T (NYSE:T) for preorders on April 16, at a price of $249 with a 2-year contract.
Smartphones last year accounted for a whopping 87 percent of handset industry revenue and a staggering 93 percent of gross profits, even though they only made up 46 percent of unit shipments compared to once-mighty feature phones, according to an IHS iSuppli Wireless Communications special report from information and analytics provider IHS.
I. Android Market Share
Latest data from Strategy Analytics (as reported by appergy) show that last year 700 million smartphones were sold worldwide, and that of these, 68.4% run Android, and 19.4% run iOS. The rest is split over other smartphone systems.
Android dominance has increased over the last year to nearly 70%, although in the last quarter of 2012, the release of the iPhone 5 put a damper on this as the latest model of the iconic Apple device surged to the top spot, and last year's model followed in spot two, leaving Samsung's GS3 behind.
| | | |
| --- | --- | --- |
| Global Smartphone Marketshare by Model (% of Total) | Q3 '12 | Q4 '12 |
| Apple iPhone 5 | 3.5% | 12.6% |
| Apple iPhone 4S | 9.4% | 8.0% |
| Samsung Galaxy S3 | 10.4% | 7.1% |
| Others | 76.7% | 72.3% |
| Total | 100.0% | 100.0% |
II. Samsung & Android
Neil Shah of Strategy Analytics informs me that "Samsung contributed to more than two-fifths of the total Android smartphones shipped in 2012." That is a huge percentage.
The Galaxy S4 will now be Samsung's flagship model. Samsung's intention is to sell over 100 million GS4s this year. (This is not a totally fantastic number as the iPhone 5 sold over 27 million in the December 2012 quarter alone.) This then is not just the flagship model for Samsung, but for Android as a whole.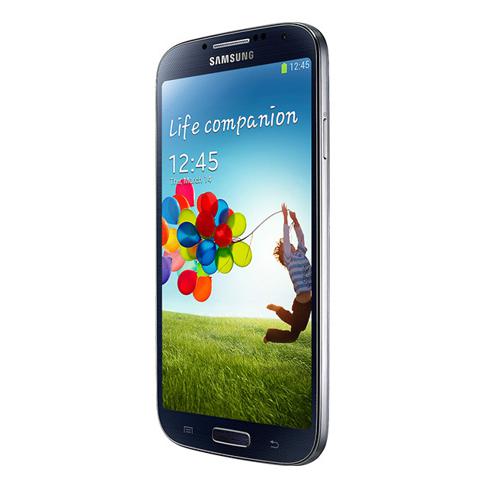 This article is not intended to be a review of the device. There are many of these on the 'net. Suffice it to say, Samsung has taken Android version 4.2.2 Jelly Bean, and layered a lot of its own services on top. This makes for a device that differentiates itself not only from iOS, but from other Android phones as well.
Research firm iHS reports:
"Smartphones are all about personal experiences that stay with people throughout the day, not only mobile ones," said Ian Fogg, director for mobile and telecommunications research at IHS. "Making extensive use of Samsung's technological prowess, the S4 can monitor events in users' lives-and then react accordingly. From health features to an eye-, gesture- and voice-controlled user interface; to automotive, entertainment and financial characteristics, Samsung has designed the S4 to pervade and enhance every aspect of users' lives. Combined with a massive worldwide rollout through almost every operator, the lifestyle focus of the S4 will help drive Samsung's market share sharply in 2013."
III. Conclusion
The new Samsung Galaxy S 4 is an impressive phone that will help to lead Android dominance in the smartphone market. It will most likely continue to be the most popular Android device in 2013, and its rich feature set will help to stave off growth from Windows Phone 8 and BlackBerry 10 phones. It remains to be seen how it will deal with the impending release (rumored) of Android version Key Lime Pie.
This differentiation is certainly good for Samsung, and anything that increases market share for Android is good for Google expanding the brand. At the same time, however, it does play into the criticism that Android is fractured. Certainly apps developers will be happy to develop for such a large platform as the Galaxy, but it will be at least somewhat different from other versions of Android.
This fracturization causes problems for developers who have, in effect, several related platforms to develop for. CNet.UK reports:
As a result, most phone fans are stuck with what they feel is out-of-date software even on brand new phones. As of November, Ice Cream Sandwich is on a quarter of Android phones but more than half still run Gingerbread -- three generations old…
Still, overall, the GS4 will surely be a big win for both Samsung and Android.
IV. But…
The big question for the future, however, is what will Samsung be doing with its own mobile operating system, Tinzen? I will be addressing this very important issue in my next post in the series.
-----
Android is Dead? Series posts:
In part 1: Why? I put out my thesis and basic arguments.
In part 2: Titans Clash, I note corroborating analysis from a Goldman Sachs report titled Clash of the Titans.
In Part 3: The Numbers, I proposed a 2016 market share scenario, complete with numbers, in which Android had lost significantly to Windows Phone 8, and BlackBerry 10.
In Part 4: New Contender Windows Phone 8, I discuss the new Windows Phone 8 operating system, and a couple of particular devices.
In Part 5: Number of Players, I addressed criticism that 4 was too many players in the market.
In Part 6: Nokia Triumphs, I discuss Nokia's recent success with it Lumia models.
In Part 7: WP 8 Ratings, I discuss the high ratings that the WP8 phones received.
Disclosure: I am long AAPL. I wrote this article myself, and it expresses my own opinions. I am not receiving compensation for it (other than from Seeking Alpha). I have no business relationship with any company whose stock is mentioned in this article.