Actionable Items:
Highest Positive Spread: Managed Duration Investment Grade Municipal Fund (NYSE:MZF)
Focus Stock: Source Capital (NYSE:SOR)
Last Week's Focus Stock: Cohen & Steers Infrastructure Fund (NYSE:UTF)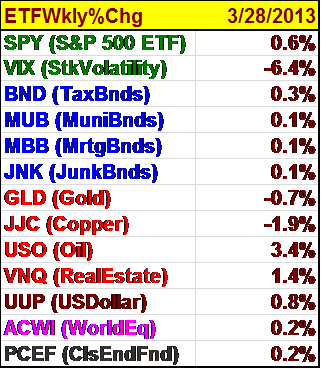 Equity Funds: In March both the Dow Jones Industrial Average (DJIA) and the S&P 500 broke new ground by passing their all-time highs. The DJIA hit 14,578.54 on March 5th, while the S&P 500 hit 1,569.19 this past Thursday (March 28). However, the Nasdaq Composite Index remains 50% below its recent average of 2000.
Mutual Funds: Mutual funds data (sources) has been earmarked to total taxable bond funds. The five weeks of data represents $22.7 billion in taxable funds. (Additionally, the municipal funds data has been slipping over the past two weeks.)
Domestic Equity: The domestic equity funds for the past 5 weeks have been $1.5 billion. However, foreign equity funds have raked in $15.8 million for the past 5 weeks. Retail investors have yet to hit the "bond brakes." If bond investors convert total bond funds to equity funds, "Katy, bar the door."
However, we'll need to reduce our budget deficits and fiscal debt, but we will save that for another time.
The ETFs: The ETF sectors are arranged year-to-date (YTD) in order as of 3/28/13. Health Care, Mid-Cap, and Consumer were leaders. Currency, Pacific/Asia and Commodities were laggards. Both commodities and copper (see "copper" ETFWkly%Chg Chart above) were slipping.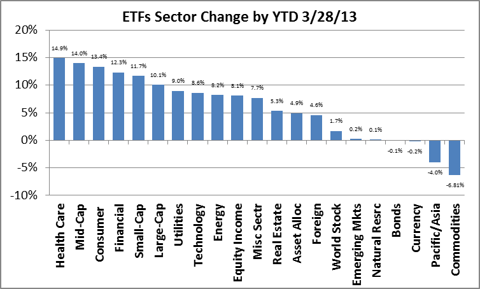 CEF Weekly Fund Type Performance: This week saw price rises for SpecEqFnds (1.3%), ConvtSecFnds (1.0%) and WrldEqFnds (0.8%). The laggards were LoanPartFnds (-0.5%), InvGrdBndFnds (-0.5%) and WrldIncFnds (-0.3%). GenEqFnds was up 0.5%, but PrcNAVSprd was down -0.3% (share price was down from NAV). LoanPartFnds was also at "rock-bottom", but was up by 0.7% PrcNAVSprd.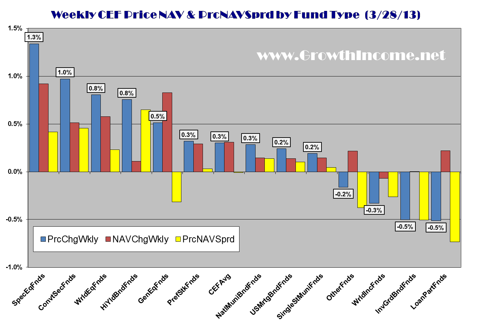 Highest Spread and Stock for the Week: Managed Duration Investment Grade Municipal Fund was ahead by a price increase of +5.1% and NAV per share increase of +0.1%. The PrcNAVSprd was +5.0% (A positive number may mean a future decline in share price). MFZ's total net assets are $173 million and the total common equity is $103.6 million. Auction rate preferred shares are $69.9 million and it is at a 40% level of assets. There is a 1.6% management fee on assets. In addition, there was a large buyer on both Wednesday and Thursday.
Lowest Spread and Focus Stock for the Week: Source Capital share price declined -2.4% with a positive +0.9% from its NAV per share. Its PrcNAVSprd decline was -3.3%. SOR's discount is 9.7%, which is around its weekly average. It maintains a managed distribution that pays a yield of around 5.1%. The dividend was also recently increased: 7.1% to $0.75 on a 2/20/13 ex-dividend date.
Net Assets were $562 million along with the common equity. There is no leverage in the portfolios. The management fee is 0.83% on total assets. Given the higher price of $58.62 per share, the board may want to split the stock on a "3" to "4" basis. The stock is not heavily traded.
Focus Stock & High Price for Last Week: Last week's "Focus Stock" for the week was Cohen & Steers Infrastructure which was up 3.6% for the week-ending in 3/28/13. The highest spread (stock that is likely to go down) was Invesco Insured Municipal Income Trust (NYSE:IIM), down slightly -0.2%.
Disclosure:
I am long UTF. I wrote this article myself, and it expresses my own opinions. I am not receiving compensation for it. I have no business relationship with any company whose stock is mentioned in this article.