Introduction
In an earlier article we discussed Apple (NASDAQ:AAPL), Hewlett-Packard Company (NYSE:HPQ), BlackBerry (NASDAQ:BBRY), and Google (NASDAQ:GOOG). Looking at the market fundamentals and base expectations on future investments of these companies, we concluded that Apple was the best bet. However, some investors commented the article strongly believed that BlackBerry would be an absolute winner in the Apple vs. BlackBerry war. In this article, I would like to make a fair suggestion on this point and to pick a winner in the Apple vs. BlackBerry war. Will Apple regain its lost glory?
Deep Finance Expertise
Before reaching any conclusion, let's analyze key statistics for each company. Here I'm going to use the stock valuation model to find out which is the best bet. The stock valuation model rates stocks from 1 to 10, with 10 being the best using a system of advanced mathematics to determine a stock's expected risk and return. I am using different fundamental and technical factors in order to rank a stock.
| | | |
| --- | --- | --- |
| Indicators for Valuation | Apple | BlackBerry |
| Enterprise Value | 393.94B | 5.59B |
| P/E | 10.0 | N/A |
| PEG Ratio | 0.55 | N/A |
| Price/Sales | 2.63 | 0.62 |
| Price/Book | 3.41 | 0.82 |
| Enterprise Value/Revenue | 2.39 | 0.44 |
| Enterprise Value/EBITDA | 6.65 | 3.60 |
| Dividend Yield (%) | 2.34 | N/A |
| Beta | 1.04 | 1.64 |
| 1 Month Stock Returns (%) | 2.46 | 13.13 |
| Year to Date Stock Returns (%) | -12.70 | 25.61 |
| 1 Year Stock Returns (%) | -21.36 | 9.15 |
| 3 Year Stock Returns (%) | 105.3 | -80.23 |
| 52-Week Change (%) | -22.50 | 6.20 |
| S&P500 52-Week Change (%) | 11.44 | 11.44 |
| 52-Week High | 705.07 | 18.32 |
| 52-Week Low | 419.00 | 6.22 |
| 50-Day Moving Average | 448.67 | 14.46 |
| 200-Day Moving Average | 546.88 | 11.36 |
| ROE (%) | 38.41 | -8.67 |
| ROA (%) | 24.94 | -6.35 |
Data from Morningstar and Financial Visualizations on March 28, 2013
The most important thing to look for before buying any stock is its "Intrinsic value". AAPL has an intrinsic value of $724 per share. Therefore, it is undervalued compared to its price of about $442 per share, giving an upside potential of more than 60%. However at the same time, BBRY has an intrinsic value of $15.28 per share. Therefore, it is fairly valued compared to its price of about $14.4 per share.
The better the financial health of the company the higher the expected returns. In this parameter, according to the table above, AAPL is doing exceptionally well compared to BBRY.
According to the earnings consistency analysis, each year's EPS numbers should be better than the previous year's. One dip is allowed, but the following year's earnings should achieve a new high. AAPL's annual EPS, before extraordinary items for the last 5 years (from earliest to the most recent fiscal year), were $6.78, $9.08, $15.15, $27.68 and $44.14, respectively. For BBRY, the same indicator was recorded at $2.26, $3.30, $4.31, $6.34 and $2.22, respectively. In this case, both AAPL and BBRY are doing well. However, if you look at the most recent fiscal year's EPS, BBRY's EPS has shown a dip, whereas AAPL's EPS has strongly grown to $44.14.
The company must have a minimum trailing 12 month after tax profit margin of 7%. The companies that pass this criterion have strong positions within their respective industries and offer greater shareholder returns. A true test of the quality of a company is its ability to sustain this margin. AAPL has a high profit margin of 25.35% and passes this test. However, BBRY's profit margin of -6.73% fails this test.
The companies should have positive free cash flow per share and, moreover, enough free cash flow available to sustain three years worth of losses. This is based on the premise that companies without cash flow will soon be out of business. AAPL's free cash flow per share of 41.22 passes this criterion, whereas BBRY's free cash flow per share of -0.40 fails to meet this criterion.
Preferred companies must have a ROE of at least 17%, as this helps to ensure that there are no structural flaws in the company. AAPL's ROE of 38.41% is outstanding. However, BBRY fails in this parameter with an ROE of -8.67%.
The P/E ratio, based on the greater of the current PE or the PE using average earnings over the last 3 fiscal years, must be "moderate", which in this model is not greater than 15. Stocks with moderate P/Es are more defensive by nature. AAPL's P/E is 10.0, which is well below of the industry average of 17.0. However, BBRY's P/E ratio is not available, hence it fails this test.
Companies must increase their EPS by at least 30% over a ten-year period and the EPS must not have been negative for any year within the last 5 years. Companies with this type of growth tend to be financially secure and have proven themselves over time. AAPL posted a staggering EPS growth of 16625.0% over that period, but the EPS for BBRY has been negative for the last 5 years.
Relative Timing is a fast, smart and accurate indicator of a stock's price trend. RT is computed from an analysis of the direction, magnitude, and dynamics of a stock's price movements over one day, one week, one quarter and one year time periods. Once a stock's price has established a strong trend, it is expected to continue in that trend for the short term. If a trend dissipates, RT will gravitate toward 1.00. RT will explode from bottoms, dive from tops, and reflect changes in price momentum. Both AAPL and BBRY have a RT rating of 1.02, which is fair on a scale of 0.00 to 2.00.
Total Scorecard
| | | |
| --- | --- | --- |
| Indicators | AAPL | BBRY |
| Intrinsic Value | 9 | 5 |
| Financials | 8 | 6 |
| Earnings Consistency | 10 | 8 |
| Profit Margin | 8 | 3 |
| Free Cash Per Share | 8 | 0 |
| Return on Equity | 9 | 0 |
| P/E Ratio | 8 | 0 |
| Long-Term EPS Growth | 10 | 4 |
| Strength on Technical Chart | 7 | 7 |
| SCORE | 77 | 33 |
| Average Score | 8.56 | 3.67 |
From above score, it can be seen that Apple has beaten Blackberry on an Average Score.
Stock Performance
When we look at the stock performance of the two companies, Apple's monumental rise obviously dwarfs every other company on the stock market. However, its current trajectory is moving south and BlackBerry's z10 models have been introduced at just the right time to take advantage of the void.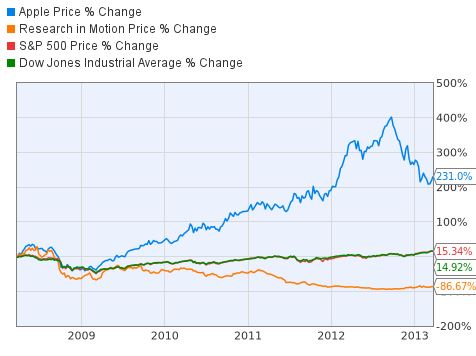 Unsurprisingly, Apple outperformed everyone and everything for the last 5 years, but its very apparent peak during late 2012 is worrying for the current Apple stockholders. Why? Well, its decline seems to be faster than its rise to the top. Similarly, a look at the 1 year graph not only amplifies Apple's problems, but it also sheds light on BlackBerry's improving performance on the stock market, which has not been smooth. Its launch in the U.S. was received with caution as the stock dropped 8% on NYSE. The outdated nature of older Blackberry devices was such that the stock had lost more than 50% of its value from a year ago.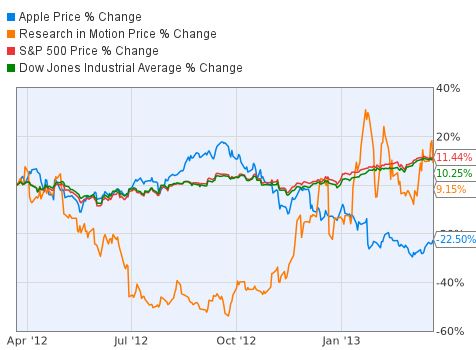 Outside the U.S., BlackBerry can be encouraged from reports that the BB10 is outselling the iPhone 5 in Canada and that the company received an order for 1 million BlackBerry 10 smartphones in March as well. Germany's Federal Office for Information Security has already authorized the buying of 5,000 BB10 devices for its staff. Furthermore, a recent report suggests that half of BlackBerry Z10 sales in Canada and 1/3 of the sales in the UK have been made to users who switched from other platforms. Simply put, the BB10 is already encroaching into the market share of its competitors.
What does the Future Hold?
Apple has $137 billion in cash to spend on research activities, rewarding its shareholders and providing better payout packages to its workers. Truth be told, the increasing pressure from shareholders for increased dividends is bound to bear fruit sooner rather than later. Apple is expected to raise its dividend to between $3.31 and $5.30 per share, which would be a 56% increase, making its projected 3.7% yield higher than most of the S&P 500 companies that pay dividends.
The second option for the Apple board to consider is buying back shares, which would spark an increase in the stock price once again - something Apple investors and analysts are very much worried about. Even though the long term investor has gained 231.0% even today, the market and the investor expect Apple to continue growing in the same fashion. Anything less causes panic to set in. Apple's global supply chain and operations give it a distinct advantage in guarding itself from supply shocks. More importantly, customers and investors are always looking towards Apple for new products. The company has the aspect of anticipation on its side, as markets around the world focus on Apple every time a product is about to be rolled out. None of its competitors, such as BlackBerry, Samsung, Nokia, and Google, have such a feather in their caps. Anticipation and desire are keeping Apple afloat even when its innovation mill seems not to be working with continuous fluidity. With Apple TV, iWatch and a whole load of 'i' products rumored to be in the pipeline, Apple's innovation is still its primary weapon.
Lenovo's (OTCPK:LNVGF) CEO was recently quoted saying that his company might consider buying the smartphone maker BlackBerry. BlackBerry, like Apple, does not have debt to worry about. However, it does have failing ROE and EPS metrics to address as it aims to take a shot at the market leaders. BlackBerry's strong selling point is its amalgamation of smartphone interface and its renowned information safety. When corporations and governments shifted from BlackBerry devices to 'Bring Your Own Device' or other platform devices, the issue of security went unaddressed. Now that BlackBerry is back with its new devices, it can claim a huge demand due to the security nature of its offering. This is indeed Blackberry's primary selling point, besides the fact that its CEO believes BB10 has better multi-tasking ability than the iPhone.
While BlackBerry's resurrection is very understandable, I don't think that the level of interest for its products can outweigh the global demand, which is dominated by Apple. Think of it this way, would BlackBerry have survived at its peak if the Apple iPhone was as widely bought then as it is today? I don't think BlackBerry would have stood a chance in sales, revenues or profits. If it did have a chance, then Apple's ascent would have been known as 'The new BlackBerry' - but that was not the case.
Why Apple is the Best Bet in 2013…
In March, 2013 Apple crossed its 50-day moving average for the first time since the beginning of October, which gives us a sign of an upward trend and this turnaround might lead to a bullish phase for AAPL. Furthermore, the stock is now trading with a positive return over the last month, which is the first time that this has occurred in the last six months. However, BBRY's stock price has gone up 25% from the start of the year 2013 and has reached its fair value. One can expect some correction here.

Fundamentally, the Apple stock is being driven by the speculation of a cheaper iPhone, which by itself will add $22 billion in revenue and an EPS of $5 to next year's financials. It might be the final nail in the coffin for Blackberry, as enterprises that buy phones in bulk for their employees would certainly welcome a cheaper alternative and that, too, coming from the country's top smartphone maker. Blackberry has already lost its appeal to mainstream customers in the U.S., and the lack of adequate apps on the BB10 operating system proves to be of no help either. By now it's probably clear that the chips are down in a big way for Blackberry. The $199 on contract Blackberry Z10 might find it difficult to even compete with the free on contract iPhone 4.

At its current price, Apple's stock trades at just 3x its $137 billion of cash, 9x of FY2013 EPS estimate (6x excluding its cash), 5x of FY2013 EBITDA estimate, and has a 12% free cash flow yield. These metrics are more than a 30% discount to the S&P 500s's 14x P/E and 9x EBITDA. Meanwhile, Apple pays a 2.3% dividend yield vs. the S&P 500's 2.1%.

At current prices, Apple doesn't even need blistering growth anymore to justify the current valuations. A value investor should buy the stock. As Apple continues to grow, albeit at a slower pace than in prior years, it will likely increase its payouts over time as well, since it does have more money than it could conceivably need for its operations. Apple generated $23.4 billion in operating cash flow during the last quarter alone, of which $21 billion was free cash flow.

Even if you remove the growth part from the Apple's stock, it's still trading at a very cheap valuation. The only thing hurting AAPL is high expectations from its shareholders, which is creating lots of pessimism and is factored into stock price.

A key driver adding upside to revenue expectations could be the release of a new product line, iTV, in 2013. The company has built an enormous ecosystem like iTunes and iCloud, and the App Store will "enhance" Apple's ecosystem of products and make them more desirable. That will continue to generate a significant amount of cash flow in the future.

Apple is widely recognized as a 'Leading Innovator' in the consumer electronics market. With its strong 'Brand Value' and core competency, Apple will be the best positioned to grasp the exponential growth opportunity in the smart mobile devices and mobile computing segment.

An anticipated iPhone refresh, new iPads, and expanded carrier partnerships in mid 2013 may act as a catalyst for AAPL's share growth. Also, every $5 billion in share buyback conducted by Apple is expected to reduce the share count by 1%.

AAPL has a forecasted Earnings Growth Rate of 20.0%, while BBRY has a forecasted Earnings Growth Rate of -11.0%, which is very poor.
Final Words
A spark - that's all it takes to set a fire. Apple is a powder keg that only needs a spark to become the hottest prospect on the stock market yet again.
Apple is very cheap at its current level. While it could very well rebound and then struggle a little after earnings, the fact of the matter is that Apple, at about $442 a share, presents us with an extraordinary buying opportunity. Most of the folks who bought Apple stock over the past 5 years bought it because they considered it a "growth" stock, not a "value" stock. Now one can buy AAPL just by taking it as a value stock. So, if Apple does end up delivering a robust return over the next few years, that would be a bonus. So, don't get too caught up in bearish sentiment. I expect Apple to be an absolute winner in the Apple vs. BlackBerry war.
Disclosure: I have no positions in any stocks mentioned, and no plans to initiate any positions within the next 72 hours. I wrote this article myself, and it expresses my own opinions. I am not receiving compensation for it (other than from Seeking Alpha). I have no business relationship with any company whose stock is mentioned in this article.