If you haven't noticed, short interest in BlackBerry's (NASDAQ:BBRY) shares has increased once again to a new record. As of the record date March the 15th 2013, short interest stands at 155 million shares.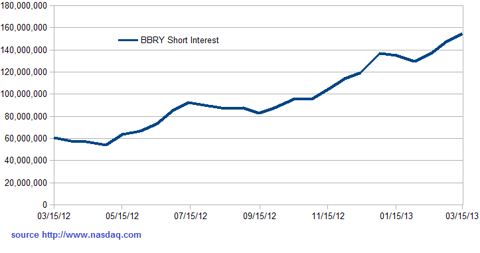 In a recent note, Citigroup says that BlackBerry has the highest short interest by far of any maker of tech products that the brokerage firm covers. In fact, 155 million shares represent 31% of the outstanding shares of the company.
Obviously, this increase happened before BlackBerry's most recent quarterly announcement and has nothing to do with the company's Fourth Quarter year-end fiscal 2013 results.
But as I see it, even if BlackBerry reported a loss, that is still not a reason for traders to open short positions against the stock.
Besides the fact that this company has officially turned around and was not going out of business to begin with, this company is trading below book value, has a price/sales ratio of less than one, and lastly has a solid balance sheet and above all is profitable.
Let's see what some of the analysts who cover BlackBerry had to say about the company's recent results:
Rric Jackson, founder and managing partner of Ironfire Capital which owns BlackBerry shares said:
All in all I'm happy because I think the majority seemed to be expecting the world to cave in on them and that didn't happen. They blew away expectations on the bottom line. They're pretty good at managing their business and grinding all the profits out of it that they can. They probably underestimated the impact the core cost reduction program was going to have on the business.
Peter Misek, analyst at Jefferies & Co said:
Those were really solid results, those earnings are awesome, the gross margin blew everybody out of the water, that was fantastic. The z10 has a much stronger gross margin and asp (average selling price) than people realize. They're making money. The corporate part of their subscription business is remaining strong, the consumer side, as they said, is going to decline here in the near term. overall, this is step one on the recovery ladder and a very, very, very good result. The service revenue held up frankly as we expected. The overall revenue number missed because they sold about a million less of the non-blackberry 10 handsets, but frankly, they were losing money on every one of those handsets they sold, so I don't care. They said they were going to burn $500 million of cash and they effectively didn't burn anything, that was remarkable.
Brian Colello, senior equity analyst, Morningstar said:
I think the encouraging thing is that BlackBerry was still able to sell a good portion of older models, generate solid service revenue during the transition. I think that will be important in terms of cash balance and profitability. I think the jumping off point for Z10 sales was important as well, and then from a financial standpoint, the fact that he cash held up well, that operating expenses were relatively held in check are encouraging signs. Obviously the bigger issue is BlackBerry 10 sales going forward, but if you do look back at the February quarter, I think you had more positives than negatives. Profitability was better than expected and I think marketing, all the ad costs for BlackBerry 10, were relatively constrained.
I can find only one reason to explain the spike in short interest, and it has nothing to do with the company itself. Please have a look at the chart below: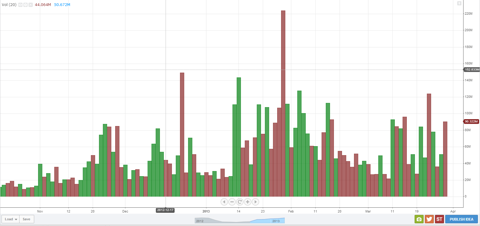 The chart above shows the daily trade volume of BlackBerry. As you can see, for the past several months, daily volume has gone off the scale. Please notice the one day volume of 220 million shares on the 30th of January. Mind you, It is not normal for 50% of the total float to change hands in one day.
Obviously, this stock has become a traders' delight. Almost on a daily basis BlackBerry registers as one of the top 10 stocks with the most trade volume in the U.S. In fact, almost on a daily basis, more than 20% of the total float changes hands.
So my explanation for the short interest has to do with the tremendous surge in trading volume. On a daily basis traders buy and sell, open and close short position on a massive scale.
So the more the average daily volume, the more the short interest, because more and more traders are day-trading BlackBerry like crazy. And as you might know, many times day-traders open short positions on a 5 minute time frame and close then again five minutes later. The more the trading volume, the more the short interest in the stock as a result.
Bottom line
As I see it, the spike in BlackBerry's short interest probably has nothing to do with the fundamentals of the stock, but with the fact that average daily trading volume is off the scale and nothing else.
Disclosure: I have no positions in any stocks mentioned, and no plans to initiate any positions within the next 72 hours. I wrote this article myself, and it expresses my own opinions. I am not receiving compensation for it (other than from Seeking Alpha). I have no business relationship with any company whose stock is mentioned in this article.