Color me somewhat surprised (and disappointed!) that upon BlackBerry's (NASDAQ:BBRY) earnings release, the share price couldn't hold its gains! As my readers are aware, my involvement with shares of BlackBerry have been primarily to play the near term catalysts hoping for some kind of significant short covering - I'm not in love with this stock. While many managed to make a decent profit trading, it seems that much of the positive pre-earnings expectations was already baked in. With the major catalyst out of the way, what's next for shares of BlackBerry?
Investors: BlackBerry Is A Company That Is Making Solid Progress
It should be clear to any longer-term investors that BlackBerry is making some very solid progress as a company. In the most recent report, we saw some fairly interesting facts. In particular,
Cash is actually up from ~$2.7B to $2.9B
BlackBerry 10 shipments of ~1M units were in-line with sell-side analyst expectations
Cheaper BlackBerry 10 units are coming (are you listening, Apple (NASDAQ:AAPL)?)
The Q10 will be making an appearance in April
Hardware pricing is up -> gross margins saw a very nice improvement
55% of BB10 buyers were converts from another platform
Subscribers were down by about 3M
All in all, it seems as though management is doing absolutely the right things given the situation. However, as most investors are aware, there is still a long way to go before this turnaround can be called a "success". In particular, I am looking for:
Sustained Q/Q BB10 market share growth worldwide
An inflection point in the subscriber base, which continues to slide
Larger penetration in the USA (investors in US tech equities are typically geographically myopic)
Lower cost BB10 devices that manage to sell in significant quantities (these seem to be on the way)
Continued gross margin increase (in particular, I want to see hardware margins expand considerably)
A confirmation that, despite the slow-ish initial sales, that developers will be committed to this platform
The company still trades at only a ~40% premium to tangible book, and a ~23% discount to book value, so I don't see a lot of danger in continuing to hold shares at this point, especially given the firm's excellent cash management, but it will take some real catalysts to push this stock up meaningfully.
That's my take for investors: the turnaround is real, and I am encouraged by solid execution from the BlackBerry team at large. But most people involved with this stock aren't long term investors, but are instead trying to trade catalysts...so, what's next?
Traders: Stick Around For Q10?
While the earnings report is out, traders will be looking for the next catalyst. I believe that the launch of the Q10 will be that catalyst. For those of you unfamiliar with the Q10, it's essentially a souped-up, BlackBerry 10 OS based successor to the original QWERTY BlackBerry phone: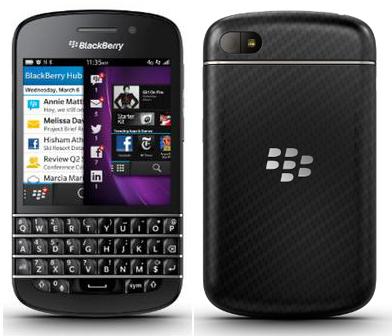 I believe that while the Z10 was a pretty decent attempt to try to bring over iPhone and Android users that are used to pure touch-screen phones, the real BlackBerry fans (and those looking for the "next big thing") are going to probably be more attracted by the Q10 than the Z10. There will probably be indications of how the sales are going from the tech press, and my guess is that they will be even more positive than the Z10, and that there will be an interesting trading opportunity to be had here. Keep an eye on the newsflow, and trade accordingly.
Conclusion
It's looking more and more that BlackBerry's turnaround is going as well as could be expected. While I don't think that buying $19 calls expiring next month will make you rich, the stock will be an excellent trading vehicle over the next months. Investors may need to be patient, as the thesis will take some time to play out (think 2014/2015 timeframe), but isn't that how it always is when it comes to the really interesting long term investments?
Disclosure: I have no positions in any stocks mentioned, and no plans to initiate any positions within the next 72 hours. I wrote this article myself, and it expresses my own opinions. I am not receiving compensation for it (other than from Seeking Alpha). I have no business relationship with any company whose stock is mentioned in this article.