The share price of Intel (NASDAQ:INTC) has declined by 23% over the past 12 months. At $21.83, the stock is trading not far from its 52-week low of $19.23 and offers a 4.1% dividend yield. I am of the view that the stock has likely bottomed and is poised for a solid upside ahead, and there are 6 compelling reasons backing my opinion:
1. Intel shares are cheap based on the company's financial performance relative to its primary peers (see chart below). Despite the below-average growth estimates, Intel demonstrates a superior profitability performance as reflected by its robust margins and capital return metrics. On the debt side, the company has an above-average debt to capitalization ratio but its debt to EBITDA multiple is below par. In terms of liquidity, Intel was able to maintain a healthy interest coverage ratio owing to the strong margins. Both the firm's current and quick ratios are not significantly below par, reflecting a still healthy balance sheet condition.

The stock's current price multiples at 4.9x forward EBITDA and 11.3x forward EPS (next 12 months) together represent an average discount of 45% to the same peer-average trading multiples. After accounting for Intel's weaker long-term EPS growth estimate, the stock's PEG ratio at 1.1x remains 26% below the peer average at 1.4x (see chart above), suggesting that market has likely not given enough credit to Intel's higher profitability and healthy liquidity performance and hence investors' concern about the company's growth prospects appears to be overdone.
2. Intel's forward P/E multiple is also trading at a 23% discount to the same multiple of the S&P 500 Index, which stands at 14.8x now. I believe the large market discount is likely exaggerated by the market's growth concern given that 1) Intel's estimated long-term EPS growth rate at 10.6% remains notably above the average estimate of 8.2% for the S&P 500 companies; 2) the company continues to deliver a market-leading return on investment as reflected by its strong ROE trend (see chart below); 3) the stock offers a 4.1% dividend yield which is considerably above the average yield of 2.4% for the S&P 500 Index, and the dividend per share was raised by a healthy rate of 7.1% in 2012; and 4) the stock is also supported by the firm's aggressive share buyback program which has retired approximately $30B of shares throughout the past 5 fiscal years.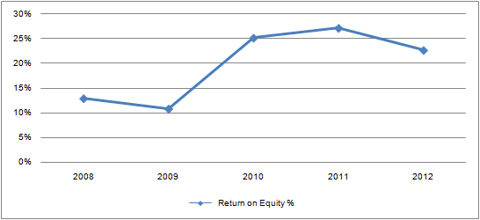 3. Intel's lofty dividend yield and dividend growth prospect offer a solid downside protection to the stock price at this level. Although the rising capital expenditure in the past few years has caused a modest decline in free cash flow, Intel's annual dividend payment still represented less than half of the annual free cash flow generated, indicating that there remains an ample capacity to sustain the current pace of the dividend growth (see chart below).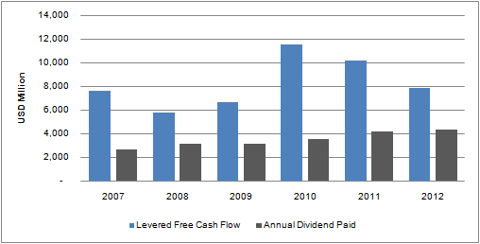 In addition, the Fed is likely going to maintain its easing policy for a while and the resulting low-interest market environment will continue weighing on equity dividend yield. As such, assuming a target dividend yield range from 4.0% to 4.8% (according to the chart below, Intel's dividend yield has never achieved 4.8%), and supposing that the annualized dividend yield would be raised by just 6% from the current level at $0.90 to $0.95 in August 2013, this conservative scenario would yield a share price range from $19.88 to $23.85, or a fairly balanced price return band from -9.0% to 9.3% even before factoring in the dividend income.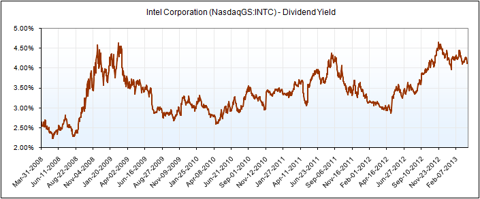 4. The market's consensus revenue and EPS estimates for 2013 and 2014 have basically trended steadily over the past 3 months. Analysts' average long-term earnings growth estimate has also been raised from 9.0% to 10.6% since 3 months ago, reflecting a recovering market sentiment (see charts below).



5. In a March research note, Andy Ng at Morningstar commented on Intel's business prospects, which I tend to agree with (sourced from Thomson One, Equity Research):
"Despite Intel's limited success so far in penetrating the mobile device chip market, which is dominated by chips based on ARM's designs, we believe Intel and its Atom chips will become much more competitive against ARM in the next couple of years…Although the proliferation of tablets has been cannibalizing some PC sales, it will spur substantial server buildouts. This should drive significant demand for Intel's server processors, which will be needed to support the cloud computing phenomenon."
6. There has been a solid technical price support at around $19 level over the past 3 years (see chart below).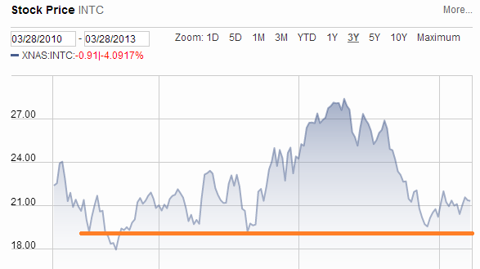 Bottom line, Intel shares are oversold as the market is overly pessimistic about the company's future. Investors should buy the shares at this level as the investment offers a solid margin of safety owing to the cheap valuations and tempting dividend yield.
All charts are created by the author except for the consensus estimate tables which are sourced from S&P Capital IQ, and all financial data used in the article and the charts is sourced from S&P Capital IQ unless otherwise specified.
Disclosure: I am long INTC. I wrote this article myself, and it expresses my own opinions. I am not receiving compensation for it (other than from Seeking Alpha). I have no business relationship with any company whose stock is mentioned in this article.