International Paper (NYSE:IP) shares caught fire Wednesay as an analyst upgrade from Deutsche Bank (NYSE:DB) send shares higher by more than 20%. The research note suggested that the forestry products company could be seeing a bottoming as among other trends pulp demand is growing in China. The research note was also apparently based on some of what the analysts learned in a meeting with the company's management. After hearing that the company was expecting about $1 billion in free cash flow this year the analysts were moved to upgrade IP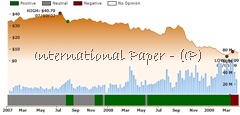 to a Buy rating. Clearly, the implication is that this substantial amount of free cash flow would greatly help alleviate the substantial debt burden that lay ahead for International Paper, mostly with maturity in 2010.
International Paper has certainly cut costs effectively in the last few quarters, and cutting the dividend by 90% has helped them preserve $100 million in capital each quarter. However, the very difficult operating conditions that have lead International Paper to this point were largely brushed aside, with the report saying,
"Reading between the lines and looking at reported industry data, 1Q appears to have been a very tough volume quarter. The company said Russia and North America were the worst regions, and that the slip in Brazil was beginning to show."
The analysts report certainly sheds International Paper's business in a positive light, and the stock is at attractive levels. However, after the 20% appreciation today, we do not see this as a good time to enter the stock. Earnings may have stopped their slid as the report suggests, but we still see that IP is expected to lose money in the current quarter and in for the entire fiscal 2009 year. So, while the stock is priced very low compared to historical norms, it still too expensive to justify the degraded fundamentals. We are not overly impressed by the rating change from Deutsche Bank, as the company is going to struggle to even break even in the coming nine months (IP made $2.02 in 2008). We are reaffirming our Overvalued rating on IP shares until the earnings picture improves dramatically.
"I watch the sexy sector of paper and forest products. It doesn't sound interesting to you, but look at the gains they're posting today. It may change your mind. International Paper up 20%. Deutsche bank upgraded it and said the paper sector may have hit a bottom. Another sector that may have hit a bottom. Everyone says, "may" by the way." Fox Business Network 4/15/2009