by Ramsey Su
Freddie Mac just announced a Streamlined Modification plan, starting July 1, 2013.
Here are the gory details:
News Facts
The Streamlined Modification will target borrowers who are at least 90 days delinquent on mortgages that are at least 12 months old, and meet other eligibility criteria.

Eligible borrowers are not required to submit documentation, but can accept a Streamlined Modification offer simply by making the trial period payments. The modification becomes permanent once the borrower demonstrates their ability to pay by completing the trial period.

The Streamlined Modification offers the same mortgage terms as the Standard Modification Freddie Mac announced in September 2011, which enables servicers to reduce a borrower's monthly mortgage payment by adjusting interest rates, extending payment terms to 40 years, and providing principal forbearance for certain underwater borrowers.

Detailed guidance [PDF] implementing the Streamlined Modification can be found at FreddieMac.com.

Freddie Mac and its servicers have helped more than 785,000 distressed borrowers avoid foreclosure through mortgage modifications, forbearance, repayment plans, short sales and deeds-in-lieu since 2009. Freddie Mac has also helped more than 1.8 million families make home ownership more affordable through the Freddie Mac Relief Refinance program, which includes the Home Affordable Refinance Program (HARP).
Why are there any defaults? With this program, the policy makers can make more headline news about how defaults are going down and the real estate recovery is well on its way.
In fact, I wonder why not just offer some new financing program for home buyers, with nothing down, no qualifications needed and at whatever loan-to-value. How about letting the borrowers have the option of setting the payment amount? Real estate would certainly recover, right?
Seriously, as we are watching the events in Cyprus unfold, and as we wonder how Cyprus could get into that predicament, just look at what we are doing to ourselves today.
Addendum: The Scary Chart
At Businessinsider a slide by Citi's credit strategist Matt King was posted, which shows the correlation between house prices and dependency ratios (the ratio between retirees and the working population) in developed nations. King calls it his 'most depressing chart ever'. We reproduce it below (cover the eyes of women and children):
---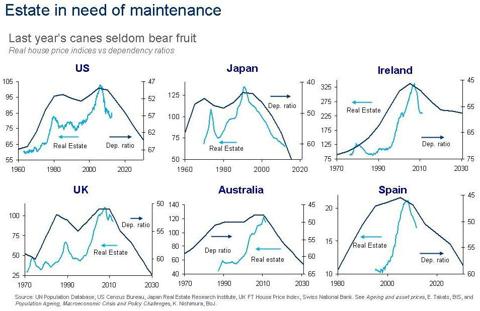 Chart via Citigroup / Matt King - click for better resolution.
---
There may actually be a connection between demographics and real estate prices, although correlation does of course not necessarily equal causation (but it is not completely unimaginable that such a correlation exists). However, we happen to think that the correlation between debt and money supply growth may be the more important factor - of course one may well argue that these are also not independent of demographics in a debt based monetary system.