As growth in the US online travel market slows down, online travel agencies (OTAs) are turning towards growth opportunities in other promising markets such as Europe and Asia-Pacific. Having acquired Booking.com, Agoda and TravelJigsaw, Priceline (NASDAQ:PCLN) has significantly expanded its international operations in Europe and Asia-Pacific. While Booking.com is one of the premium booking platforms in Europe, Agoda is focused on expanding Priceline's presence in the Asia-Pacific travel market.
While Priceline continues to focus on leveraging higher travel demand from Asia, its expanding presence in Europe has been the driving force behind its strong growth. Priceline's revenue has increased from $1.4 billion in 2007 to $4.4 billion in 2011, a CAGR of 33%, and the company's success in the European travel market was a major driver behind this growth.
With a lower online penetration (compared to US), a fragmented hotel market and low OTA penetration in Eastern Europe, we believe that the European online travel market offers considerable growth opportunities for OTAs. While Priceline has been successful in expanding its foothold in Europe and may continue doing so, the threat from numerous local players and other leading US OTAs could lower its growth in the future.
In this article we analyze the potential growth in the European online travel market and factors that contribute to this growth. We also study Priceline's progress in the market so far and increasing competition that might restrict its growth in the future.
How big is the European online travel market?
Despite the debt crisis in Europe, the online travel market in the region grew by 9% as compared to 4% in US during 2011-12. The online travel sales in Europe increased from $118 billion in 2010 to $141 billion in 2012 and are estimated to reach approximately $180 billion by 2016.
The gross online travel bookings in Europe accounted for 37.7% of the global online travel market in 2012. Though the percentage contribution might decline in the future as higher demand from Asia-Pacific and Latin America outpace demand growth from Europe, the European online travel market offers higher growth opportunities compared to the US. The European online travel sales is expected to grow at a CAGR of 5.7% till 2016 as compared to 4.8% CAGR for the US online travel market.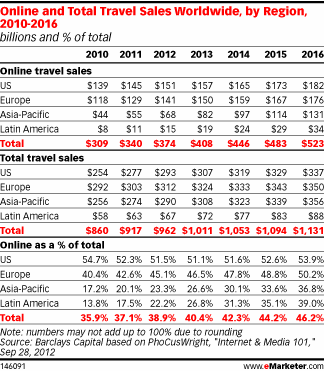 The growth in online sales in Europe is primarily driven by online travel agencies that offer easy access and comparison of travel packages and deals from around the world. Research by PhocusWright estimated OTAs grew around 13% in 2012 as compared to an 8% increase in supplier websites. As of 2012, OTAs' share in the European online travel market was 37% and is expected to further increase in the future.
However, while Europe's online travel market continues to outpace the overall market, its growth rate will slow down in the coming years.
What are the key factors that drive online travel growth in Europe?
Despite macro headwinds, here are some of the factors that continue to fuel growth in the European travel market -
1. Increasing online penetration: The relatively low internet penetration in Europe (63.2%), as compared to the US (78.6%), presents meaningful upside to the online travel industry as customers increasingly access the internet to make travel plans.
2. Fragmented hotel market: The hotel market in Europe is more fragmented with many more smaller, independent lodgings compared to the US, where the market is dominated by large hotel chains. Hotel chains are more likely to offer online bookings through their own websites while online travel agencies such as Priceline are more appealing to small, independent hotels outside the US.
Due to the fragmented nature of Europe's hotel industry, the need for standardization leads to immense growth opportunities for OTAs. On average, over three out of ten hotel rooms are booked online and the proportion is expected to increase in the future.
3. Higher growth opportunities in Eastern Europe: The penetration of OTAs in Eastern Europe is still comparatively low and the market continues to be dominated by supplier websites. However, as per PhoCusWright, the OTA market is increasing by >25% annually, increasing their share of air tickets and hotel bookings. It estimates OTA travel bookings' share to increase to 10% in 2013, compared to 7% in 2011.
Additionally, while online bookings contributed only 16% to Eastern Europe's total travel market, the contribution is expected to rise to 23% by 2013.
Where does Priceline stand in the European online travel market?
With the acquisition of Booking.com, Agoda and TravelJigsaw, Priceline has been increasing its focus on growing its business internationally. Gross bookings from international markets as a percentage of total bookings have gone up from 55% in 2007 to around 82% in 2012.
After the acquisition of Bookings.com in 2005, Priceline has been steadily increasing its market share in Europe and key European markets represent around 60% of its total room nights booked. However, Booking.com only accounts for 6% of the European hotel market which leaves great potential for further growth.
Expansion in Europe is one of the key reasons for Priceline's robust growth over the years. Priceline, Expedia (NASDAQ:EXPE), Lastminute.com, Ebookers and ODIGEO account for over 60% of European OTA bookings. Priceline's Booking.com has been one of the primary drivers for OTA growth in Europe. Its market share in OTA gross bookings increased to approximately 27% in 2011, 5% higher compared to 2010.
What are the factors that can limit Priceline's potential growth in Europe?
In addition to numerous locally based OTAs, Priceline faces increasing competition from other leading US based OTA's including Expedia (hotels.com) and Orbitz (NYSE:OWW) (Ebookers) who are also targeting growth in the European travel market.
Currently, Priceline is known to have a wider presence in the European hotel market compared to other US based OTAs. In December 2012, Expedia announced its acquisition of Trivago, which is one of the leading meta-search engines for hotel bookings in Europe. Established in 2005, the website now has over 600,000 hotels across 140 booking sites in 30 countries. We feel that apart from marking Expedia's entry in the meta-search space, Trivago would help fuel Expedia's strategy to leverage growth in the European hotel market.
Our price estimate of $633 for Priceline is almost in line with the current market price.