Recently I wrote an article stating that I thought Blackberry (NASDAQ:BBRY) is a worthwhile speculation today. My thesis being based around the strength of the new BB10 OS including its unique features, the mounting evidence that their new flagship phones the Z10 and soon to be released Q10 are receiving very positive reviews, and also the strength of the established user base which can make it a viable 3rd player in certain niches, such as in government and certain parts of the corporate world.
Another potential turnaround story in the smartphone industry is Nokia (NYSE:NOK), which has also seen some life in the past months as their newest line of Lumia phones has done reasonably well in the market. Despite recent improvements in the company, I still feel that Nokia has a lot of risks and it is not clear at all longer term whether they can survive and be a prominent player in the market. In this article I will explain my hesitation to invest in Nokia today and why I think Blackberry is the more worthwhile of the two companies to speculate on over the coming year.
The Reemergence of Nokia - Is it Real?
Here is a look at the rollercoaster ride taken by investors in Nokia's stock over the past 6 months: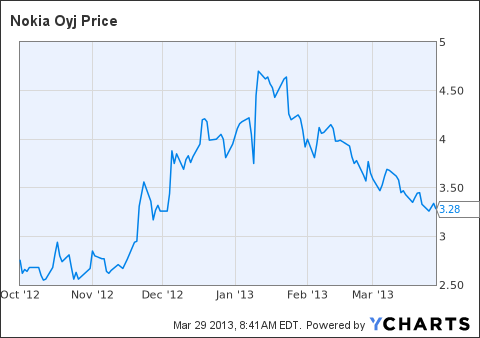 Investors are up 27% over this period with the stock having risen from just over $2.50/share to the current price of $3.28. However the past few months have seen a huge drop from above $4.50. So what has caused the huge rise and subsequent fall? In late November reports came out that the Lumia 920 phone was selling much better than expected in the US and Europe, and this caused a 13% single day jump in price, followed by several weeks of continuous upward movement. However at the end of January when the company announced Q4 2012 results it said the dividend would be stopped (from a juicy 5.5% yield to 0). In addition to this, despite selling 4.4 million Lumia phones in Q4, forward guidance was not very strong as the company expects to see a slower Q1 partially due to seasonality and also continued restructuring efforts. Putting this together and the stock has performed poorly since January, now about 30% off of its highs.
Looking at the smartphone market share for Q4 2012 shipments, we can see that Microsoft (NASDAQ:MSFT) based Windows 8 phones have gained significant share in the past year: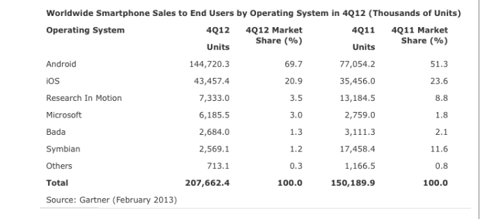 Sales of Microsoft phones have increased from 2.7 to 6.1m units in 1 year, a CAGR of 225%, increasing their market share from 1.8 to 3.0%. With 4.4m Lumias sold in Q4, Nokia has about 72% share of the Windows smartphone market. On the face of it, this would seem to be good news for Nokia as the company has gained traction with its Lumia line and could be poised to take further share moving forward.
Despite Market Share Increases - Lack of True Customer Base is A Risk
Despite the recent gains for the Lumia line, going forward I think BlackBerry is a much better bet to become the true number 3 player in this market. Remember last year BlackBerry had delays in the rollout of BB10, and Nokia was able to release its new Lumia phones with virtually no competition from BlackBerry. Now that the Z10 has been released to positive reviews, and BlackBerry has confirmed in its recent earnings release that it sold 1 million units already in the past 2 months, I think Nokia needs to be worried. This is not even counting sales in the US, where the Z10 just began selling a few days ago, or for the Q10 phone which will go on sale in April. Many expect that diehard BlackBerry fans have been holding off purchase waiting for the QWERTY keyboard of the Q10. With the continued dominance of Google's (NASDAQ:GOOG) Android OS and Apple's (NASDAQ:AAPL) iPhone, which together now own about 90% of the smartphone market, I think longer term there will only be room for one viable 3rd player in this market.
The main issues I have with Nokia, is that it has decided to adopt the Windows platform which basically has no substantial user base and no specific niche that it caters to. BlackBerry on the other hand still has more than 76 million subscribers, which although this base has declined significantly in recent years, it is still a force to be reckoned with. I also like the fact that Blackberry always had certain markets it was very strong in, namely those requiring strong security (e.g. government), and the new BB10 has some very distinct features which make it unique on the market place. This includes for example the Balance and Hub. I think both Nokia and Blackberry have issues with the total ecosystem they provide to users, which is a particular strength of Apple with its 800k apps. For comparison, Windows 8 only has about 50k apps and BlackBerry is now close to 100k. Most end users will cite the lack of breadth in the app store as a major drawback for these platforms. For the Lumia line I see this as a major issue in holding Nokia back from gaining significant share. For BlackBerry on the other hand it is also a risk, but its core base of users focused on aspects like security will find the app ecosystem much less important.
Current Valuation
Nokia like BlackBerry has negative TTM GAAP earnings. Nokia however also had negative FCF/share in the past year. The most recent quarter was positive at $0.15/share, and analysts do expect a long term growth rate of about 5% for earnings. If you assume this rate of growth with a 12% discount rate, the company could be worth anywhere from about $3-$6/share, depending on FCF estimates going forward. I find the full year 2013 exceedingly difficult to predict with fierce competition in the market place, the expected drop in results in Q1, and also the fact that the company does not give explicit guidance. Perhaps most interesting here is that Nokia does maintain a very strong net cash balance of more than $4B, which increased $800m in the most recent quarter (although almost all of that due to Nokia Siemens Network). On a pure financial valuation perspective you could say Nokia is attractive particularly considering its strong cash position. Although the company has already indicated significant further restructuring charges of $1.6B in 2013, so it will be interesting to see how the cash balance holds up throughout the year. I also like BlackBerry better in this respect though, especially when you look at metrics such as Price to Tangible Book Value, which to me shows BlackBerry has been beaten down more significantly and is still priced more attractively: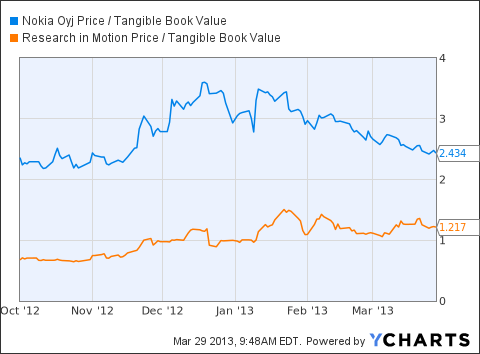 NOK Price / Tangible Book Value data by YCharts
NOK is about twice as expensive as BBRY based on this metric.
The Bottom Line
For those investors who don't mind heightened risk and want to take a stab at speculating on turnaround plays, I would definitely recommend BlackBerry over Nokia. Although Nokia has had some success in the past 6 months, as the Lumia phones have been doing well and gaining market share, I think a lot of this success was because BlackBerry was not yet competing. Now that BlackBerry has finally released its new product line, I expect the Lumia will see significantly more competition in 2013 and will struggle to maintain the improved position it has enjoyed in the past few months. Combining this with the fact that I do not see a strong ecosystem or niche market for windows based phones at this point, my recommendation is to stay on the side lines with Nokia.
Disclosure: I am long AAPL, MSFT, BBRY. I wrote this article myself, and it expresses my own opinions. I am not receiving compensation for it (other than from Seeking Alpha). I have no business relationship with any company whose stock is mentioned in this article.