FedEx (NYSE:FDX) is in the midst of rebalancing its U.S. to Asia product offering, as its FedEx Express segment experienced weakness in Q3. This was outlined in the company's Q3 2013 earnings call held on March 20, 2013. Frederick W. Smith, Founder, Executive Chairman, CEO and President, noted the weakness in FedEx Express is due to industry overcapacity and customers selecting less expensive and slower transit for international transport.
As a result of the issues in its express segment, FedEx is decreasing capacity to and from Asia and is managing traffic flows to place lower yielding traffic in lower-cost alternatives. David J. Bronczek, CEO and President of FedEx Express, further added the international marketplace has shifted and basically agreed with a conference caller that the company has the wrong assets in the wrong place for the type of business. Additionally, the company is planning on accelerating retirement of some of its older, less efficient aircraft.
Alan B. Graf, CFO and Executive Vice President, further added the capacity reduction will lead to savings related to fuel, crew and maintenance costs. As a result of the changes, the company's international air fleet will remain unchanged for 2 or 3 years. It was further clarified in the question and answer session of the conference call that the changes the company is making with regards to international transport are not designed to move traffic from the air to ocean.
On the Q3 conference call, T. Michael Glenn, Executive Vice President of Market Development and Corporate Communications, presented a forecast for modest U.S. GDP growth of 2% in 2013 and 2.5% in 2014. Mr. Glenn offered a forecast for global GDP growth of 2.3% in 2013 and 3% in 2014. Mr. Glenn also noted the forecast for 2013 is uncertain primarily due to policy issues in the U.S., Europe and China. Additionally, Mr. Glenn noted housing and auto segments of the economy are showing improvement and the e-commerce market segments is performing very well with mid-teen growth rates.
While the FedEx Express segment is struggling, Mr. Smith indicated its FedEx Ground and FedEx Freight performed solidly in Q3. Mr. Graf, indicated FedEx Freight has been leveraging the benefits of its integrated network to reduce costs by 5% year-over-year. Cost reductions were realized through higher utilization of rail and other efficiency improvements. David F. Rebholz, CEO and President of FedEx Ground Package System, noted the company's performance is primarily a result of making FedEx's service proposition greater than offered by its competitors.
While the Q3 conference call focused primarily on the Asia overcapacity situation, Mr. Smith noted the Latin America market segment is performing well and Mr. Bronczeck indicated the performance is aided by two of its acquisitions, one in Mexico and one in Brazil. Mr. Bronczeck indicated he expects to see terrific returns in the Latin America market when profitability has been harvested. China was also mentioned as performing and growing well with the company currently serving over 400 cities in China. Additionally, Mr. Rebholz noted the company experienced a really good holiday season with a lot of demand related to online e-commerce.
Following the conference call, FedEx stock price took a hit as shown below: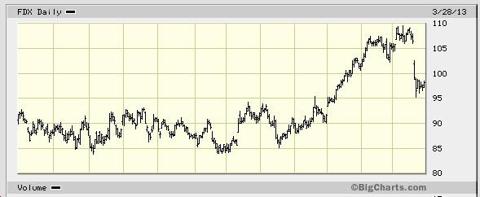 With FedEx's recent stock price correction, its future prospects in Latin America/China, and its very low valuation as garnered by its Price-to-Sales ratio of 0.8, the company is worthy of consideration for an investment. However, with the uncertainty for 2013, as noted by FedEx's Mr. Glenn, a protected investment is considered. A married put stock option position is considered, as it provides for unlimited upside with limited downside. The married put position experiences a profit with an increase in stock price, but doesn't suffer a large loss if the stock price decreases significantly. A married put position can be entered by purchasing a put option against a long position in the stock. The month of expiration for the put option is selected several months in the future in order to reduce the per-day cost of the put option insurance.
Using PowerOptions, a number of married put positions for expiration in October of 2013 were found for FedEx as shown below: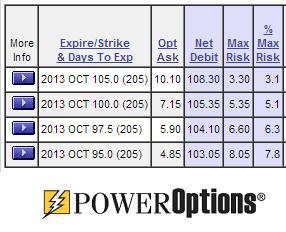 The married put position using the 2013 Oct 100 put option looks attractive as it has a maximum potential loss of 5.1%. However, after consideration is made for expected dividend payments during the holding time, the maximum potential loss if reduced to 4.8%. The details for entering the FedEx married put position are shown below:
FedEx Married Put Position:
Buy FDX stock (exiting or purchased)

Buy FDX 2013 Oct 100 put at $7.15
A profit/loss graph for one contract of the FedEx married put position is shown below: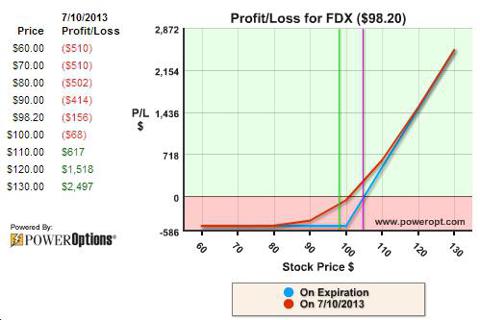 For an increasing stock price, the value of the married put also increases and for a stock price below the $100 strike price of the put option, the value of the married put position remains unchanged. And, if the stock price increases to above the $100 strike price of the put option, then income methods may be applied in order to receive income and reduce risk as taught by RadioActiveTrading.com.
Disclosure: I have no positions in any stocks mentioned, and no plans to initiate any positions within the next 72 hours. I wrote this article myself, and it expresses my own opinions. I am not receiving compensation for it (other than from Seeking Alpha). I have no business relationship with any company whose stock is mentioned in this article.