I've got a portfolio stuffed full of North American unconventional oil producers. My focus has been mostly on Canadian companies because I find them to be available at much lower valuations than similar companies south of the border.
Picking the right companies will be a big part of determining whether or not my portfolio does well over time. The truth is though, that if I'm not right about oil prices remaining high then even the best oil producers aren't going to be great investments.
Therefore I try and keep an eye on the global oil market and whether I should remain bullish.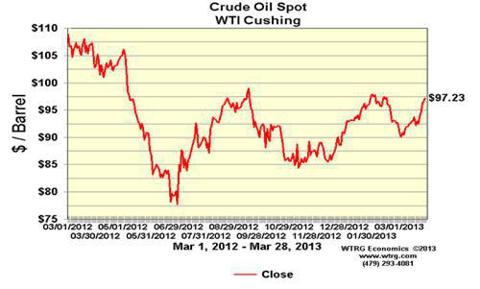 Above is the one year price chart for WTI oil prices. Over the past nine months the price has been relatively stable between $85 and $97.
The global oil price chart for the past year is below. The shape of it is virtually the same as it is for WTI, the price of Brent is just higher for the entire period.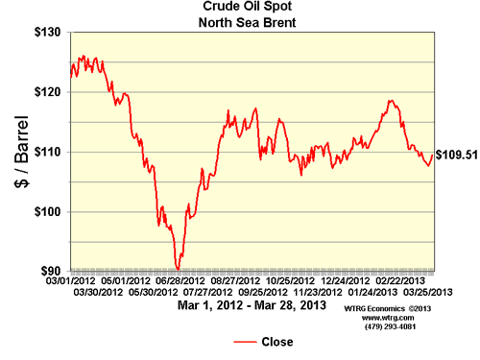 The graphs above tell us what has happened to the price over the past year. The supply and demand fundamentals behind those graphs are very interesting.
Supply
A lot has changed in a year on the supply side.
Last year at this time Saudi Arabia had ramped production up to a three decade high of 10.1 million barrels per day. Saudi Arabia stayed at or close to that level until November 2012 when in a couple of months production was throttled back to 9 million barrels per day.

That means a million barrels a day of production has disappeared from what the world had a year ago.
In addition to the Saudi decrease Iran's production has dropped from 3.3 million barrels per day to 2.7 million barrels per day because of sanctions. That is another supply hit of 600,000 barrels per day which is partially offset by a 300,000 barrel per day increase from Iraq.
The net impact of OPEC (the main swings being Iran, Iraq, and Saudi Arabia) is a decrease of daily oil supply of 1.3 million barrels per day.
There is of course good news on the supply side. That good news stems from the unconventional oil revolution in North America and is led mainly by two plays, the Eagle Ford in Texas and the Bakken in North Dakota.
In the final week in March a year ago the United States was producing 5.8 million barrels per day. Today the United States is producing 7.1 million barrels per day, an increase of 1.3 million barrels per day year on year.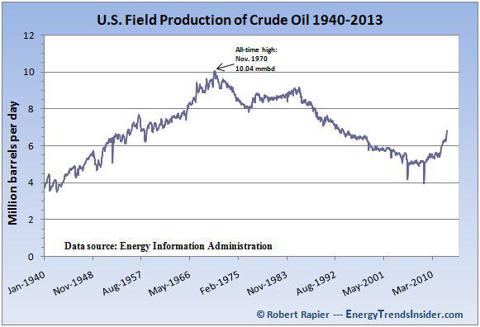 I don't know if it is coincidence, but the increase in the United States production year on year has been exactly offset by the decrease in OPEC production.
The daily supply of oil per day therefore seems to be pretty much flat year on year.
Demand
Despite the significant increase from the unconventional oil boom in North America, global supply is flat year on year because of OPEC.
Daily global demand meanwhile marches relentlessly higher.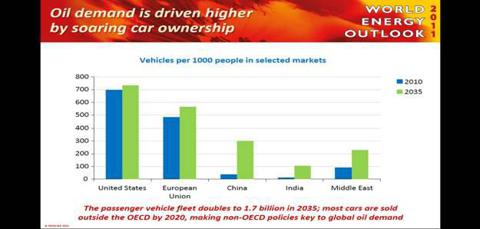 I think the chart above makes it pretty obvious that global demand is going to keep marching higher for a long time to come. The people in China, India and the rest of the emerging world have a shockingly low number of cars per 1,000 people relative to the United States the Western Countries.
The Energy Information Agency sees daily global oil demand increasing by 1 million barrels per day in 2013 vs 2012.
When you take a market with flat supply and increasing demand you have a tightening market. With demand up by a million barrels per day, the market should be tightening by that amount.
Therefore this recent observation which details a daily draw in global oil inventories from the EIA makes sense:
EIA estimates that global liquid fuels consumption outpaced production in January and February 2013, resulting in a 1.1-million-bbl/d average draw in global oil stocks. Projected world liquid fuels consumption grows by an annual average of 1.0 million bbl/d in 2013 and 1.4 million bbl/d in 2014. Countries outside the Organization for Economic Cooperation and Development (OECD) drive expected consumption growth.
Canadian Oil Sands (OTCQX:COSWF) Is Cheap With A Nice Yield
Based on the detail above I think it makes sense to still be bullish on oil. Yes, production in North America is going to grow, but that growth is offset by demand increasing. On top of that OPEC seems content to keep the market tight enough to support $100 global oil prices.
I think Canadian Oil Sands is a no-brainer for anyone who is a long term oil bull.
Canadian Oil Sands Ltd only owns one asset, a 36.74% interest in Sycrude, which is an oil sands producer. In 2010 Conoco Phillips (NYSE:COP) sold its 9.03% interest in Syncrude Chinese company Sinopec for $4.65 billion. Applying this valuation to Canadian Oil Sands Ltd's 36.74% interest in Syncrude results in a valuation of $38 per share after backing out Canadian Oil Sands debt. The current share price of Canadian Oil Sands has been bouncing between $20 and $22 per share for a long time.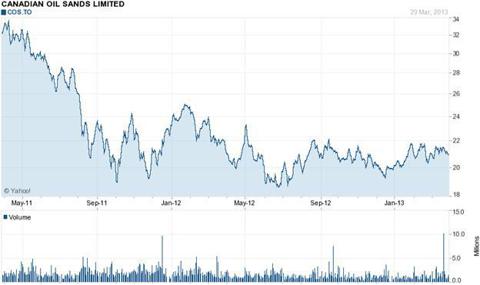 I think it is important to note that at the time Sinopec purchased the Conoco stake, oil prices were fluctuating on either side of $70. Today in North America we have had oil around $90 on average for a while and the rest of the world pays higher prices. Canadian Oil Sands which sells an upgraded light oil has been receiving prices that are at a premium to WTI.
I'm not one to jump to any drastic conclusions, but I will suggest that if Canadian Oil Sands' interest in Syncrude was worth $38 when oil was at $70, then it likely hasn't decreased from there subsequently. If you were so bold as to think that the value of Syncrude has increased along with the price of oil then you could conclude that Canadian Oil Sands is worth more than $40 per share or almost twice the current share price.
With an annual dividend of $1.40 per share, Canadian Oil Sands yields a very enjoyable 6.7% which means an investor gets paid very well for the share price to reflect the higher true intrinsic value.
Disclosure: I have no positions in any stocks mentioned, and no plans to initiate any positions within the next 72 hours. I wrote this article myself, and it expresses my own opinions. I am not receiving compensation for it (other than from Seeking Alpha). I have no business relationship with any company whose stock is mentioned in this article.