When the Surface Pro first came out, I made a point to go to my local Microsoft (NASDAQ:MSFT) store to try one out. While I wasn't able to gauge battery life, I found the device rather pleasant to use. It's fast, supports all of my familiar Windows 8 applications, has a nifty pen, and the screen is gorgeous. It's a solid device, and I can see these types of high performance convertible tablets becoming the productivity and consumption device of the future. If consumers could get Surface Pro-like performance but with more traditonal slimmer tablet-like form factors and improved battery life, then I know I would be more than willing to go and buy one.
Now that some preliminary numbers are in, I believe that there is real evidence that consumers are thinking the same way, too.
Surface Pro Appears More Successful Than Surface RT
Despite Surface Pro's relative "warts" compared to the Surface RT, namely lower battery life, heavier/thicker form factor, and cost, reports state that Surface devices have sold roughly 1.5 million units so far: 1 million RT, 500k Pro. On the surface (no pun intended), it would seem that the RT is actually more popular than the Pro, but we have to keep in mind that the RT has been around since the Windows 8 launch in October, but Surface Pro has only been available since early February.
While it may be the case that there was an initial burst of sales due to pent up demand, I believe that the numbers so far are rather telling: people want Windows tablets that offer the full Windows experience.
The Next Generation Should Be Even Better
What really has me excited isn't so much this generation. While the Surface Pro available today is actually quite good, it seems that the next generation of full Windows 8 tablets - powered by both Intel (NASDAQ:INTC) and AMD (NYSE:AMD) chips - will be even better. Intel's high end "Haswell" processor will dramatically expand the dynamic range of power consumption so that the tablet will be able to get 9-10 hours of battery life rather than the 4-5 hours that the Surface Pro offers today. For people looking for "notebook replacements", these high end tablets will pretty much fit the bill.
But the next generation of Windows 8 tablets powered by AMD's "Temash" and Intel's "Atom" will bring this technology to mainstream price points, and both should enable thinner form factors as well. Intel offers a "Clover Trail" chip for such thin and light tablets today, but in order to really have a tablet that is fast enough to really double as a full Windows 8 machine, the next generation of silicon will be needed.
To give an idea of the timeline for this, AMD's "Temash" is looking like a Q2 launch according to the public roadmaps,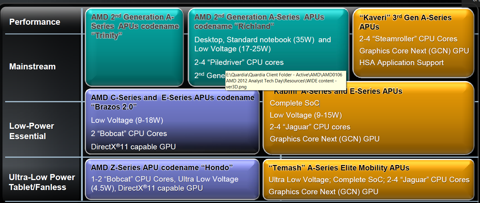 Click to enlarge
And from the Intel camp, "Bay Trail" is looking like a Q3 launch according to a roadmap that Intel accidentally let slip before removing it,

Click to enlarge
So, by the holiday shopping season, Windows 8 tablets in general may see a major uptick in sales, assuming that the OEMs/ODMs can put out designs that people find attractive.
Conclusion
Microsoft's Surface Pro only begins to scratch the surface (again, no pun intended) of what is going to be possible for the future of computing. The value proposition of having one device that can be both a great tablet as well as a great PC is high, especially as people aren't exactly thrilled about having to spend more money on multiple devices. Most people won't argue that they want/need a PC for productivity, and it seems that tablets (particularly 7-8 inch ones, but even the 10" ones are doing well) are popular for consumption.
And let's think about it - people are spending $500+ for an iPad, and then they also pick up a wireless keyboard for another $50 - $100. On top of all of that, they're still buying PCs! What's not to like about a device that can be really great about both? I think the Surface Pro is revolutionary, and further iterations of this type of convertible Windows 8 device will only become more attractive as the hardware gets better. Microsoft has the ingredients for a real revolution on their hands, and I hope that its ecosystem partners can really help to make its platform shine.
Disclosure: I am long MSFT, INTC, AMD. I wrote this article myself, and it expresses my own opinions. I am not receiving compensation for it (other than from Seeking Alpha). I have no business relationship with any company whose stock is mentioned in this article.