I love companies with strong, sustainable dividend yields. While the income from said dividends is nice (and reinvesting the dividends wonderfully exploits the magic of compounding returns), I really care about strong, sustainable, and growing dividend yields for the following reasons:
I can feel comfortable taking very large positions (all relatively speaking of course) without thinking that I'm taking a huge risk with my capital
I am paid to wait in case the share price doesn't move up as expected, and I can feel comfortable buying more if the share price drops because, once again, I'm buying yield
Typically strong companies that raise their dividend payouts also experience fairly strong share price growth as investors pile in for the yield
While many investors look to Intel (NASDAQ:INTC) as an example of a high yielding blue-chip technology company, I believe that shares of Cisco (NASDAQ:CSCO) actually offer a compelling alternative to Intel for those with a more tame near-term risk profile. As Seeking Alpha's resident Intel bull, it may seem a little strange seeing these words from me, but I'm going to explain myself below!
Cisco Isn't Really Hated
Right now, Intel is pretty hated in the industry. Many sell-side analysts and individual investors have it dead set in their minds that Intel "missed" the mobile revolution, and that its core business is about to be taken out by a bunch of fabless Chinese chip design houses. Goldman Sachs (NYSE:GS) and Sanford Bernstein think that all of the capital expenditures Intel sinks into its fabs will ultimately lead to unwieldly excess capacity charges forever more. I think this is nonsense, but in the near- to medium-term, it really doesn't matter what the facts are likely to turn out to be - people think Intel is doomed, and consensus views drive the action.
Cisco, on the other hand, is quite different. While its forward dividend yield of 3.3% pales to Intel's ~4.2% yield, it comes at a substantially lower risk profile. Why? While Intel has traditionally enjoyed a monopoly-like status in the personal computing space, that has been disrupted by the emergence of the ARM (NASDAQ:ARMH) ecosystem. While ARM itself isn't a "threat" to Intel (they're fundamentally different companies), the software compatibility afforded by the ARM ecosystem's first mover advantage in the mobile space has allowed big players such as Samsung (OTC:SSNLF), and Apple (NASDAQ:AAPL) to design (and in Samsung's case, build) their own processors rather than relying on Intel, which these two companies generally do for their PC/Mac offerings. These firms, along with Qualcomm (NASDAQ:QCOM), Nvidia (NASDAQ:NVDA), and the MediaTeks of the world are the true competition.
This new paradigm, coupled with the uncertainty in the PC end markets, has spooked investors. R&D expenses are going way up to fund new initiatives, big slugs of capital expenditures are being thrown at leading edge fabrication plants in order to gain/extend the lead against what are quickly becoming commodity mobile processors, and quite frankly, Intel's business is so complex and technically sophisticated that most investors simply understand one thing: "Intel makes PC chips, PCs aren't doing well, so Intel is doomed".
For most investors, most of whom would rather not get involved with these blood-boiling discussions about the "death of the PC", why not go with a much less hated alternative? Cisco is much more appropriate for the average, non-tech savvy dividend growth investor wanting to get a solid tech stock in his/her portfolio.
Cisco's Free Cash Flow Is Healthy - And Being Returned
Cisco recently announced intentions to return 50% of free-cash-flow to investors. As part of this strategy, the company announced a 21% dividend increase on Friday, bringing forward yield up to 3.3%. If we examine the trend in Cisco's FCF, we see a very healthy, steady increase since bottoming out in early 2010: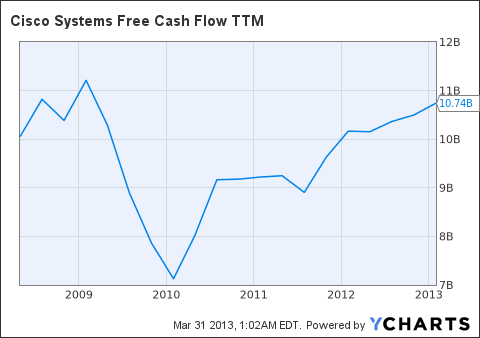 CSCO Free Cash Flow TTM data by YCharts
The trend in the firm's dividend yield, as well as its share count over the years has also been quite attractive:
CSCO Shares Outstanding data by YCharts
So, what about sales? The trend there has also been healthy, albeit a little boring: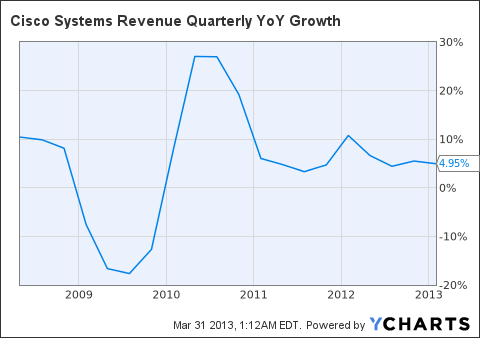 CSCO Revenue Quarterly YoY Growth data by YCharts
Interestingly, Cisco has a substantial amount of net cash on the balance sheet ($30B or roughly 25% of market capitalization), so it seems to be on an acquisition spree in an attempt to both bolster and extend its own core businesses as well as generate new revenue streams. While organic growth is better, there's nothing shameful in growth via acquisitions once you've reached a certain point.
Conclusion
Cisco pays a decent and growing yield, free cash flow is healthy and not likely to come under any significant pressure, the balance sheet is a fortress, and quite frankly buying this one on dips (especially fueled by analyst down grades) and riding it for as long as the secular bull market is intact is likely to pay off nicely. The increased dividend is going to get investors, particularly value oriented ones, far more interested than they were.
Is Cisco boring? Sure, but you don't buy $100B+ market capitalization names if you're looking for volatility and a quick double. You buy this one when the yield is good and the Street doesn't hate it. And right now, both of those conditions hold.
Disclosure: I am long INTC, NVDA, MSFT. I wrote this article myself, and it expresses my own opinions. I am not receiving compensation for it (other than from Seeking Alpha). I have no business relationship with any company whose stock is mentioned in this article.
Additional disclosure: I plan to initiate a position in CSCO over the next 72. I am short ARMH