After the trading week closed on Thursday, March 28, Prospect Capital Corporation (NASDAQ:PSEC) made a surprising announcement that the company had originated a record $800 million during the March quarter. The surprise comes after the company claimed in early February that the originations for Q1 were a mediocre $141 million almost halfway into the quarter. The market didn't actually expect much following the year-end push to exit businesses to beat the tax deadline.
Prospect Capital is a leading provider of flexible private debt and equity capital to sponsor-owned and non-sponsor-owned middle market companies in the United States and Canada. It trades as a closed-end investment company that has elected to be treated as a business development company (BDC) under the Investment Company Act of 1940.
The origination pace, while bullish, does bring into play a previous concern about another equity raise, as a surge in deals were the only reason equity would be needed. Clearly, this equity raise issue should be considered given that the last offering caused the stock to plunge back in early November.
Transaction Highlights
After origination records of more than $750 million in Q4, the company shockingly exceeded that with a huge close to Q1. After the Q4 earnings call, the company closed roughly $640 million after only claiming a pipeline of $400 million in potential opportunities. Below were the big deals to close the quarter:
March 28, 2013: Provided $100 million of senior secured debt to finance a recapitalization of Broder Bros. Broder is a leading distributor of imprintable activewear in the U.S. that was founded in 1919.
March 22, 2013: Provided $200 million of first-lien senior secured credit facility to support the refinancing of a logistics service portfolio controlled by H.I.G. Capital.
March 20, 2013: Funded a $47 million senior secured first-lien debt to finance the acquisition of Atlantis Care Group by ICV Partners. Atlantis Care Group is the second largest provider of kidney dialysis services in Puerto Rico for patients suffering from end-stage renal disease.
March 4, 2013: Provided a $70 million term loan to support the recapitalization of Cinedigm Digital Cinema (NASDAQ:CIDM). Cinedigm is a leader in the digital entertainment revolution by pioneering digital cinema deployment and servicing efforts.
Clearly the company was very busy in March, with several sizeble deals to close the quarter.
Analysts Downgrade
The recent stock weakness is partially due to a major analyst downgrading the sector. Wells Fargo TICC)/8210798.html" rel="nofollow">downgraded Prospect Capital to underperform, along with several other BDCs, based on the concept that new investment yields are near historic lows and a potential degradation in new deal quality. Investors should always be concerned at whether a BDC is obtaining record deals based on accepting inferior terms.
10% Yielders
Based on the recent origination activity, Prospect Capital remains a favorite among the 10% dividend yielders (see "Which 10% Yielding BDC To Buy?"). Ironically, Fifth Street Capital (NYSE:FSC) was left off that original high yielding list. The company offers an interesting 10% yield and the option to reinvest dividends via a DRIP with a 5% discount. The inability to grow NAV hasn't made the BDC that attractive, but the discount sure helps create investor gains. Solar Capital (NASDAQ:SLRC) and TICC Capital (TICC) are attractive with those 10% yields, but it remains difficult to pass on Prospect Capital, paying a 12%-plus yield.
The table below highlights the yields of the 10% group:
Click to enlarge images.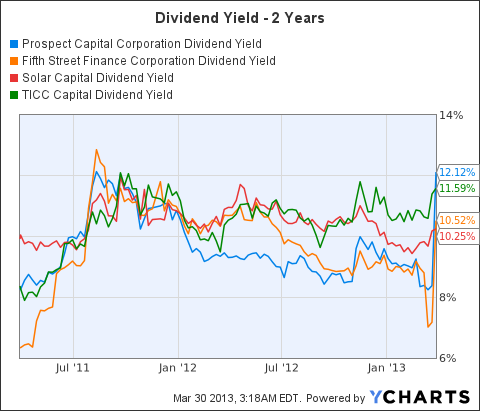 Price-to-Book Value
Prospect Capital has recently dropped to near the end-of-year book value at $10.88. Investors might be anticipating a stock offering with the level of originations during March. Either way, the stock continues to struggle anytime it reaches much above the $11.20 level. Regardless of the 12% dividend yield, investors just aren't willing to pay up for this company.
One-Year Chart: Prospect Capital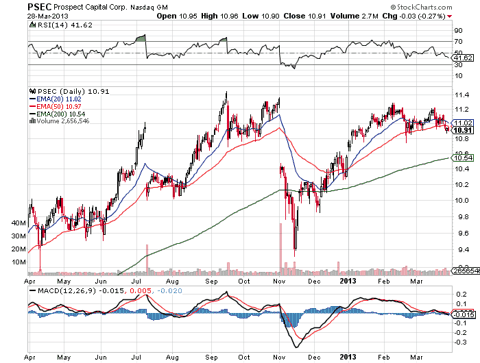 Conclusion
At the current stock price, Prospect Capital trades at a little above NAV. Patient investors might be able to obtain a better stock price, but investors need to realize that every month passes and you're missing out on a $0.11 distribution.
Another stock offering might be imminent with the record $800 million of originations during Q1 on the back of huge deals in March. Investors are correct to be concerned about another offering causing the stock to plunge, considering the horrible action back in November. The stock though remains a huge bargain that Fifth Street Finance, Solar Capital, and TICC Capital can't match even with yields above 10%. If another offering happens in the next few weeks, investors should load up on Prospect Capital.
Disclosure: I have no positions in any stocks mentioned, but may initiate a long position in PSEC over the next 72 hours. I wrote this article myself, and it expresses my own opinions. I am not receiving compensation for it (other than from Seeking Alpha). I have no business relationship with any company whose stock is mentioned in this article.
Disclaimer: The information contained herein is for informational purposes only. Nothing in this article should be taken as a solicitation to purchase or sell securities. Before buying or selling any stock you should do your own research and reach your own conclusion or consult a financial advisor. Investing includes risks, including loss of principal.