Capstead Mortgage Corp. (NYSE:CMO) is a mortgage REIT. It has a leveraged investment portfolio of almost exclusively agency ARM RMBS. The ARMs (adjustable rate mortgages) reset to more current interest rates within a relatively short period of time. This can allow for expansion of financing spreads when interest rates are falling. It can allow for the recovery of financing spreads when interest rates are rising. It generally results in smaller fluctuations in portfolio values from changes in interest rates compared to fixed-rate RMBS portfolios. CMO is recognized as the most defensively positioned agency mortgage REIT. It is self-managed, and its management team is experienced. It was started in 1985. It has a five-year compound annual total return of 12.4%, which exceeds that of the NAREIT Mortgage REIT Index.
CMO theoretically gives good returns almost no matter what. The problem is that there has been a confluence of events negatively impacting its profits. CMO's $13.85 billion in fair market value portfolio is in agency ARMs. These tend to have very low mortgage rates in the current environment.
Agency fixed-rate mortgage rates have risen since the lows of last fall. Most would expect this would be true of agency ARM mortgage rates as well. The problem has been that ARM rates are usually tied to six-month and 12-month LIBOR rates. These have been flat to down during the recent approximately six months that agency fixed-rate mortgage rates have risen. One possible reason for this may be that the U.K.'s economy shrank by 0.3% in Q4 2012. Many think the U.K.'s economy is shrinking more in Q1 2013. Recessionary conditions tend to push LIBOR rates down. The charts below show the trends in the 12-month LIBOR rates over the most recent month and the most recent year.

This all means that the net interest spreads for portfolios of agency ARM RMBS will likely be flat or narrower in Q1 2013, although the LIBOR rates do seem to be bottoming. This does not necessarily mean that fixed-rate agency RMBS will have the same problem. Many of the fixed-rate agency RMBS are tied to long-term U.S. Treasury bond yields, which have risen significantly from a near-term low in fall 2012. In other words, CMO is likely to underperform the agency RMBS sector near term, which is more predominantly made up of fixed-rate agency RMBS. The following table details CMO's portfolio holdings as of Dec. 31, 2012.
Click to enlarge images.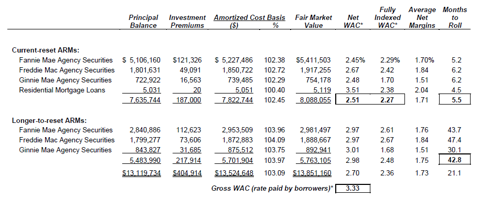 Click to enlarge
The table below shows the details of CMO's net interest spread history from its portfolio.

Click to enlarge
The net interest spread (the primary determiner of profits) has clearly been trending downward for the last year. In Q4 2012, the net interest rate spread fell another 17 bps. With the continued slight decline in six-month and 12-month LIBOR rates, it is almost certain that the above described decline will continue for Q1 2013. This will put further pressure on CMO's profits. Still, CMO did have net income of $35.1 million of $0.31 per share in Q4 2012 with only a 113 bps net interest spread. This number had also been negatively impacted in Q4 2012 by higher CPRs (constant prepayment rates). With slightly falling LIBOR rates in Q1, CMO's CPRs may be slightly higher in Q1 as well. A flat performance in this area is probably the best investors can hope for. Interest rates on repos, which CMO uses for financing its RMBS investments, also went up seven bps in Q4 2012. On the plus side, CMO ties its employee compensation to performance. Thus, operating costs in Q4 2012 decreased to 79 bps vs. 88 bps in Q3 2012.
In sum, CMO will probably have below par performance (for the mortgage REIT business) in the near term. However, if you are a long-term investor, you may want to consider it anyway. The reasons for its weak performance (but still quite good performance) in the near term are also reasons it should perform much better than most of the other mortgage REIT businesses when inflation hits hard. This seems to be a virtual certainty with all of the QE from the Fed (and central banks worldwide) and the stimulus monies from the Congress of roughly $1 trillion per year for the first four years of Obama's presidency. CMO is well-positioned for this with all of its agency ARM RMBS, which reset to higher rates as LIBOR and mortgage rates rise. For investors with long-term horizons, CMO may still be a buy. For investors who are only considering the next year or two, there are better performing mortgage REITs.
The two-year chart of CMO provides some technical direction for this trade.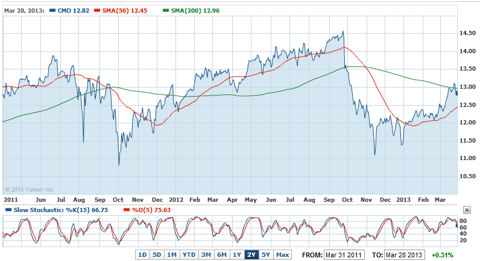 Click to enlarge
The slow stochastic sub chart indicates that CMO is near overbought levels. The main chart is mixed. CMO could be in the beginning of a downtrend, or it could be in the recovery phase of a recent down move. Since both CMO and the overall market are near or at overbought levels, it makes sense to hold off buying CMO for now. If you are a long-term investor, I would wait until the 12-month LIBOR chart turns upward (plus at least a couple of months).
For traders, I would consider selling CMO. The overall market is overbought and CMO seems likely to fall with the overall market when it falls. If there is a U.S. recession in 2013, that would probably mean even more downside. CMO's mean analyst recommendation is 2.4 (a weak buy).
Some of the fundamental financial data above is from Yahoo Finance.
Disclosure: I have no positions in any stocks mentioned, and no plans to initiate any positions within the next 72 hours. I wrote this article myself, and it expresses my own opinions. I am not receiving compensation for it (other than from Seeking Alpha). I have no business relationship with any company whose stock is mentioned in this article.