NQ Mobile (NYSE:NQ) is the leading global mobile security and privacy protection SaaS company for smartphones, with 283M customers. NQ's stock price climbed 49% during the first quarter of 2013 and it was quite a quarter for the company. NQ announced its 7th consecutive quarter of beating and raising, NQ added more wireless retail partners (including authorized Verizon retailers), NQ signed distribution partnerships with 3 wireless network providers; America Movil (3rd largest wireless carrier in the world), I-Mobile and US Cellular, NQ's products won 2 top awards at CES 2013, NQ expanded NationSky's enterprise offering to include mobile device management to sell to its 1200 enterprise customers, NQ optimized its mobile software products to run on Qualcomm's Snapdragon, and NQ continued to identify more mobile malware first than all other mobile security companies combined.

Stock is Dirt Cheap
NQ generated $91.8M in 2012 (up 126% over 2011 revenue) and is expected to grow revenue over 100% again in 2013. NQ is dirt cheap. NQ is trading at just 5.2x EV/EBITDA 2013 and 2.5x EV/EBITDA 2014. The balance sheet has $128M in net cash with zero debt and NQ will likely generate approximately $45M in free cash flow in 2013.
Comparable Analysis - NQ Mobile vs. Zillow
To drive home how ridiculously cheap NQ Mobile is, let's compare NQ and Zillow (NASDAQ:Z). I selected Zillow as a comparable given the relative similarity in total revenue, revenue growth, and EBITDA since 2009.
Revenue and Growth - Both NQ and Zillow generated impressive revenue growth from 2009-2012. NQ grew revenue from $5.0M in 2009 to $91.8M in 2012. Zilliow's revenue grew from $17.5M in 2009 to $116.9M in 2012. However, NQ grew its revenue faster each year than Zillow (see table below).
EBITDA and Margins - Though NQ's revenue was lower than Zillow's in each year from 2009 - 2012, NQ generated superior adjusted EBITDA (ex-stock based compensation) than Zillow from 2010 onward. Further, NQ's adjusted EBITDA margin (ex-stock based compensation) is dramatically higher than Zillow's.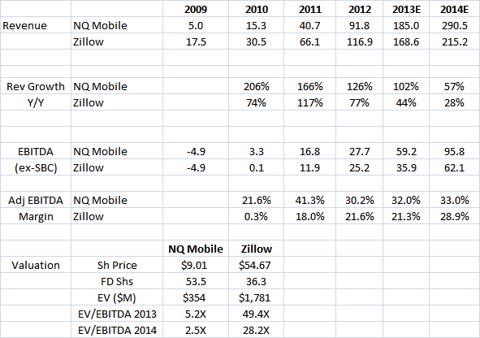 In summary, NQ has grown top-line revenue faster than Zillow (and is expected to grow revenue more than twice as fast as Zillow in 2013), NQ has generated and is expected to continue to generate more adjusted EBITDA annually than Zillow's adjusted EBITDA and NQ's adjusted EBITDA margins (ex-stock based compensation) are meaningfully higher than Zillow's. So….why is Zillow valued over 800% higher than NQ using 2013 EV/EBITDA multiples? NQ is trading at 5.2x 2013 EV/EBITDA and Zillow is trading at 49.4x 2013 EV/EBITDA. Does this really make sense? I think not.
Institutional Buyers
Institutional investors have begun to notice how well NQ is executing and how silly cheap NQ's stock is. FMR (Fidelity Management and Research) filed a 13G on March 27, 2013. FMR now owns 13.33% of NQ (6.27M ADRs), up from just 363K ADRs as of 12/31/12. Over 40% of NQ's equity is owned by insiders and management. Hence, it will not take much more institutional buying to consume most of the remaining free float. Several current NQ holders met with management the week of March 18-22 during a non-deal road show and liked what they heard. Feedback to management was very positive with several NQ institutional holders saying they intend to increase their holdings by 2x-5x. The supply of stock is drying up and will likely tighten further in the coming weeks and months.
M&A Target
Though I do not own NQ based on an M&A investment thesis, the CEOs of both Baidu and TenCent made some interesting comments recently. Please recall, Baidu and NQ Mobile share a common Board member and Baidu recently raised $1.5 billion to make acquisitions in the mobile space. Also, NQ Mobile's Feiliu gaming division is a leading mobile game operator and operates several of TenCent's mobile games exclusively.
On March 6, 2013…."Chief Executive Robin Li said Wednesday [March 6, 2013] that the company was "very open" to acquisitions of companies that make products for smartphones, though he wouldn't say whether Baidu was currently in talks with any companies." Mr Li went on to say… "Whenever we can find some company that already has what we want to own, we prefer to buy rather than build it." The day before on March 5, 2013 "Tencent Chief Executive Pony Ma also said his company is open to acquisitions."
2013 Outlook for NQ Mobile
On its recent March 6th conference call, NQ management stated its deal pipeline is full and guided 2013 revenue to $178M-$183M. I expect NQ to announce additional distribution deals with wireless retailers and wireless network operators in the coming months. Assuming NQ delivers its 8th consecutive beat-and-raise quarter when it reports 1Q13 results in May, it is reasonable to think that NQ's stock price will at least repeat the 49% it grew during the first quarter of 2013. Repeating the same 49% stock performance during 2Q13 would take the stock price to $13.50 by June 30, 2013, and NQ will still be dirt cheap. At $13.50, NQ will trade at 9.3x 2013 EV/EBITDA and 5.0x 2014 EV/EBITDA with revenue growing over 100%.
Disclosure: I am long NQ. I wrote this article myself, and it expresses my own opinions. I am not receiving compensation for it. I have no business relationship with any company whose stock is mentioned in this article.