Ford (NYSE:F) has been a great turnaround story and I have been bullish on the stock for a long time, however, the shares have experienced a major rally from the August 2012 lows of about $9, so it could be time to sell. There are significant headwinds going forward which lead me to believe that the stock has limited upside and significant downside. This has prompted me to recently sell all of my Ford shares, and below, I go into further detail as to why I am no longer a bull: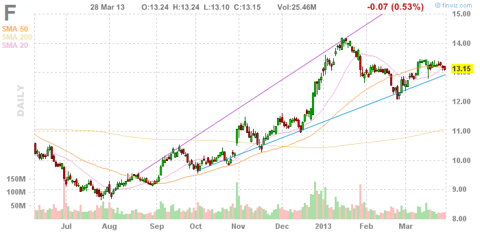 Click to enlarge
First of all, Ford shares have had a major rally in the past few months, which is clearly evident in the chart shown above. The chart shows that Ford shares hit $14 in early 2013, but have since been basically treading water with a slightly downward bias. The blue line shows that Ford shares are still trading near a key uptrend support level, but it could be close to breaking below that point soon. If it does break to the downside, the shares could be heading for the 200-day moving average which is around $11 per share as indicated by the light brown line. This is where I believe the stock could be headed if the markets experience a correction. This is also the level where I would once again, become more bullish.
While Ford shares peaked out in January, the S&P 500 Index (NYSEARCA:SPY) has continued to make strong gains. This divergence is troubling as it indicates weakness in Ford in the face of major market strength. That is a problem because if Ford shares are starting to lag now, just imagine how much weaker it could become if the S&P 500 Index heads down. Take a look at the strength of the S&P 500 Index in the chart below and also consider how overbought it now appears. It looks ready for a healthy correction after such a major run, and if it does see a correction, Ford is likely to go lower: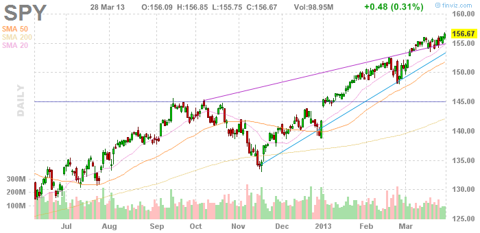 Click to enlarge
There are macro issues which make me concerned about Ford. First of all, the company continues to post major losses in Europe and that appears likely to continue for the foreseeable future. Analysts recently raised the loss estimates for Ford's European operations to $2.4 billion, which is up from $2.1 billion. The economic situation in Europe is deteriorating and those loss estimates might increase and last longer than analysts are currently forecasting. Europe has very high unemployment rates and little in the way of growth prospects. Ford is also expecting to lose about $300 million in South America in the first quarter of 2013, due to currency exchange rates and other issues. But these are not the only global issues that could put the brakes on Ford, because Japan has recently become another major challenge.
Japan's new Prime Minister, Shinzo Abe is taking aggressive steps to boost the economy in that country. His monetary and fiscal policies has led to a major 8% drop in the value of the Yen, and the currency could be poised to depreciate further. This is a real problem for General Motors (NYSE:GM) and Ford because a weak Yen, makes Japanese cars less expensive around the globe. This will make Toyota (NYSE:TM) and Honda (NYSE:HMC) increasingly competitive and it gives Japanese automakers more room to offer sales incentives. Since the decline in the Yen has occurred very recently, the impact of this has probably not fully registered with U.S. investors, but it will in the next couple of quarters.
Finally, there is the valuation issue. Analysts expect Ford to earn about $1.40 per share for 2013. That puts the price to earnings ratio at nearly 10 times earnings. For an automaker, that could be considered fully valued, not necessarily overvalued, but also not cheap. General Motors shares trade for just about 8 times earnings, and that is probably where Ford shares should be. Coincidentally, 8 times earnings would put Ford shares right back at $11, which is the 200-day moving average level, and where I would start buying the stock again. I believe that General Motors shares offer more long-term upside potential and you can see why here. However, the Japanese currency issue is also a major challenge for GM, so it might pay to wait for a pullback in that stock as well.
Here are some key points for F:
Current share price: $13.15
The 52 week range is $8.82 to $14.30
Earnings estimates for 2013: $1.40 per share
Earnings estimates for 2014: $1.68 per share
Annual dividend: 40 cents per share which yields 3%
Here are some key points for GM:
Current share price: $27.82
The 52 week range is $18.72 to $30.68
Earnings estimates for 2013: $3.40 per share
Earnings estimates for 2014: $4.37 per share
Annual dividend: none
Data is sourced from Yahoo Finance. No guarantees or representations
are made. Hawkinvest is not a registered investment advisor and does
not provide specific investment advice. The information is for
informational purposes only. You should always consult a financial
advisor.
Disclosure: I am long GM. I wrote this article myself, and it expresses my own opinions. I am not receiving compensation for it (other than from Seeking Alpha). I have no business relationship with any company whose stock is mentioned in this article.