For a retiring individual, there is often nothing more frustrating than having to individually pick and choose the ideal investments that can generate a satisfying level of income. However, formulating the base of an ideal dividend portfolio can be as simple as three quick investments. For investors dependent on dividend income who need to count on the reliability and the consistency of payments in a timely fashion, they may want to stay relatively diversified and sheltered from the volatile flows of the market's day-to-day. Last of all, they may also want to maximize their profits, thereby needing an above-average yield.
By negating the share price appreciation due to its inconsistency, controlling the yield return is the most practical aspect of choosing an income portfolio in which to invest. The typical dividend fund, whether it be an ETF or a mutual fund, offers investors somewhere between 2%-4%. As is the case with most funds, the typical fund has a management fee of about 0.5%-1%, which essentially is taken off the yield on an annual basis. A few of the more popular dividend ETFs tend to be the iShares Dow Jones Select Dividend Index ETF (NYSEARCA:DVY), the Vanguard Dividend Appreciation ETF (NYSEARCA:VIG), and the SPDR S&P Dividend ETF (NYSEARCA:SDY). The following table is ideal for comparison purposes. All values were taken as of 03/29/2013.
| Fund | Price | Fee | Yield | Assets |
| --- | --- | --- | --- | --- |
| DVY | $63.40 | 0.40% | 3.47% | US Large Cap |
| VIG | $65.80 | 0.13% | 2.17% | US Large Cap |
| SDY | $65.99 | 0.35% | 2.82% | US Large Cap |
The cost of the management fee is an unfortunate consequence for the pursuit of protective diversification. Investors who choose individual stocks will likely find higher yielding assets at the cost of losing the protection of diversification and a fund manager with the experience of watching over the portfolio. Therefore, one can argue that despite the fees, ETFs and Closed-end Mutual Funds provide the ideal stability for effective diversification with the ease of choosing a single investment. In doing so, the investor can thereby benefit from a single transaction cost when it comes to commissions.
The following is an ideal portfolio of three such funds, that collectively work together in order to offer stability and consistency while maximizing profitability. This portfolio includes the Guggenheim Multi-Asset Income ETF (NYSEARCA:CVY), the Nuveen Muni Value Fund (NYSE:NUV), and the Guggenheim S&P Global Dividend Opps Index ETF (NYSEARCA:LVL). All values were taken as of 03/29/2013.
| Fund | Price | Fee | Yield | Assets |
| --- | --- | --- | --- | --- |
| CVY | $23.85 | 0.60% | 5.48% | US & Multi-Assets |
| NUV | $10.16 | 0.56% | 4.37% | US Municipal |
| LVL | $13.54 | 0.60% | 7.14% | Global Equities |
The portfolio itself provides a level of diversification beyond what a typical fund can provide by itself. NUV focuses on an array municipal bonds and settlement payouts. CVY provides general exposure to US stocks, REITs, MLPs, and various preferred stocks. LVL provides general exposure abroad (although still maintains a 16% exposure to US equities) and taps into some of the highest-yielding equities trading in foreign markets.
Additionally, NUV pays out at a monthly rate whereby LVL and CVY pay out quarterly. While the Guggenheim funds are relatively new in creation, both they and the Nuveen Fund paid out income throughout the Great Recession (albeit at a reduced rate). All three funds have an average total management expense of about 0.6%, and a yield well over 4%. None of the funds appears to have fewer than 50 holding positions, and no fund has a weighting of more than 5% in a single holding. A look at the table below illustrates the top 10 holdings of each associated fund.
| CVY | NUV | LVL |
| --- | --- | --- |
| Intel Corp. (NASDAQ:INTC) | Metropolitan Pier a: McCormick Place Ex | Shin Corp Pcl (OTC:SHNUF) |
| Pfizer Inc. (NYSE:PFE) | Tobacco Settlement: Tobacco Settlement | Metcash Ltd. (OTCPK:MCSHF) |
| Freeport-McMoran Copper (NYSE:FCX) | California State: Tobacco Settlement | Bezeq Israeli Telecomm (OTCPK:BZQIF) |
| Merck & Co. Inc (NYSE:MRK) | Buckeye Tobacco Set: Tobacco Settlement | Chimera Investment Corp (NYSE:CIM) |
| Verizon Communications (NYSE:VZ) | Texas State: North Texas Tollwa | Valley National Bancorp (NYSE:VLY) |
| Northern Tier Energy LP (NYSE:NTI) | California State: General Obligation | Tupras Turkiye Petrol Raf (OTC:TUPRF) |
| KKR & Co. L.P. (NYSE:KKR) | BJC Health System: Revenue Bonds | American Capital Agency Corp (NASDAQ:AGNC) |
| Warner Chilcott Ltd. Class A (NASDAQ:WCRX) | Central Texas Region: Toll Road Revenue | Telenet Group Holding NV (OTC:TLGHF) |
| Entergy Corporation (NYSE:ETR) | New Jersey State: Transportation Trust | Vector Group Ltd (NYSE:VGR) |
| ConocoPhillips (NYSE:COP) | Puerto Rico: Sales Tax Financing | Iluka Resources Ltd (OTC:ILKAF) |
Ultimately, when contrasted against the average dividend yield of the S&P500 as seen in the graphic below, it's clear that investors in this simple portfolio are on track to outpace the market in regards to investment income. Likewise, when contrasted against more popular dividend funds such as the VIG, DVY, or SDY, this portfolio also outperforms. The invested holdings are well dispersed between domestic and foreign assets and each fund is highly focused on returning value to investors. Last of all, the exposure to NUV provides a stable source of income separated from the typical swings of the market as noted by some of the holdings noted above.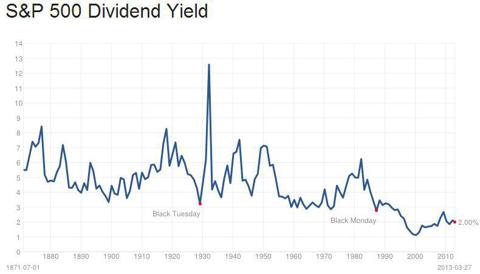 Disclosure: I have no positions in any stocks mentioned, and no plans to initiate any positions within the next 72 hours. I wrote this article myself, and it expresses my own opinions. I am not receiving compensation for it (other than from Seeking Alpha). I have no business relationship with any company whose stock is mentioned in this article.