Quicksilver Resources (NYSE:KWK) made quite the announcement on Good Friday. KWK has reached an agreement to sell a 25% interest in its Barnett Shale oil and gas assets to a subsidiary of Tokyo Gas Co. for $485M. This will come as very welcome news to shareholders as KWK tries to mount a comeback and pay down their massive debt load. After I wrote a very critical article regarding the debt load of KWK last July, shares have since slipped 59%. With the recent moves management has made, along with strengthening natural gas prices, is now the time to buy KWK?
Like many in the oil and gas sector, KWK took on large amounts of debt in the late 2000's buying up shale assets. On July 8th, 2008, KWK announced a transaction for $1.3B ($1B in cash, $300M in stock) that secured KWK's interest in the Barnett shale. One month later as KWK closed on the transaction, the world economy was just about to fall apart; later that year Lehman Brothers failed and the financial crisis was taking hold. Prices of natural gas were ranging from $8-10/MMbtu when KWK closed their deal but dropped to $2.50-$4.00 since the 2008 crisis. This made life tough for operators such as KWK, because the economics of their newly acquired projects were now left in question.
The new deal, announced on March 29th, 2013, will give KWK $485M at the time of closing. It is expected that those proceeds will be used to pay down their existing debt. As of Dec. 31st, 2012, long-term debt for KWK stood at $2.06B. In KWK's 10-K they reported that on February 28th, 2013, that they have borrowed $490M on their Combined Credit Agreement. This is likely to be fully paid down as a result of this transaction, bringing total long-term debt down to near $1.6B.
Management has finally gotten with the game and cut their spending on new wells. KWK has operated at negative free cash flow (FCF) from 2007-2012. Finally, KWK has cut Capex far enough to become FCF positive in Q4 2012, and I expect it to be cash flow positive for the entire year of 2013. From 2007-2011, KWK had spent between $690M and $1.28B in Capex each year. The company has announced they plan on cutting their Capex in 2013 to just $120M, while they should only experience a 5% production decline compared to 2012.
The deal with Tokyo Gas Co. also has two other benefits in my eyes. First, the company has now further hedged its 2013 production. KWK has hedged 200MMcfd of their production at $5.10 in 2013, while expected production was to be between 335-345MMcfd. This works out to be roughly 59% hedged at the midpoint of their expected production guidance. Now with this deal, Tokyo Gas Co. will be receiving a 25% share of the Barnett shale production, which I estimate the Barnett shale assets could produce 225MMcfd in 2013. This would decrease KWK's net production to 278-288MMcfd in 2013, which increases the percent of KWK's production hedged to roughly 70%, at prices that are 25% above the current natural gas spot prices.
The second benefit, which KWK will realize at the time of paying down roughly $485M in debt, will be significantly lower interest expense. Paying down that much debt would decrease interest expense by more than $40M per year, which would add more than $.22/share benefit to GAAP EPS. This increased benefit would now allow KWK to not only be cash flow positive each quarter, but also profitable. During the next year or two, KWK is hoping to also refinance their debt at lower interest rates, further reducing interest expense.
Natural gas prices may continue to rise in 2013 and beyond as exploration companies appear to be spending less on natural gas wells and shifting Capex to oil wells. The U.S. is experiencing higher demand for natural gas as utilities continue to switch to natural gas from coal, and trucks and vehicles are converting to run on natural gas. Some other beaten up natural gas exploration companies to possibly look at would include Chesapeake Energy (NYSE:CHK), Exco Resources (NYSE:XCO), and Ultra Petroleum (UPL). All three of these names have been through difficult times. However, all three are profitable and will benefit if natural gas prices continue to rise in 2013-2014. Investors under-own these names as most still are not positive on the future direction in natural gas prices.
Bottom Line: After observing recent positive moves by management, I can no longer remain negative on KWK. I now believe this to be a speculative buy. I will become more positive on KWK in the coming months if natural gas prices continue to trend higher and if KWK's management continues to show restraints on spending and their commitment to paying down debt.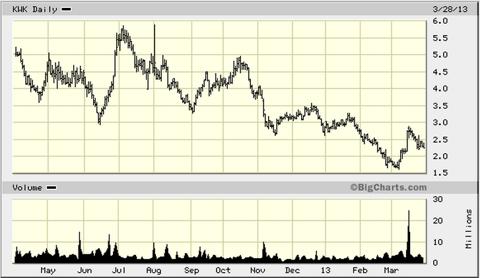 Disclosure: I have no positions in any stocks mentioned, but may initiate a long position in KWK over the next 72 hours. I wrote this article myself, and it expresses my own opinions. I am not receiving compensation for it (other than from Seeking Alpha). I have no business relationship with any company whose stock is mentioned in this article.