Silver Bay Realty Trust - A Business Model Doomed to Fail
Background
Silver Bay Realty Trust Corp. (NYSE:SBY), or "Silver Bay," is the first real estate investment trust (REIT) that focuses solely on the acquisition, renovation, leasing and management of single-family properties. It raised $263 million, mostly from foreign investors looking to capitalize on their currency advantage, in its initial public offering in December 2012.
But it is not the only company with this idea. Private-equity firm Blackstone Group LP and other companies are also gambling on the single-family home rental market. These include Colony Capital LLC, Maynada Investment Group, and Pacifica Companies LLC.
The following is based on information from the Prospectus dated December 14, 2012, 10-K filed March 1, 2013 for the period ending December 13, 2012, as well as other sources.
Silver Bay's Strategy
Silver Bay management believes they can create economies of scale through the large scale purchase of REO inventory held for sale by banks, government-sponsored entities (GSEs), and other mortgage lenders or guarantors. The idea is to use investment money to purchase homes at prices below replacement value and then renovate and lease them to former homeowners who lost property to foreclosure and are unable to buy.
As of December 31, 2012, Silver Bay owned approximately 3,400 single-family properties in Arizona, California, Florida, Georgia, Nevada, North Carolina, Ohio and Texas.
The Single-Family Home Business Model
The single family home rental market has historically been dominated by mom-and pop outfits, including retirees, real estate brokers, doctors and other professionals. Some of these were unwilling landlords, renting out their former home with the expectation that it could be sold at a later time after the value increased. Others viewed their rental properties as sideline or supplemental retirement income in an attempt to diversify and / or hedge inflation.
Depending on the tenant, the condition of the home, and the neighborhood, a landlord could expect to expend considerable time and money in managing the tenant and maintaining the home when the home is occupied. When unoccupied, the home will require more attention to keep it in shape for potential renters, especially if the area has many other rental properties available. The home will also need to be monitored for vandalism or theft. Many vacant homes are being scavenged for copper, appliances and other valuable fixtures.
After having issues with tenants, neighbors, and / or the homeowner's association, a landlord may decide a rental is too much to handle and may decide to either sell the home to remove the headache or hire a management company that takes a percentage of the rent to market, manage, and maintain the property.
Hiring a management company may seem convenient to a landlord that either does not have the time or lives far from the rented property, but it also has some drawbacks. Issues with the tenant or property may not be communicated timely to the homeowner by the management company, resulting in frustrated tenants and the possible loss of rental income. Many management companies job out repairs to parties that pay them kickbacks to receive their job referrals. The result is higher repair costs or substandard repairs.
Why Investing in Single-Family Properties is Not Profitable
1 - The ideal tenant does not exist
Per the prospectus, "Prospective tenants are required to undergo background checks that include income verification, employment history, criminal record check, income-to-rent ratios, and credit score." But the prospectus also states, "We expect that the residential rental market will continue to grow, driven in significant part by distressed owners who are displaced and converted to renters, and that many displaced homeowners will prefer to live in single-family rentals with similar characteristics and amenities to their former houses."
There is a reason this person could not afford to pay their mortgage. They either lost their job, they owed more than their home was worth and walked away, or they lacked money management skills. In any case, they likely have a poor credit score. These individuals would likely not qualify to rent out an apartment, so they would likely not qualify as a suitable tenant, even though this is supposedly the target market.
2 - There is a reason these homes are vacant in the first place
The portfolio of homes is located in states with some of the highest unemployment. This is per the chart from the Bureau of Labor Statistics (BLS).

The BLS statistics do not take into account the real unemployment rate as well as the number of underemployed. Shadow Stats provides a better indicator of the unemployment rate, but unfortunately a breakdown by state was not available.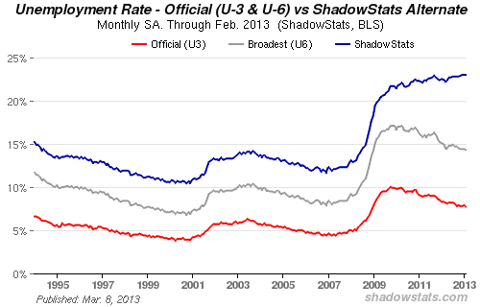 3 - Dilution of shares is coming
Per the 10-K, "Shares distributed or issued to Two Harbors (NYSE:TWO) stockholders or Prior Provident Investors are subject to a lock-up period expiring March 13, 2013. Following such expirations, these shares will be freely transferable without restriction."
The total number of shares that will become available from the two entities above as well as a few other entities will total 23.9 million. The current outstanding shares are 37.3 million. This will create a dilution of approximately 64% to the current shareholders.
4 - Decentralized business operations create internal control issues
Running a decentralized business model to service single- family properties will create various opportunities for fraud. For example, unneeded or overbilled repairs could be performed by the third party vendors. As discussed above, many management companies receive kickbacks from vendors to perform repair and maintenance work. This would go unnoticed by management of the company.
The management company may also own or have available single-family homes for lease from other clients that may offer payments to steer tenants to their units.
Overhead is also higher as the management company will expend more time and expenses in traveling to various units within a metropolitan area to service and repair the company's homes, mow the yards etc.
Per the 10-K, "We are in the very early stages of the costly and challenging process of compiling the system and processing documentation necessary to perform the evaluation needed to comply with Section 404. We may not be able to complete our evaluation, testing and any required remediation in a timely fashion. During the evaluation and testing process, if we identify one or more material weaknesses in our internal control over financial reporting, we will be unable to assert that our internal controls are effective."
The key is "costly and challenging." These are overhead costs that are not burdensome to a mom-and pop outfit. These costs will likely increase as this decentralized business model will require more controls to provide reasonable assurance of compliance.
5 - Crowded Market Limits Margins
Other firms like Blackstone have purchased a larger number of homes with the same idea as Silver Bay. In addition, small mom and pop investors will also have established tenants in their areas. This competition will pressure profit margins as rent increases will be minimized. The supply of rental properties will also increase as more potential tenants minimize costs by moving in together or renting out rooms.
6 - Paying with Cash Exposes Asset Portfolio to Inflation
Blackstone's strategy was to obtain loans to finance home purchases. With their economy of scale and credit rating, this loan was likely at a very low long-term interest rate. This was a smart strategy as inflationary pressures should push interest rates and consequently home prices and rents down, but would also make the loan cheaper to service from increased revenue from their other revenue streams that rise with inflation. Buying homes for cash provides no such hedge against future price and rent decreases.
7 - Rents Will Not be Able to Keep Up with Inflation
Leases that run one year or longer will be unable to keep up with the price increases that occur more frequently in other consumer goods. As tenants spend more on food and energy, they will find less money available for rent. They will likely move back in with family or friends.
8 - No exit strategy
When interest rates go up, the ability to sell homes will become very difficult. The supply of potential buyers will shrink, forcing real estate prices as well as rent down. This will result in the company either selling properties into the market at a significant loss or renting below the amount expected, lowering or eliminating profits.
Investment Strategy
Investors should stay away from the US property market in general and Silver Bay in particular. SBY is particularly toxic due to its naked exposure to single-family residential real estate.
However, there is always the possibility that the US economy will come roaring back through the continual printing of paper money and growth of debt at permanently low interest rates. In addition, maybe the government will buy back the portfolio from the company should this next housing bubble pop.
Disclosure: I have no positions in any stocks mentioned, and no plans to initiate any positions within the next 72 hours. I wrote this article myself, and it expresses my own opinions. I am not receiving compensation for it (other than from Seeking Alpha). I have no business relationship with any company whose stock is mentioned in this article.