Last night we got goods news out of China in regards to their PMI numbers and the numbers out of Japan were disappointing when looked upon in the context of actual versus expected, however the fact remains that the number was well above the previous and shows an improving trend. Japan's Nikkei was hit hard on the results of the Tankan Survey, but it must also be pointed out that these are just survey responses and when animal spirits take over the marketplace, as Japan is trying to force, all hell breaks loose and it is every man for themselves ... and confidence soars and so too do the numbers on surveys such as this. One should buy the weakness rather than sell into it as it relates to Japan this morning.
Also, the S&P 500 hit a new all-time high on Thursday which is what many market watchers had been waiting for. This now would seem to put us in extreme bull mode, except we still have the Europeans messing around and poking the Russians and geopolitical tensions rising on the Korean Peninsula. These are all stories to continue to watch.
Chart of the Day:
We found this chart and wanted to take the opportunity to share it with readers this morning as it continues to highlight the need for education in the country. Obviously every position does not need to have higher education degrees, however as the numbers prove, those with education are more in demand and find themselves in less of a "just-in-time" employment market, which for all intents and purposes is what many of the lower skilled jobs in the country have become (here today, gone tomorrow and back in 2 months).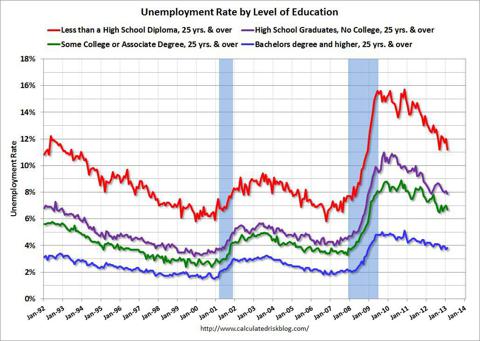 Click to enlarge
(Click to enlarge)
Chart courtesy of the Calculatedriskblog.com
We have economic news due out today, and it is as follows:
ISM Index (10:00 a.m. ET): 54.0
Construction Spending (10:00 a.m. ET): 0.9%
Asian markets finished lower today:
All Ordinaries -- CLOSED
Shanghai Composite -- down 0.09%
Nikkei 225 -- down 2.12%
NZSE 50 -- CLOSED
Seoul Composite -- up 0.12%
In Europe the markets we follow are closed for trading this morning:
CAC 40 -- CLOSED
DAX -- CLOSED
FTSE 100 -- CLOSED
OSE -- CLOSED
For those who missed the economic data released on Good Friday, it is as follows:
Personal Income: 1.1%
Personal Spending: 0.7%
PCE Prices - Core: 0.1%
Michigan Sentiment: 78.6
Technology
Now that the first quarter has come to an end we generally take a few days to look back and see how the landscape has changed from when the year started. It is a good exercise which we find leads to discovering trends which sometimes can carry on through the rest of the year. We were a bit surprised to see Hewlett Packard (NYSE:HPQ) as the best performing Dow Jones Industrial Average component, although we were aware that the company's shares had rallied significantly. This is something which is getting a lot of talk and we are hearing peers and friends discuss it as a possible trade, however one must remember that this is a turnaround story and the turnaround has not really taken place. It may no longer be a dream, but it is still a hope now that investors have seen what appears to be the early signs of Meg Whitman's moves impacting operating results. One quarter does not a trend make, and we think that an awful lot is priced in at these levels with expectations already running high, so this is not trend we see continuing throughout 2013 and thus recommend staying on the sidelines.
One trend which was hot in 2012 and then not was the 3D printing industry and 3D Systems (NYSE:DDD) which saw its stock take off in the last part of the year. Many have left the trade and moved on to other trading grounds, but we have continued to watch this name it appears to have found some solid footing around this $30/share level and has even been showing some signs of life lately. Shares rose $1.62 (5.29%) to close at $32.24/share during Thursday's session and that indeed has our attention. Any move higher will surely gain the attention of traders, for it is "on the radar" so to speak, and that will magnify anything to the positive side. This is a classic trend trade and should be treated as so, but so long as this $30/share area lends support to the shares, we think that it is a reasonable vehicle to trade.
Biotechnology
The big mover on Thursday in the biotech sector was Repros Therapeutics (NASDAQ:RPRX) which saw its shares rise over 76% after the company announced the results of the late stage trial for its testosterone drug, Androxal. The press release can be found here for those interested. The drug exceeded the FDA threshold requirements and also appears to have less of the severe side-effects that competing drugs have on patients. Based on this study the drug appears safe and could be a real game changer in the category.
Also on the move were two of our favorite biotech plays, which we think have the best management teams in the industry. First up is Biogen Idec (NASDAQ:BIIB) which saw the FDA approve its MS drug TECFIDERA, which comes in a pill form (see press release here). The company has moved to consolidate its holdings in the area with a few masterful strokes over the years and this drug adds another horse to the stable of MS offerings. Shares closed Thursday's session at $192.62/share and hit a new 52-week and all-time high during trading. The news flow is bullish and so too is the stock price right now. Momentum traders should take note.
A serious uptrend has developed and the FDA approval was the latest stimulant for the share price. More good news ahead and on a pullback we think that this is a good speculation so long as the uptrend remains intact.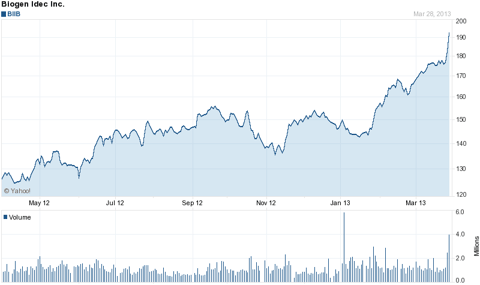 Click to enlarge
(Click to enlarge)
Chart courtesy of Yahoo Finance.
Our other favorite in the sector is Celgene (NASDAQ:CELG), which readers should be well aware of due to our recent write-ups on the company as they approached $100/share, $110/share and then $115/share. Thursday saw another new 52-week high and all-time high for the shares and this time the stock was able to close above the $115/share level, although it did fall just short of the $116/share level. This $115-116 range should be a nice area to see the stock take a breather and build a base, to then test (and ultimately break through) the $120/share level. After that has been accomplished we will have to take a look at the stock and see where we think it heads from there, but $120 remains our target right now.
Shares continue to "step up" and the $115/share area should provide an area suitable to build a base before the run at $120/share. It is a nice chart, but looking toppy, thus our desire to keep our eye on $120 as the target.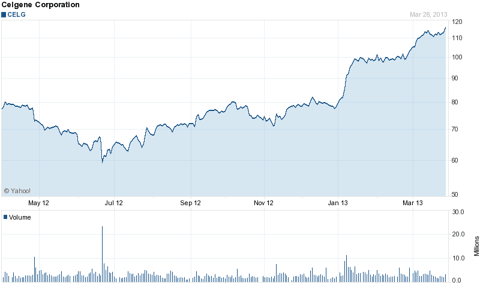 Click to enlarge
(Click to enlarge)
Chart courtesy of Yahoo Finance.
Disclosure: I have no positions in any stocks mentioned, and no plans to initiate any positions within the next 72 hours. I wrote this article myself, and it expresses my own opinions. I am not receiving compensation for it (other than from Seeking Alpha). I have no business relationship with any company whose stock is mentioned in this article.