Q1 2013 has been a roller coaster ride for Pengrowth Energy (NYSE:PGH). After briefly falling under $4.00 per share in late February, Pengrowth saw its stock surge nearly 30% in March. As of quarter end, Pengrowth is now trading at where it basically started the year - at around $5.00 per share.
However, Pengrowth does have a few possible positive catalysts in store, these being:
Higher realized natural gas prices
The approval of the Keystone Pipeline
Deep discount to book value
Large monthly dividend
Natural Gas Prices
Though Pengrowth's price has been flat YTD, natural gas prices have not. The Henry Hub natural gas spot price very recently breached $4.00 and is up over 23% YTD. Indeed, spot prices for natural gas stayed above $3.00 for the entire quarter, after breaching $2.00 earlier last year.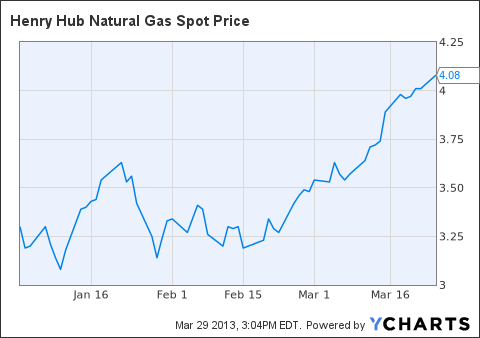 Henry Hub Natural Gas Spot Price data by YCharts
That natural gas prices have increased should have a material positive effect on Pengrowth' funds flow from operations ("FFO"). For every $0.50 increased in realized natural gas prices, Pengrowth sees its FFO increase by over $12M, or about $0.024 per share.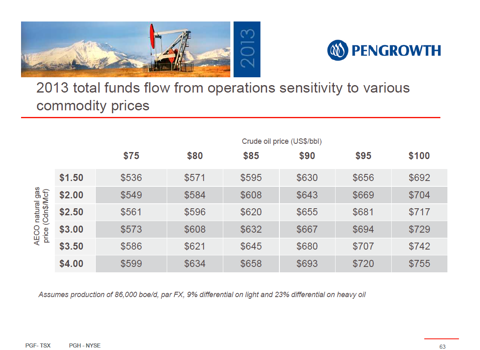 Click to enlarge
Considering that Pengrowth' Q4 2012 realized price for natural gas was only $2.49, and that its FY 2013 guidance projects averages prices to be $3.50, this sets up the possibility that a Q1 2013 earnings surprise may be in the works for Pengrowth.
Keystone Pipeline
While this project was once thought to be DOA, recent rumblings from Washington have led to renewed optimism of its approval. On March 1, the State Department issued a report raising no objections to the construction of the pipeline. The issue is currently in the 45-day period for public comments, and then it will up to the administration to decided whether or not it will approve the pipeline.
It is my belief that the Keystone Pipeline is critical to the continued economic viability of the Canadian oil sands. An approval of the pipeline could lead to a significant rally for Canadian energy producers, including Pengrowth.
Discount to Book Value
Using a 10% discount, Pengrowth had a total proved plus probable reserves value of $8.61 per share as of year-end 2012. This represents a massive 40% discount to its current share price of $5.10. Using a 5% discount, the book value jumps to $13.57, and the discount to the current share prices jumps to over 60%.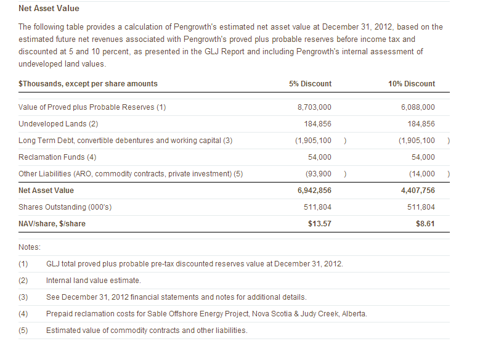 Click to enlarge
Monthly Dividend
Pengrowth currently offers a $0.04 per share monthly dividend. This dividend annualized is about $0.48 per share. Pengrowth' dividend represents about 40% of anticipated 2013 FFO. Even with the recent increase in share price, Pengrowth still yields over 9%.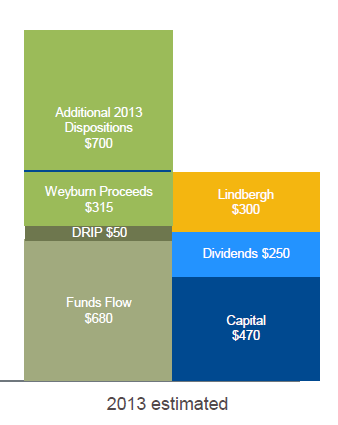 Conclusion
As my previous readers may know, Pengrowth is in an asset rotation phase, away from light oil and natural gas and towards heavy oil. However, Pengrowth has committed itself to continuing its current dividend policy, while funding its thermal oil project with asset sales.
Few stocks offer the kind of risk adjusted return that Pengrowth offers. Pengrowth is a classic definition of a 'paid to wait' stock, with its high yield. However, this is not to say that Pengrowth is not a high-risk stock, indeed investing in this name carries substantial risk. However, Pengrowth is a coiled spring, and any positive news event would, in my opinion, send its share price much higher.
Disclaimer: The opinions in this article are for informational purposes only and should not be construed as a recommendation to buy or sell the stocks mentioned. Please do your own due diligence before making any investment decision.
Disclosure: I am long PGH. I wrote this article myself, and it expresses my own opinions. I am not receiving compensation for it (other than from Seeking Alpha). I have no business relationship with any company whose stock is mentioned in this article.