Last month this Morningstar/YChart (M/Y) report series began. It was prompted by Seeking Alpha reader requests. It complemented my reports of possible dividend yield based buy opportunities from eight major market sectors as listed by Yahoo Finance which I've posted since the fall of 2011.
Responding to Seeking Alpha reader requests and the Ycharts.com migration to an eleven sector list, this report provided three actionable conclusions about top dogs of the Morningstar/YCharts (M/Y) sectors: basic materials; communication services; consumer cyclical; consumer defensive; energy; financial services; healthcare; industrials; real estate; technology; utilities. These sectors were all subjected to screening based on a once per year trading system triggered by yield augmented with one year mean target price estimates from broker analysts.
Investor Glossary, an online investor primer, recently offered this brief description of dividend dog methodology: "...[I]nvented to find the 10 stocks of the 30-stock Dow Jones Industrial Average with the highest yield (dividend/price) and invest equally in each, [t]he Dow dividend theory also requires that you repeat this process once a year.
Below, the Arnold M/Y Healthcare Sector Selections for March were disclosed.
Dog Metrics Divulge Sharpest Healthcare Dogs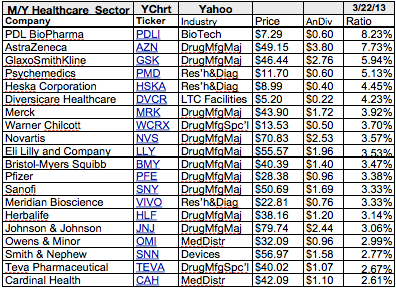 Five industries were represented by the ten M/Y healthcare sector stocks showing the biggest dividend yields as of March 22 by YCharts and Morningstar. Top healthcare sector stock PDL BioPharma (NASDAQ:PDLI) was the only biotechnology firm in the top ten. AstraZeneca (NYSE:AZN) in second position was one of five drug manufacturers, major on this list. Others were GlaxoSmithKline (NYSE:GSK) in third, Merck (NYSE:MRK) in seventh, Novartis AG (NYSE:NVS) in ninth, and Eli Lilly and Company (NYSE:LLY) in tenth. The fourth and fifth dogs, Psychemedics Corporation (NASDAQ:PMD), and Heska Corporation (NASDAQ:HSKA) represented medical research & diagnostic firms. Diversicare Healthcare Services (NASDAQ:DVCR) providing long-term care facilities took sixth place. Finally, Warner Chilcott (NASDAQ:WCRX) a drug manufacturer-specialized, took eighth place and completed the top ten healthcare dogs.
Dividend vs. Price Results Compared to Dow Dogs
Below is a graph of the relative strengths of the top ten M/Y healthcare dogs by yield as of market close 3/22/2013 compared to those of the Dow. Historic projected annual dividend history from $1000 invested in each of the ten highest yielding stocks and the total single share prices of those ten stocks created the data points shown in green for price and blue for dividend.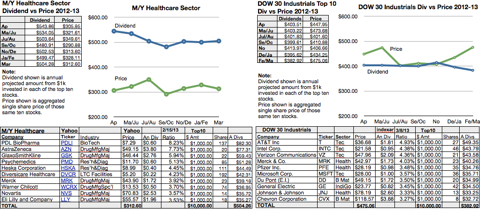 Actionable Conclusion: M/Y Healthcare Dogs Retreat from Bear as Dow Chases Bulls
March's M/Y healthcare collection of dividend payers ended an upward price trajectory set since October, 2012 as price dropped 4.7% in the past month. Meanwhile, aggregate dividend from $10k invested in each of those sharp ten dogs jumped 1%.
The Dow, was totally bullish as price popped up 9.2% while dividend sank 3.1% last month. The Dow shows an overbought condition by 24% as aggregated single share price exceeded dividend from $1k in vested in each stock by $92.
Since sector dogs are not the blue chip high quality equivalents of the Dow list, an additional gauge of upside potential was added to the simple high yield metric used to flush out bargains.
Weighing Wall Street Wizard Wisdom
One year mean target price set by brokerage analysts multiplied by the number of shares in a $1k investment were used to compare ten stocks showing the highest upside price potential into 2014 out of 20 selected by yield. The number of analysts providing price estimates was noted after the name for each stock. Three to nine analysts was considered optimal for a valid mean target price estimate.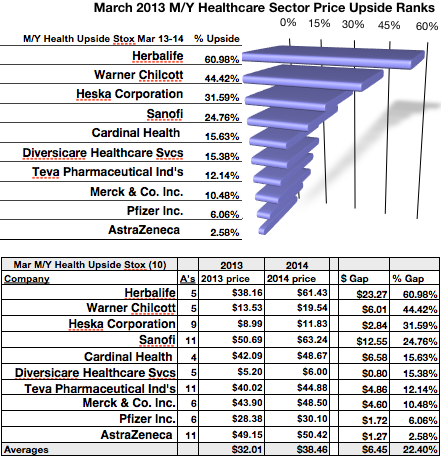 Actionable Conclusion Too: Analysts Anticipate 14.26% Net Gain from Top 20 M/Y Healthcare Dogs In 2014
Top twenty dogs for the M/Y healthcare sector were graphed below to show relative strengths by dividend and price as of March 22, 2013 and those projected by analyst mean price target estimates to the same date in 2014.
A hypothetical $1000 investment in each equity was divided by the current share price to find the number of shares purchased. The shares number was then multiplied by projected annual per share dividend amounts to find the dividend return. Thereafter the analyst mean target price was used to gauge the stock price upsides and net gains including dividends less broker fees as of 2014.
Historic prices and actual dividends paid from $1000 invested in the ten highest yielding stocks and the aggregate single share prices of those twenty stocks divided by 2 created data points for 2013. Projections based on estimated increases in dividend amounts from $1000 invested in the twenty highest yielding stocks and aggregate one year analyst target share prices from Yahoo Finance divided by 2 created the 2014 data points green for price and blue for dividends.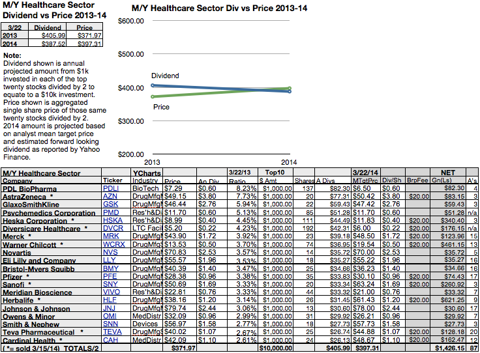 Yahoo projected over a 4.5% lower dividend from $10K invested in this group while aggregate single share price was projected to increase by over 6.8% in the coming year. Should analyst projections hold, these healthcare sector dogs were shown to move into an overbought condition in 2014.
The number of analysts contributing to the mean target price estimate for each stock was noted in the last column on the charts. Three to nine analysts was considered optimal for a valid projection estimate. Estimates provided by one analyst were not applied (n/a).
Actionable Conclusion Three: Analysts Forecast 2014 M/Y Healthcare DiviDogs to Net 7.4% to 62%
Ten probable profit generating trades revealed by Yahoo Finance for 2014 were:
Herbalife (NYSE:HLF) netted $621.25, based on dividends plus a mean target price estimate from nine analysts;
Warner Chilcott netted $461.15 based on dividends plus mean target price estimate per thirteen analysts;
Heska Corporation netted $340.40 based on a mean target price estimate from three analysts combined with projected annual dividend;
Sanofi (NYSE:SNY) netted $260.92, based on dividend plus mean target price estimates from three analysts;
Diversicare Healthcare Services netted $176.15 based on estimates from five analysts plus dividends;
Cardinal Health (NYSE:CAH) netted $128.18 based on dividends plus the mean of annual price estimates from twelve analysts;
Teva Pharmaceutical Industries (NYSE:TEVA) netted $128.18, based on dividends plus mean target price estimate from twenty analysts;
Merck & Co. Inc. netted $123.96 based on dividends plus a mean target price estimate derived from fifteen analysts;
AstraZeneca netted $83.15 based on a mean target price estimate from three analysts combined with projected annual dividend;
Pfizer Inc.(NYSE:PFE) netted $74.43 based on target estimates from seventeen analysts plus dividends.
The average net gain in dividend and price was slightly over 24.3% on $1k invested in each of these ten dogs.
The stocks listed above were suggested only as decent starting points for your M/Y sector dividend stock purchase research process. These were not recommendations.
Disclaimer: This article is for informational and educational purposes only and should not be construed to constitute investment advice. Nothing contained herein shall constitute a solicitation, recommendation or endorsement to buy or sell any security. Prices and returns on equities in this article except as noted are listed without consideration of fees, commissions, taxes, penalties, or interest payable due to purchasing, holding, or selling same.
Disclosure: I am long DD, GE, INTC, JNJ, MCD, MSFT, PFE, T, VZ. I wrote this article myself, and it expresses my own opinions. I am not receiving compensation for it (other than from Seeking Alpha). I have no business relationship with any company whose stock is mentioned in this article.