Baidu (NASDAQ:BIDU) is the largest Chinese language search engine and the company is frequently referred to as the "Google of China." Baidu is down nearly 16% year to date while the Dow has risen. The company has grown rapidly in recent years. The company reported in its Q4 2012 conference call that revenues increased by 42% versus a year earlier. Despite the concerns about the future of company, Baidu is an attractive long-term investment.
Fundamentals
Baidu's net income is currently at 5-year highs as shown in the graph below. The PEG ratio for the stock is .52, which could indicate that the company is undervalued. The TTM P/E at 18 is substantially lower than many of its competitors, but the ratio is slightly higher than the average P/E ratio of the S&P 500 index. For example, the Chinese online company Sohu (NASDAQ:SOHU) has a TTM P/E ratio of 24. The forward P/E ratio of Baidu is 13. Baidu is projected to grow its earnings at a very rapid rate over the next few years. The 5-year projected earnings growth rate for Baidu is 29%. The projected growth rates for other Chinese online companies are much lower. The 5-year projected earnings growth rate for Google (NASDAQ:GOOG) is 16%. The projected growth rates for Chinese online companies Sohu and Sina (NASDAQ:SINA) are 17% and 26%. One downside to this stock is the lack of a dividend.

source: chart from Y Charts
Competitors
Baidu is the dominant search engine in China. In 2012, Baidu controlled an incredible 73% of the Chinese search market traffic. Although Google is the dominant search engine in the U.S., Google controlled only 4.7% of the Chinese search market traffic in 2012. Since 2010, Google has curtailed much of its operations on mainland China due to disputes with Chinese government over censorship. Qihoo (NYSE:QIHU) is Baidu's main adversary in the Chinese search market and controls a 10% share of the Chinese search market traffic. Qihoo co-founder Zhou Hongyi claims that Qihoo is a much better alternative to Baidu because his search engine is less likely to lead users to websites with malware and spam. Qihoo poses a very serious threat to Baidu and it was announced in January that Qihoo and Google are nearing a partnership. However, Qihoo has been plagued by scandals and the company's Q4 profit declined.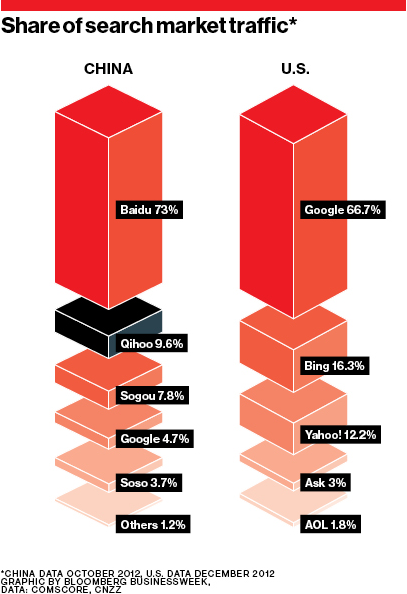 Baidu's Future
Baidu grew its revenue at over 40% from Q4 2011 to Q4 2012, but this level of growth is difficult for any company to sustain over the long term. Baidu reported its slowest profit growth since 2009 in February. China's slowing economy and stiff competition have slowed Baidu's growth recently. Also, the growth of mobile users has slowed Baidu's growth. However, the company's fourth-quarter revenue still beat Wall Street's expectations. Despite the concerns about a growth slowdown, the company reported numerous positive developments that occurred in the fourth quarter. During the last quarter, Baidu launched a voice assistant. The company claims that the technology is the most accurate Chinese voice recognition technology. Baidu launched an updated version of its mobile browser in Q4 and the new version is 30% faster. The company will also launch its first research lab this year, which will aid its ability to create new innovative products. Also, the company added 100,000 customers in 2012 and there are now 600,000 customers on the Baidu platform. Increased internet usage in China will strongly benefit the company. Only 38% of Chinese citizens were internet users in 2011. Baidu will certainly benefit from an increase in the number of Chinese internet users.
Conclusion
Baidu will perform well over the long term and the company is still growing at rapid rates. Despite concerns, Baidu is still far ahead of its competition. The stock appears to be cheaper than many of its rivals. The P/E ratio is much lower than its competition and the projected EPS growth rate is much higher than other Chinese online companies. The company has a much larger market share than any of its rivals. The company's main rival, Qihoo, is a threat to Baidu. However, Baidu appears to be cheaper than Qihoo and Qihoo isn't currently profitable.
source: data from Yahoo! Finance
Disclosure: I have no positions in any stocks mentioned, and no plans to initiate any positions within the next 72 hours. I wrote this article myself, and it expresses my own opinions. I am not receiving compensation for it (other than from Seeking Alpha). I have no business relationship with any company whose stock is mentioned in this article.