Back in July of 2011, I wrote an article with the bodacious title, Kona Grill: The Next Restaurant Superstar? At that point Kona Grill (NASDAQ:KONA) had suffered a long slide in EPS, cash flow, and stock price; but it had taken on one Michael Nahkunst as CEO. He had previously developed the Chili's chain of Brinker International (NYSE:EAT) from 1977 to 1997, orchestrating a six-bagger in stock price in EAT over the late 1990s/early 2000s (not a good period for stocks in general).
Nahkunst then became what I described as, "something of a traveling restaurant growth guru" and moved on to The Cheesecake Factory (NASDAQ:CAKE) in August of 1997. CAKE wasn't doing too badly, having grown form selling cheesecakes from the home of founder David Overton (his mom started it all by making these cakes in the 1940s). It was a public company by the 1990s and then brought Nahkunst on board.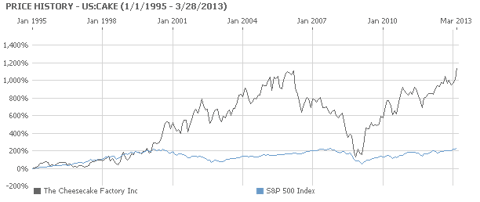 Again, some market smashing performance accompanied Mr. Nahkunst. He was only there for about two years and next went to Chicago Pizza in March, 2002. This became BJ's Restaurant (NASDAQ:BJRI), and market-beating growth followed him: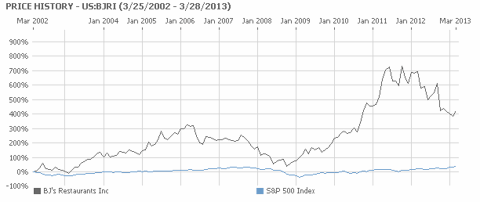 He left BJRI in 2005 and next went to a debt basket-case, Max and Erma's, but the debt was too much, and a buyout by a private group at a 37% premium to a declining stock price in mid-2008 was all that Nahkunst could manage there.
He next showed up at Kona Grill in 2010 and was named CEO in June, 2011. In my other article, I suggested that KONA, not being a debt basket-case in the middle of a banking crisis, was ripe for some Michael magic. But sadly it was announced Jan. 30, 2012 that Nahkunst was leaving KONA for personal reasons. You have to raise an eyebrow at the worn phrase "for personal reasons." I can find no other stated reason for his departure other than this Chicago Tribune piece looking at an SEC filing by KONA suggesting it was a "personal disagreement with the Board."
This development would seem to be grounds to call off the big turnaround story at Kona Grill with its mere 20 some odd locations. But think again. Nahkunst seems to be a restless, traveling guru who joins a company for two or three years, does a coaching clinic, maybe does a little headhunting for some talent, then leaves. But the coaching and the talent stay. If you examine the above charts closely, you discover that most of the huge growth happens after Michael leaves. KONA may have the typical quota of growth dynamite, Nahkunst joined the company in 2010 and was there for nearly 1 1/2 years.
Part of Michael's magic may be his web of talent connections in the restaurant industry. He joined BJ's with Paul Motenko as co-founder, and in 2005 upon his departure
Paul Motenko stated, "Mike has been instrumental in helping to build a solid operational infrastructure and team for BJ's to prosper and grow. We thank him for helping to position BJ's in becoming a stronger national brand within the casual dining industry. As he moves on to new challenges, we will miss his leadership
Motenko himself left BJ's three years later to start all over again at Stacked Restaurants, a tiny private company with five employees in California. He is already making waves there as this Orange County Register piece attests. There seems to be a wanderlust with these builder types, and Michael Nahkunst is one of the most connected among them.
One of these builder types, Marci Rude joined the team at KONA while Nahkunst was there. She was VP of Development at PF Chang's from 2000 to 2007. What kind of growth and development went on there? Its cash flow from operations in 2000 was $27 million and by 2007 it had ballooned to $138 million. Sales growth was similar and the stock did a six-fold increase from 2000 to 2005 before coming back down some, being a little ahead of the growth. This is the kind of growth Michael Nahkunst likes. In the December 5, 2011 press release Kona Grill Appoints Marci Rude as VP of Development, he said:
Marci's extensive business development experience, particularly the vital role she served in P.F. Chang's critical phase of expansion, will play a key role as we execute our growth strategy," said Mike Nahkunst, president and CEO of Kona Grill. "Given her strong leadership abilities and proven track record, Marci was the ideal candidate to take on this new position and lead our development efforts
Kona Grill has passed stage 1 of a turnaround where the problems are admitted and big changes are sought. It is at stage 2 where talent has been brought in and assimilated. It may be about ready for stage 3 - growth to superstar status. Michael Nahkunst may be gone. But his coaching, and Marci Rude, is still there. Since my other article nearly two years ago, there has been a turn started: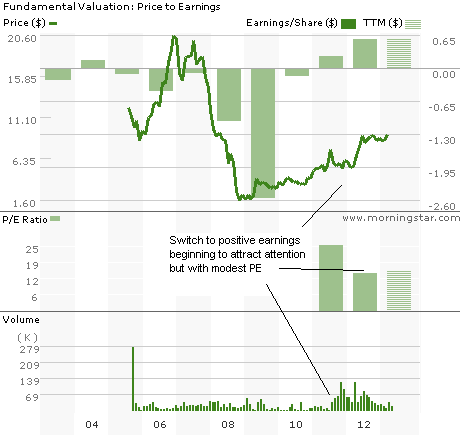 And the stock is up about 30% since then. It has climbed from the $6 resistance level it had just broken to a new resistance level now at $9, where it has built a high level of technical strength: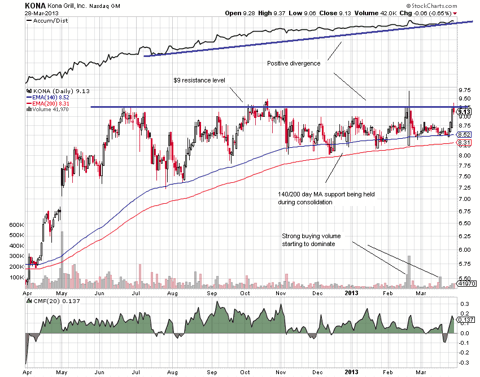 Disclosure: I am long KONA. I wrote this article myself, and it expresses my own opinions. I am not receiving compensation for it (other than from Seeking Alpha). I have no business relationship with any company whose stock is mentioned in this article.