Waning traffic is threatening to derail Burger King's (BKC) turnaround. Investors were pummeling shares of the fast food operator yesterday -- down 17% -- after it reported preliminary earnings for fiscal 3Q09, ending March 31. Although EPS is expected to be in the range of $0.33 to $0.35 -- at the high end of our estimate and of the consensus of $0.33 -- customer traffic is declining.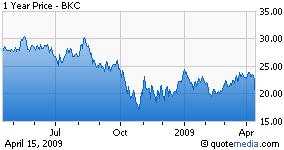 The in-line results were bolstered by better-than-expected G&A, interest and income tax expense, and mask deteriorating customer traffic in March. In turn restaurant margins -- which exclude corporate expenses, such as G&A -- shriveled to 11.7% in the quarter from 13.2% in the year-ago period. The contraction would have been worse if not for improving commodity costs.

Same-restaurant sales grew by a disappointing 1.0% in the reported quarter, as traffic waned across most of Burger King's markets. This is a significant slowdown from the 2.9% comps Burger King reported in its previous quarter, and lags the 4Q08 results generated by many of its competitors: McDonald's (NYSE:MCD) 7.2%, Yum! Brands (NYSE:YUM) 3.0%, and Jack-in-the-Box (NASDAQ:JACK) 1.7%.

Two of the company's most important markets, Germany and Mexico, were hardest hit. The company is fighting back with increased advertising focusing on value and affordability, and by expanding breakfast hours and menu offerings in Germany.

Although its competitors haven't reported the March quarter yet, recent traffic declines more likely reflect Burger King's lagging breakfast and value menu sales, rather than a larger industry trend.

Burger King's value menu accounts for 13% of BKC's sales -- about half of key competitors -- while it also lags far behind McDonald's in breakfast, the fastest-growing daypart. To bolster its share, BKC has begun to innovate menu offerings and advertise.

The turnaround of the world's second largest hamburger chain hinges on improved average unit sales, which trail McDonald's and Yum! Brands. Although a deepening recession and fierce competition provide strong headwinds, Burger King is positioning for improvement by innovating new menu offering, upgrading its prototype design and expanding hours.

Burger King shares trade at less than 11 times our 2010 estimates, below our estimate of the company's 5-year growth rate of 15% -- attractive, despite what may be a slightly slower-than-expected improvement in unit volumes.
-- Ann Northrop, CFA