Dr Pepper Snapple Group Inc. (NYSE:DPS) recently announced a dividend increase to $0.38 per quarter (up 12% from the previous $0.34 dividend). At the current $46.95/share price, this gives it a dividend yield of 3.24%. In this article, I will be looking into the sustainability of this dividend. I will be using DPS' 2 major competitors, PepsiCo (NYSE:PEP) and Coca-Cola (NYSE:KO), as well as 1 smaller beverage company, Monster Beverage Corp (NASDAQ:MNST), for comparison.
Let's start by comparing dividends for the 4 companies mentioned.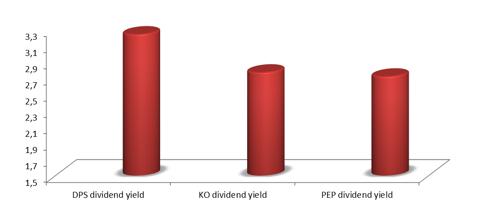 Click to enlarge
Dividend for DPS is at a respectable 3.24%, while both KO (2.77%) and PEP (2.72%) don't even make it to 3%. MNST is not included in this graph as it doesn't pay a dividend.
Now, a high dividend is often an indicator for a high payout ratio. Therefore, let's compare the payout ratios for DPS, KO and PEP.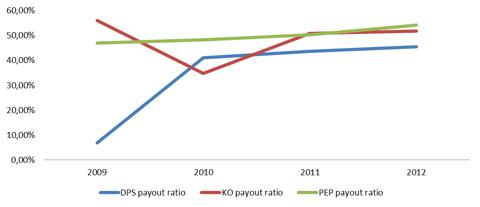 Click to enlarge
DPS' payout ratio for 2012 was 45.48% which is well below KO's 51.78% and PEP's 54.27%. Analysts expect (Yahoo Finance) the EPS for DPS to be at $3.07 for 2013. The $0.38 quarterly dividend would give DPS a payout ratio of 49.5%, which is still well below its competitors.

Click to enlarge
The forecasted EPS for 2013 and 2014 seems very realistic to me, especially considering the increases DPS has managed to make over the last years. An EPS of $3.32 by 2014, with a payout ratio of 50% would give us a yield on cost of 3.54%.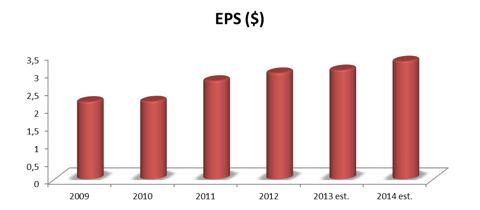 Click to enlarge
One more thing I really like about DPS is the large amount of share buybacks. The number of shares has been reduced from 255million in 2009 to 212million in 2012, which has returned hundreds of millions of dollars to shareholders. The next graph compares the number of shares for DPS,KO,PEP and MNST. When it comes to reducing the number of shares, DPS clearly beats all of its competitors.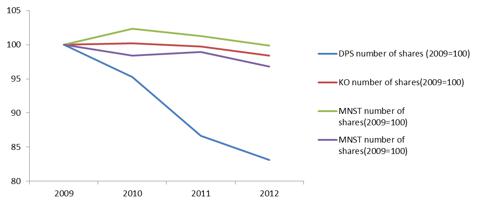 Click to enlarge
Now, considering the large share buybacks, high earnings, high dividend and high expected growth, we would expect to see DPS trading at similar p/e ratios as its competitors. This however, is not the case. DPS trades at only 15.8 times earnings, compared to 20.1 for PEP, 20.5 for KO and an incredibly high 25.1 for MNST.
Click to enlarge
All in all, DPS appears to be a great stock. It's trading very close to its 52-week high but with its recent dividend increase and strong earnings, I don't see it going down very far. I may add DPS to my portfolio in the next few days.
What's your view on DPS, KO, PEP and MNST? Please comment below!
Disclosure: I have no positions in any stocks mentioned, but may initiate a long position in DPS over the next 72 hours. I wrote this article myself, and it expresses my own opinions. I am not receiving compensation for it (other than from Seeking Alpha). I have no business relationship with any company whose stock is mentioned in this article.