According to data provided by the National Retail Federation and published by Marcum Cronos, 2013 may not be on pace to be as good of a year as 2012 was for the US-based retail sector. Marcum Cronos had noted in its February sector-based bulletin, "On the heels of the modest 2012 holiday numbers, the NRF has projected that U.S. retail sales will increase 3.4% in 2013, the slowest growth rate since 2010. The declining momentum is being attributed to consumer uncertainty, higher payroll taxes and a slow economic recovery".
I personally think the US economy will experience an improvement in consumer sentiment during the second half of the year and as a result I've decided to establish a long-term position in Abercrombie & Fitch (NYSE:ANF). In this article I plan on highlighting a number of the key variables behind my decision to establish a position in and remain long on shares of ANF.
Abercrombie & Fitch Co.: Based in New Albany, Ohio, and through its subsidiaries, owns, operates, and invests in a diversified group of infrastructure businesses through its subsidiaries, operates as a specialty retailer of casual apparel for men, women, and kids. The company sells various products, including casual sportswear apparel comprising knit and woven shirts, graphic t-shirts, fleece, jeans and woven pants, shorts, sweaters, and outerwear; personal care products; and accessories for men, women, and kids under the Abercrombie & Fitch, Abercrombie Kids, and Hollister brands. (Yahoo! Finance) Shares of ANF carry a P/E ratio of 14.26 and a PEG ratio of 0.77, making the stock highly attractive to the traditional value investor as shares are considered to be inexpensive at present levels. The company's current yield of 1.73% ($0.80) also has a tendency to attract income investors who may be driven by what I consider to be a conservative income approach. I personally define a conservative yield as any yield falling between 1.00% and 2.50%.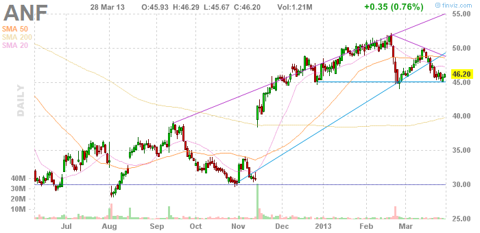 There are five things to consider when it comes to Abercrombie & Fitch and they are the company's recent increase year-over-year net sales, its year-over-year increase in what is considered to be its cash and cash equivalents, its online revenue growth, a peer based comparison of its price-to-sales ratio, and its 2013 outlook.
8% Increase in Net Sales: On Friday, February 22nd Abercrombie & Fitch announced its 2012 full year results which were highlighted by an 8% increase in its full year net sales. According to the company's press release, "Net sales for the fifty-three weeks ended February 2, 2013 increased 8% to $4.511 billion from $4.158 billion for the fifty-two weeks ended January 28, 2012. Total U.S. sales, including direct-to-consumer sales, decreased 1% to $3.087 billion. Total international sales, including direct-to-consumer sales, increased 36% to $1.424 billion. Total Company direct-to-consumer sales, including shipping and handling, increased 27% to $700.7 million". Although the company's 8% increase is pretty significant, I still think changes must be made in such areas as U.S.-based direct-to-consumer sales, especially if the company intends on increasing its profit margin over the next 12-24 months.
10.66% Increase in Cash and Cash Equivalents: Also included in the company's 2012 full year results was a 10.66% increase in its year end cash and cash-based equivalents. According to the company's press release, "The Company ended Fiscal 2012 with approximately $645.7 million in cash and cash equivalents compared to $583.5 million in cash and cash equivalents and $99.5 million in marketable securities at the end of Fiscal 2011. During the fourth quarter, the Company amended its Term Loan Agreement reducing the availability from $300.0 million to $150.0 million. Including cash and equivalents, the amended Term Loan Agreement and the availability of $350.0 million under the Amended and Restated Credit Agreement, the Company had $1.146 billion in available liquidity, less immaterial letters of credit, as of February 2, 2013. On February 21, 2013, the Company elected to draw down the full $150.0 million available under the Term Loan Agreement at an effective interest rate of 1.96%".
From a comparative standpoint, one of Abercrombie's direct competitors, Gap, Inc. (NYSE:GPS) demonstrated a 20.71% decline in cash, cash equivalents and short-term investments between FY 2011 and FY 2012. According to Gap's earnings announcement, "The Company ended FY 2012 with cash, cash equivalents and short-term investments of $1,510.0 million, compared with $1,885.0 million in the year-ago period". Although many investors consider Gap, Inc. a great turnaround story, I'd continue to remain cautious on the stock until the company was able to demonstrate a sustainable increase in its year-over-year cash comparisons.
Online Revenue Growth: According to data compiled by Forrester, current forecasts are estimating U.S. online retail sales will amount to $262 billion in 2013 (an increase of 13% over 2012) and reach $370 billion by 2017. This amounts to a compounded annual growth rate (OTCPK:CAGR) of 9% for the period 2014-2017. How much of that will directly affect Abercrombie? Trefis (who has previously asked a similar question) had previously noted, "Abercrombie's share in the U.S. online apparel market increased from 10.7% to 12.1% between 2006 and 2010 and jumped to 15% in 2011 as the retailer integrated its mobile-commerce channel". Although Trefis is conservatively expecting Abercrombie's market share to reach the 17% level, I personally think market share levels could reach as high as 18% as the company is taking a much greater hands-on approach when it comes to such things as inventory control. The simplest way for a retailer to control its inventory is by making sure its sales growth outpaces the rate at which it increases inventory and if Abercrombie can successfully execute and maintain such an approach, then I strongly believe the 18% threshold can be attained within the next year.
Comparative Price to Sales Ratios: A company's price-to-sales ratio compares a company's share price to its sales over the last 12 months. By pairing this ratio with the company's performance over the previous 12 month period, a low price-to-sales ratio could end up being one of the most important variables when considering a position in the company. By comparing the price-to-sales of ratios of both Abercrombie and Gap, we can clearly see that shares of ANF (which carry a price-to-sales ratio of 0.8519) are clearly outpacing shares of GPS (which carry a price-to-sales ratio of 1.109).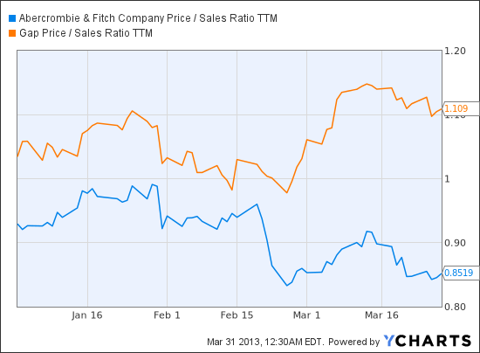 ANF Price / Sales Ratio TTM data by YCharts
Strong 2013 Outlook for Abercrombie: When it comes to an earnings announcement investors almost always wants the company to surpass analysts' expectations in terms of both EPS and Revenue and demonstrate a positive outlook for the upcoming year. Abercrombie's outlook sounds very promising as the company noted, "that it projects earnings per share to be in the range of $3.35 to $3.45 for FY '13 under the cost method of accounting for inventory. During that time, the Company expects to open Abercrombie & Fitch flagship locations in Seoul and Shanghai, as well as approximately 20 international Hollister stores throughout the year. The Company expects to close approximately 40-50 stores in the U.S. during 2013, primarily through natural lease expirations".
If the company can continue to demonstrate strength in its net sales (by improving on its direct-to-consumer segment), its cash and cash equivalents (especially when compared to its peers) and its online revenue growth I see no reason why Abercrombie & Fitch would unable to meet its FY 2013 forecasts of $3.35 to $3.45 per share.
Disclosure: I am long ANF. I wrote this article myself, and it expresses my own opinions. I am not receiving compensation for it (other than from Seeking Alpha). I have no business relationship with any company whose stock is mentioned in this article.