Introduction
Exelon (NYSE:EXC) has been one of the worst performing utility stocks in the U.S., giving significant losses to investors in the last decade or so. The performance has been especially bad compared with nice profits being given by most large-cap utility peers like Southern Company (NYSE:SO), Dominion Resources (NYSE:D) and Duke Energy (NYSE:DUK). While other utility stocks have been touching all time highs, EXC has been touching all time lows. The company is heavily dependent on non-regulated electricity markets for its revenues. This has proved to be highly detrimental as power prices have crashed in the U.S. due to the shale gas revolution. While the competitors generate large profits from regulated operations, Exelon has been making much smaller profits as its earnings depend on the market price for electricity. However, I have been positive about the stock given its beaten down status, low valuation, adverse sentiment, clean energy assets and the possibility of higher natural gas prices. Some of these factors are starting to come into play as natural gas prices have increased quite sharply in recent days, almost doubling to ~$4/mmbtu from the all time lows of ~$1.92/mmbtu touched last year. I expect that natural gas prices may increase further as oil and gas companies keep shifting drilling rigs from natural gas to oil. Clean energy assets are also starting to come back in favor, with Obama pushing for more clean energy generation. Exelon stock is also quite cheap, which makes me think that the current rally might have more legs.
Exelon - Recent developments
Exelon Energy has appreciated by ~15% since I advocated a long position in the stock at $29 despite a 41% cut in dividends. The market already factored in a dividend cut, so the stock was not adversely affected from the dividend decrease announcement. The company said that it would cut its annual dividend from $2.1 to ~$1.24 in order to maintain a healthy debt rating. Though EXC has one of the lowest debt-equity ratios in the industry, it generates lower ROA due to its large non-regulated power business. This has forced the company to cut its dividend in order to keep a sustainable payout ratio.
Why Exelon Energy may have more legs
1. Natural Gas prices have shot up boosting Exelon - Since power price declines due to low cost electricity generation from gas power plants, Exelon has been one of the biggest victims of low natural gas prices. While other utilities have remained insulated due to their guaranteed returns, Exelon has seen its earnings plummet as it has been forced to sell power from its nuclear power plants at low merchant power prices. I had pointed out that NG prices will not stay abnormally low for a long time and this has started to come true. Exelon may not benefit immediately as it has hedged over 90% of its power output for 2013. However this hedged power ratio will start to come down to the 65% level in 2014 and would decline further in 2015. The earnings estimates, which point to a decline will have to be revised upwards.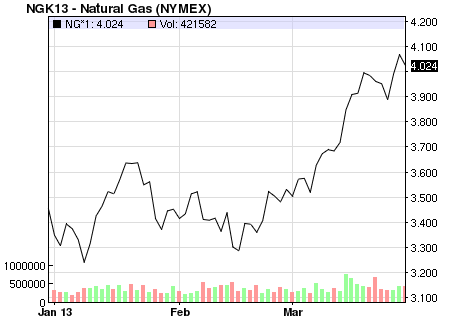 Source: NASDAQ
It is unlikely that natural gas prices will decline again to their devastating lows as seen in the last year. The reason being natural gas rigs continue to decline despite the sharp rally in NG prices over the last quarter. The economics of NG are not compelling enough for oil and gas companies to shift rigs from oil drilling to NG drilling.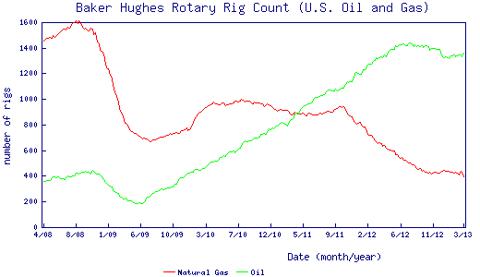 2. Exelon's Green Assets remain a Trump Card - One of the reasons I cited for my bullish thesis on Exelon was its heavy concentration of clean energy assets. Exelon is very different from other giant utilities in the U.S., as the company gets less than 10% of its energy from dirty coal while others are dependent on thermal power plants for almost half of their total power production. This has not benefited Exelon as coal prices have gone down in the U.S. and no carbon tax has been enacted. However, President Obama is starting to make small moves to boost clean energy production. Exelon stock could really shoot up if Obama takes bolder steps to reduce pollution in the U.S.
3. Regulated utilities are seeing decreasing ROE in new settlements - There has been increasing pressure on the state electricity regulators to decrease the ROE that regulated utilities get. New settlements reached between the regulators and the utilities have seen guaranteed return on profits decrease for utilities. The reason is that prices have been increasing for consumers despite decreasing electricity demand. As returns decrease for regulated utilities, investor money should flow out of these stocks into Exelon, which is much less dependent on regulated returns for its overall profits.
4. Constellation Energy Merger to pay off - Exelon's merger synergies are set to kick into high gear as the utilities complete one whole year after their big bang merger. The company will realize significant savings from cost rationalization by eliminating duplication and harvesting economies of scale.
Exelon Valuation
Exelon trades at lower multiples when compared to the rest of the industry with a forward P/E of 12.6x and a P/S ratio of 1.2x. While the recent rally has increased the valuation somewhat, I expect that the stock can go up further as earnings estimates increase due to favorable macro conditions. The company gives a healthy normalized dividend yield of ~3.8%, despite a big cut taken by the management. The dividend cut will come into effect from Q213.
Exelon Stock Price Performance
While Exelon's long-term price performance has been quite poor compared to the broader market and the utility sector, the near-term price performance has started to brighten up. The company has heavily outperformed other utilities in the last one month. Exelon's stock has gone up by ~11% while that of other major utilities like SO, D and DUK have ranged between 3-4%. I think the main reasons for the outperformance was the end of uncertainty about the dividend cut, which came as a market relief and increasing natural gas prices. The stock is currently trading at the ~$34 level having climbed up quite nicely from the $28-29 level reached during end 2012.
Summary
I had been in favor of buying Exelon as the stock was bruised badly due to strong macro headwinds. The valuation was low and the sentiment toward the stock was so bad that it bordered on hatred. The stock had gone down drastically as dividend investors abandoned the stock en masse giving a rare alpha opportunity. The stock went up by ~15% since that time despite a sharp dividend cut. The stock has started to benefit from the better NG prices. I think that the Exelon rally has more legs due to a number of tailwinds like improving cost synergies, low earnings estimates as well as large clean power assets. I would look to add to the EXC position since the stock is still quite cheap compared with rest of the utility sector.
Disclosure: I have no positions in any stocks mentioned, and no plans to initiate any positions within the next 72 hours. I wrote this article myself, and it expresses my own opinions. I am not receiving compensation for it (other than from Seeking Alpha). I have no business relationship with any company whose stock is mentioned in this article.