March was a respectable month for the portfolio of 5 Natural Gas Transportation Stocks for 2013. The year-to-date performance is shown in the following chart: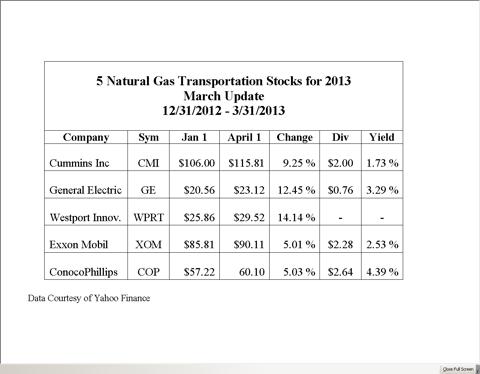 Assuming equal weight investments, the portfolio's year-to-date ("YTD") return is +9.18%. Dividends paid in March were:
CMI: $0.50 paid on 3/1/13
COP: $0.66 paid on 3/1/13
The total return of the portfolio, including dividends, is +9.82% YTD. In comparison, the S&P500 is up 10% so far this year.

Cummins Inc (NYSE:CMI) was little changed from the previous month. Heavy duty truck maker Navistar (NYSE:NAV) is consolidating engine production. The company has opted to purchase CMI's 15-liter engines instead of making its own.
The first Cummins L9.3 rolled off the assembly line in Guangxi Province, China, this month. The engine marked the official start of the Cummins' 50/50 joint venture with LiuGong Machinery called Guangxi Cummins Engine Company Limited (Guangxi Cummins). The engine plant is in the city of Liuzhou in southern China. The plant is one of the largest production facilities for off-highway diesel engines in China and has an initial production capacity expected to hit 50,000 units per year. In 2012, Cummins' sales in China exceeded $3 billion.
General Electric (NYSE:GE), a leading supplier of equipment and services for liquefied natural gas (LNG) projects worldwide, received a $620 million, 22-year service agreement to provide a broad range of advanced technology services for QGC's Queensland Curtis LNG plant off the east coast of Australia.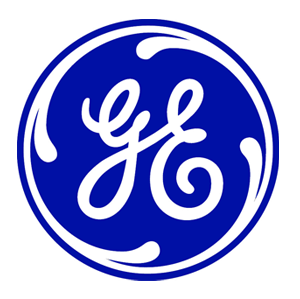 GE Oil & Gas received a 16-year service contract extension valued at $333 million for Sakhalin-2. One of the world's largest integrated oil and gas projects, Sakhalin-2 operates in the harsh environment of the Russian Far East. The service contract covers four GE Frame 7EA gas turbines that drive the process trains for Sakhalin's liquefied natural gas plant along with five GE Frame 5 gas turbines that are used for electricity production at the site.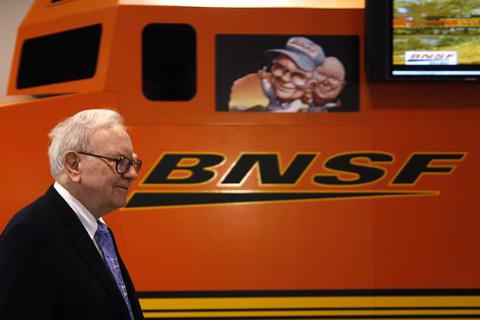 GE and Caterpillar (NYSE:CAT) are competing for the emerging market for natural gas powered locomotives. GE is the world's biggest maker of locomotives.
Boeing (NYSE:BA) named GE as the exclusive engine manufacturer for its future 777X double-aisle aircraft. Earlier 777 models used engines from United Technologies (UTC) and Rolls Royce. GE has effectively been the sole engine supplier for all of Boeing's long-range aircraft for almost 20 years.
Westport Innovations (NASDAQ:WPRT) was the biggest mover in March - up 6.2%. WRPT entered into a co-marketing agreement with ENN Group. ENN Group is one of China's largest private companies and will provide long term fueling solutions among other cooperative agreements with WPRT. I wrote an article in March, Clean Energy Boosted By U.S. Natural Gas Refueling Station Plans, which discussed ENN Group's plan to build 50 natural gas refueling stations in the U.S. in 2013.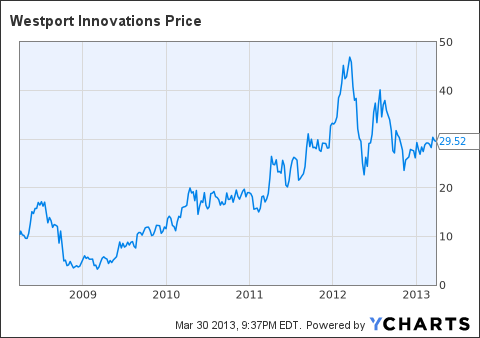 WPRT data by YCharts
Exxon Mobil (NYSE:XOM) was little changed in March. I wrote an article discussing XOM's 2:1 over-emphasis on stock buybacks vs. dividends: ExxonMobil: Buyback Heavy, Dividend Light. After all, even good companies can get better with constructive criticism. Meantime, natural gas rallied up to $4 MMBtu in March for the first time in quite awhile. That's bullish for XOM, the U.S.'s largest producer of natural gas.

ConocoPhillips (NYSE:COP) was up $1.82 or 3.1% in March. COP owns significant stakes in two large Gulf of Mexico discoveries announced in March: Shenandoah and Coronado. COP has a 30% working interest in Shenandoah and it was a monster discovery: 1,000 net feet of pay. COP also stands to gain from firming U.S. nat gas prices. The company is a top 10 domestic natural gas producer and shut-in significant capacity when prices dropped.
Conclusion & Summary
Although the portfolio's 7.86% return (excluding dividends) is lagging the S&P500's 10% return, there was significant bullish news on the natural gas transportation front. The growth components of the portfolio should perform well in a rising market, and the dividend yield should provide some protection in a down market. In addition, XOM is setup nicely for a bullish move should natural gas prices continue to firm.
Disclosure: I am long COP, XOM. I wrote this article myself, and it expresses my own opinions. I am not receiving compensation for it (other than from Seeking Alpha). I have no business relationship with any company whose stock is mentioned in this article.
Additional disclosure: I am an engineer, not a CFA. Please do your own research and contact your investment adviser. I am not responsible for investment decisions you make. Thanks for reading and good luck!