Do you remember the movie "Trading Places?" The evil Duke Brothers pay someone to steal the USDA orange harvest report before it is publicly released so they will know if they should short or buy orange juice futures. Our heroes intercept the thief and switch the report with a fake one to fool the Dukes into believing there will be a poor harvest. The Dukes start cornering the orange juice market on margin sending prices rocketing until our heroes short it before news of the bumper crop is released. They transform the Dukes from mansion-holders to street urchins in less time than you can say "Coming to America."
Did apple and orange juice futures move in tandem that imaginary day? Both are fruit. It may be just a movie, but we all know that you can't compare apples and oranges.
At a glance, Arena's (NASDAQ:ARNA) Belviq, Vivus' (NASDAQ:VVUS) Qsymia, and Orexigen's (NASDAQ:OREX) Contrave appear to be from the same tree. Belviq and Qsymia are the first FDA approved anti-obesity drugs since the 1990s. Contrave is at least a year behind if it obtains FDA approval. Their stock prices generally move in tandem, which is Wall Street's way of saying it is just juice to them. (Figures 1-2)
Figure 1. Three month chart for ARNA, VVUS and OREX shows correlation.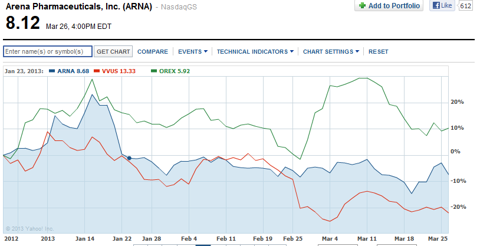 This association is so strong that seemingly illogical intraday moves often occur, as exemplified by events on Tuesday, March 26. Vivus dropped 5% after announcing new debt. Arena was up about 0.5% in anticipation of DEA approval and pending sales, until Arena suddenly dropped 5%. (Figure 2)
Figure 2. The March 26th decline in Vivus triggers a rapid and dramatic price drop in Arena.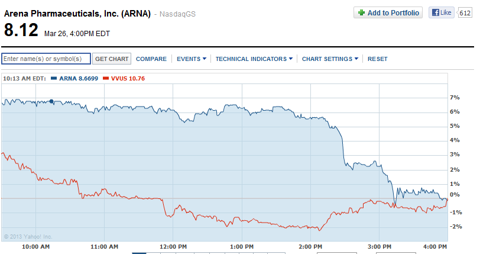 Fat is Golden
Although anti-obesity market shrunk from its peak of $5.6 billion in 1994 to about $1.4 billion in 2009, obesity rates have grown from 19% in 1997 to 36% in 2010. At least three anti-obesity drugs exceeded $300 million in sales in 2009 despite their unpleasant their side effects. But Fen-Phen (fenfluramine + phentermine) is the paragon of both anti-obesity drug success and failure. After $5.6 billion in sales in 1994 and 18 million prescriptions in 1996, Fenfluramine was pulled from the market in 1997 with legal settlements exceeding $3.9 billion.
While it is best to diet and exercise, don't say obese people taking anti-obesity drugs lack determination to lose weight. Existing anti-obesity drugs require people to deal with side effects that would deter a rhino, including: fecal incontinence, flatulence, diarrhea, bloating, nausea, leg cramps, cold symptoms, headaches, rash, addiction, insomnia, depression, birth defects, high blood pressure, increased heart disease, palpitations, and strokes.
GlobalData estimates the anti-obesity market could double or triple by 2017 if a company sold a safe and effective drug. A Piper Jaffray analyst predicted U.S. Belviq sales of $240 million in 2013, $497 million in 2014 and $1 billion in 2016. Last year, Thomas Wei at Jefferies predicted Qsymia would hit sales of $3.6 billion by 2019. Can the savvy investor do a better job than Wall Street in determining hype from reality and which company will fair best?
Understanding the FDA and DEA
The Food and Drug Administration (FDA) approves and regulates new drugs, as well as new uses or combinations of existing drugs. The Drug Enforcement Administration (NYSE:DEA) is a law enforcement agency in the Department of Justice that registers and classifies all drugs manufactured or sold. Drugs are registered I to V on the basis of their safety and abuse profiles, with Schedule I being the most dangerous and V being safest and least regulated.
Qsymia, a.k.a. "phentermine and topiramate extended-release" is a formulation of those generic, previously classified, Schedule IV drugs. Thus, after FDA approval it quickly reached markets. Contrave is also a formulation of two scheduled drugs, bupropion and naltrexone.
In contrast, Belviq is a novel drug and the DEA must issue a final schedule order before it can be sold. Both the FDA and DEA proposed registering Belviq in Schedule IV. Since January, Arena's shareholders awake each day hoping the order is issued and that Arena's partner, Eisai, is granted a waiver to allow sales to immediately begin instead of waiting 30 days.
Predicting Relative Success: Belviq vs. Qsymia
The spirited public exchange between supporters of these stocks may have created enough confusion to unjustly squeeze one or more company. To determine the best investment, I decided to compare factors important to success, including: marketing plans, public awareness, doctor and patient friendliness, side effects, competition from generic drugs, safety, efficacy, and cash for research and development. (Table 1) However, it is premature to include Contrave in this analysis.
Table 1. Critical differences and similarities between Arena-Belviq and Vivus-Qsymia

FACTOR

ARENA - BELVIQ

VIVUS - QSYMIA

EDGE

Cash or Cash equivalents (2012)

$171 million and will get $65 million from Eisai when DEA schedules Belviq (any day now)

$214.6 million

Arena

Debt

None

$110 million new debt on March 26 indicates sales are not gaining traction

Arena

Cost of Required Post-FDA Approval Studies

Arena's partners pay most of the costs for six studies. Arena pays 10% of the cardiovascular outcomes trial (CVOT) and 50% of the less expensive pediatric studies.

Vivus shoulders 100% of the 10 post-market studies including the $150-250 million CVOT trial.

Arena

Partners

Partners pay Arena a percentage of sales, research and regulatory costs, and pay milestone payments.

1. Eisai pays 31.5% of the net sales for the first $750 million and 36.5% thereafter. Eisai will pay adjustments and milestones totaling $1.2 billion.

2. Ildong will pay $3 million upon approval in South Korea and 35.5% to 45.5% net sales.

3. Arena is seeking a partner for Europe and other markets.

None

Arena

Markets

1. North and South America (Eisai).

2. South Korea (Ildong).

3. Europe (Seeking partner if approved by EMA in mid-2013).

4. Switzerland (Seeking partner. A decision is expected a few months before EMA).

5. Plans to market globally.

United States

Arena

Sales force

Eisai has 200 designated sales reps, 50 dedicated specialists, and three health economists. Eisai has experience in marketing Aricept, which recorded about $2 billion in peak U.S. sales.

150 contracted reps, including medical liaisons, and staff to assist with insurance issues.

Arena

Doctor Education

Eisai sponsor obesity treatment seminars and courses giving doctors continuing educational credits.

Offers grants to support continuing education courses, seminars, sales meetings and REMS education.

Tie?

Direct to Consumer (DTC) Advertisement

Employer-based education programs; DTC ads likely.

Patient education materials with doctor

Arena

Doctor Friendly

No Risk Evaluation and Mitigation Strategy (REMS). Like Qsymia, patients will be discontinued if they fail to lose 5% of their weight within 12 weeks.

Qsymia comes with a 70-page REMS guide for explaining safety, usage, pharmacy certification, titration (dosage adjustment or discontinuation), and patient follow-ups.

Arena

Consumer Friendly

Belviq will be distributed without restrictions.

Qsymia is limited to mail order pharmacies, but it may soon be sold in a few stores. REMS, titration, and monthly pregnancy tests are required.

Arena

Common

Side Effects

Non-diabetics experienced headache, dizziness, fatigue, nausea, dry mouth, and constipation.

Diabetics also experienced hypoglycemia, urinary tract infection, cough, procedural pain, and hypertension. (Figure 3)

Greater severity and likelihood of adverse events is reflected in the dropout rate. (Figures 3-4). Qsymia patients suffered four times the risk of cognitive impairment, increased heart rate, decreased serum bicarbonate, and possible teratogenicity.

Its constituents are known to have serious side effects not reflected in the relatively short Qsymia studies. Topiramate has five adverse effects in the11-24% range, including memory problems. Other side effects include eye pain, vision distortion and confusion.

Phentermine's numerous side effects include: strange or aggressive behavior, hallucinations, agitation, or a desire for more phentermine than prescribed (a sign of dependency).

Arena

Rare, But Serious

Side Effects

None are known, but this is a new drug so anything hinted in the results should be watched for. This includes the statistically insignificant heart valvulopathy results early in the study. However, over time, Belviq treated patients with preexisting conditions had 19% fewer instances than the placebo group.

Qsymia increased suicidal thoughts and Topiramate may cause birth defects.

Phentermine has many serious side effects, including: hypertension, amphetamine related morbidity (heart attacks, arrhythmias, strokes), restlessness, and drug abuse. In combination with some drugs it may cause valvular heart disease.

Arena

Dropout rate

About 41% with 37% due to patients being nonresponders (< 5% weight loss) and 4% due to side effects.

About 31-36% with 12-19% due to side effects.

Vivus

Weight loss

About half were "nonresponders," losing < 5% of their weight. Of the responders, 22.6% to 36.2% (pre-protocol) lost more than 10% within a year, averaging 8.2%. (Figures 5-6)

Qsymia had higher efficacy, and depending on the analysis, the highest dosage averaged a 9.2% loss after seven months (a 3% increase over the individual generic components), over 9.8% after a year, and 10.7% after two years. (Figures 5-6) Of concern is an analysis showing weight decreased after a year from about 12.5 to 10.5%. (Figure 7)

Vivus

Generic Competition

Belviq is a novel drug. People who had poor results on other drugs may try it.

Price-conscious patients can buy Qsymia's generic parts. Patients who previously rejected these drugs due to their side effects are more likely to avoid Qsymia.

Arena

Prescriptions

Expected any day now, after DEA final scheduling

Sales show a linear non-exponential growth unlikely to exceed 50,000 in its first year without a catalyst. (Figure 8)

?
Figure 3. Common Side Effects.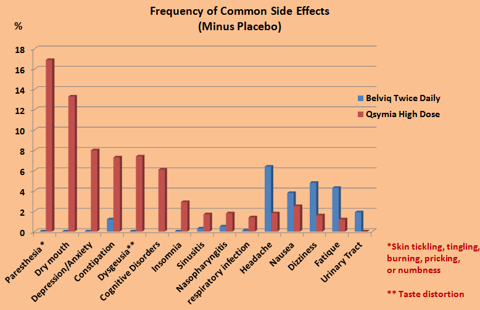 Figure 4. Dropout Rates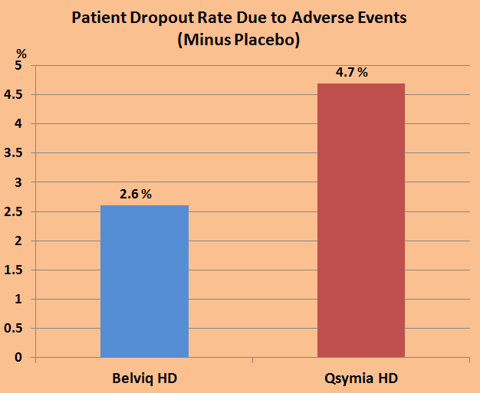 Figure 5. Average Percent Weight Loss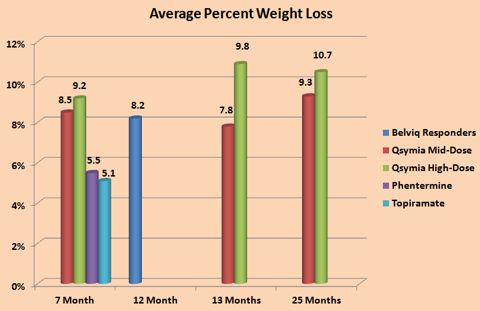 Figure 6. Patients Losing 10% Or More Weight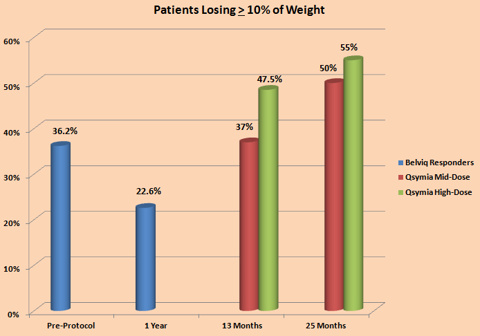 Discussion
With the exception of weight loss and dropout rates, the table shows Belviq having the edge in 12 of 15 categories. Doctor education is likely to shift to Arena as Eisai flexes a financial muscle unmatchable by Vivus.
Medical ethics calls for doctors to "first, do no harm." Qsymia, and its parts, are laden with side effects found with double digit frequency and have potential for serious side effects with long-term use or patient error. This issue must have given some doctors pause in prescribing Qsymia while awaiting Belviq and they will likely assign Qsymia as a second line of defense against obesity.
The dropout rate paints a complicated picture that may ultimately make Qsymia successful. Patients dropping a drug due to side effects could stigmatize a company since people are prone to remember pain and discuss it with others. Yet, Vivus may experience a net gain in patients as doctors place those unresponsive to Belviq on Qsymia. Since there is a seemingly unlimited supply of patients, both companies could do well.
Comparing the efficacy of the two drugs is difficult because they were never tested together, they used different protocols, and because Belviq is metabolized through multiple pathways with the significant genetic variation among people resulting in a large percentage of people being relatively unresponsive to Belviq. Qsymia is better at shedding pounds (Figures 5-6), but is it enough to matter under real world conditions? Qsymia's efficacy appears to decline after a year (Figure 7) and under pre-protocol conditions, 60% of patients on Belviq did better than in more stringent Phase 3 studies.
Figure 7. Qsymia Weight Loss Over Two Years.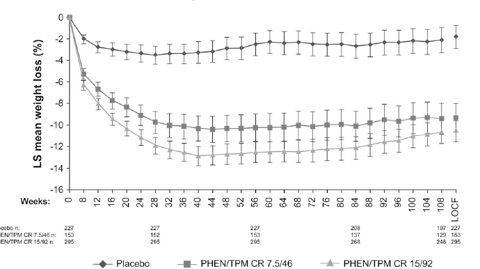 Figure 8. Linear Increase in Qsymia Prescriptions from September 2012 until mid-February 2013 at 4-week intervals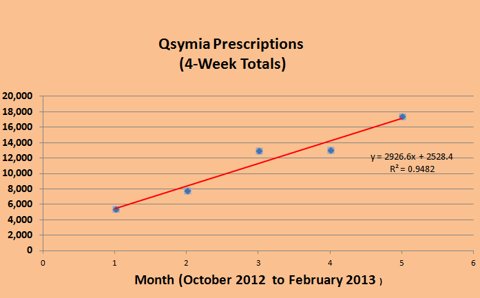 Conclusion
These facts may explain Qsymia's anemic linear growth rate despite expectations of exponential growth. (Figure 8) If this is mostly due to doctor reluctance to prescribe it, we may have a symbiotic relationship in which Qsymia's success is tied to Belviq. But it is unlikely to be mutualism. Bad news for Vivus should have little effect on Arena, whereas bad news for Arena, with the exception of dropout rates, is likely to harm Vivus. Instead of bashing Arena, perhaps Vivus supporters should be cheering when the DEA issues Belviq's final schedule since patients unresponsive to Belviq may try Qsymia, and doctors are likely to discuss Qsymia with patients seeking Belviq after viewing an advertisement.
The antiobesity stocks may continue to trade in tandem even if it appears Arena is undervalued since it has more favorable characteristics for success despite their similar market caps. (Figure 9, below)
I do not expect short-sellers to give up easily even though pending positive news for Arena cannot possibly be factored into Arena's price based on this comparison. But, conditions change quickly and the existing pattern will likely end when the obese patient on Belviq sings.
Figure 9. Market Cap for Arena and Vivus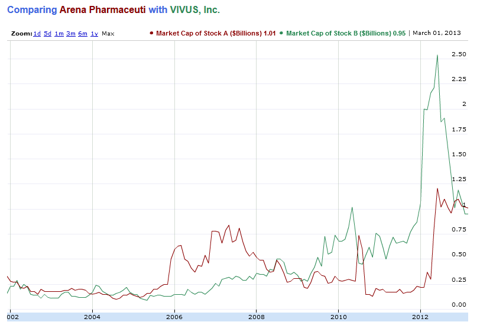 Disclosure: I am long ARNA. I wrote this article myself, and it expresses my own opinions. I am not receiving compensation for it (other than from Seeking Alpha). I have no business relationship with any company whose stock is mentioned in this article.
Additional disclosure: I am not a registered investment advisor and do not provide specific investment advice. The information contained herein is for informational purposes only. Nothing in this article should be taken as a solicitation to purchase or sell securities. Before buying or selling any stock you should do your own research and reach your own conclusion. It is up to investors to make the correct decision after necessary research. Investing includes risks, including loss of principal.