On Monday, April 6, Vanguard debuted its latest offering—the Vanguard FTSE All-World ex-US Small-Cap ETF (NYSEARCA:VSS)—touting the new fund as "the only international small-cap ETF to cover both developed and emerging international markets." By premiering VSS, Vanguard seeks to offer another alternative for investors looking to diversify their portfolios and defend their capital against the disastrous headlines plaguing many large-cap U.S. companies. VSS has a low expense ratio, only 0.38%, which is in sharp contrast to many of its international ETF peers and, therefore, will draw cost-conscious international investors. While the size, scope and theme of VSS may be appealing to investors from the outset, the inherent complexities for market makers could call into question the viability of the fund. The debut of VSS presents an excellent opportunity to examine the nature of international ETFs with underlying baskets of ordinary stocks and how these complexities affect individual investors.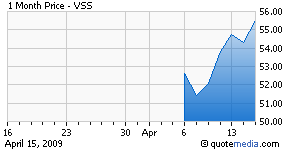 The second page of VSS's fund prospectus includes a note to investors that acknowledges that most VSS retail shareholders will be buying the fund on the secondary market rather than creating a unit of shares. While this statement may seem obvious to ETF investors without a few million dollars to spend on the new product, the statement goes on to note that "some of the information contained in this prospectus—such as information about purchasing and redeeming ETF Shares from the Fund and references to transaction fees imposed on purchases and redemptions—is not relevant to most individual investors." Investors should contemplate this claim and formulate an idea of what qualifies as "relevant" information, especially when buying a new product in a difficult marketplace.
VSS's index, the FTSE Global Small Cap ex US Index, covers approximately 3,300 holdings in 47 countries—approximately 1,500 of which are included in VSS's basket. The liquidity and pricing of an ETF are tied closely to the liquidity of the underlying shares as well as the ability and willingness of authorized market participants to hedge shares during the trading day. VSS consists of international small-cap companies, which will be less liquid than will domestic large-cap companies. The ETF's NAV will also be impacted by logistical matters like time zones, limitations on foreign ownership and currency concerns. Since VSS's components will not necessarily be trading at the same time as VSS itself, there is an increased probability that the fund will trade at marked premiums and discounts to NAV.
Creating a unit of VSS will be a complex, expensive process—a fact that may be more relevant to individual investors than Vanguard might lead them to believe. VSS is available in 100,000 blocks and has a creation cost of $28,000 per instance. As the market maker that initially seeded the fund sells off the created shares, Vanguard will likely hedge these transactions by buying shares of the underlying companies, futures or currencies, or use a combination of these methods and many more. The difficulty of completing this type of transaction, which is more significant with an international fund of this scope, is often reflected in the fund's price.
What do these difficulties mean for individual investors? As Vanguard points out in its introductory note, most individual investors will be buying and selling shares in the secondary market. In order for investors to buy and sell the fund for "what it's worth," this secondary market first and foremost has to exist, and second has to provide liquidity for prospective investors. The liquidity offered by large market participants reflects Vanguard's ability to make money on its own investment, and spreads will only increase if VSS's basket proves difficult to hedge. Investors should take a close look at the trading activity in VSS before purchasing shares. So far, the trading volume has been light, with problematic spikes in intraday trading. While it is possible for trades that occur vastly out of line to be busted or adjusted, it is a process that most individual investors would probably like to avoid.
A fund's viability is ultimately proven over time. The temptation to jump into the latest ETF product might be overwhelming to investors, especially those looking for safe havens in a difficult U.S. economy. Now, however, might be the best time to watch new ETF products and wait before investing to get an idea of whether an ETF is viable or not. In the meantime, many existing ETFs offer investors exposure to international markets and time-tested liquidity for trading ease. The Sector Momentum Tracker's ETF International Momentum table includes several liquid international funds that have made significant ranking moves in recent weeks. iShares' EEM, which tracks international emerging market economies recently moved from the 35 spot in the rankings on January 13 to the no. 13 position on April 7. While EEM differs in theme and methodology from VSS, its liquidity and increasing momentum might make the fund a more appropriate investment for individuals looking to diversify their portfolio with holdings outside of the U.S. While many new funds have methodologies that might look good on paper, only time will tell if ideas like VSS are viable in the open market.