Israeli-based Ormat Technologies (NYSE:ORA) is a premiere geothermal firm operating in the US. As a renewable resource, geothermal power generation has several advantages to its brethren solar and wind. The main advantage is the ability to use geothermal as a base load power-generating source rather than the intermittent characteristics of solar and wind. This difference should make geothermal a preferred renewable source.
While small within the world of power generation, OMA operates 575 MW of total output, spread across several plants in the US and abroad. 406MW of geothermal generation are directly owned by OMA in the US, 53MW are from industrial energy recovery facilities and the balance is international facilities.
Below is a table listing operating capacity by ORA's facilities.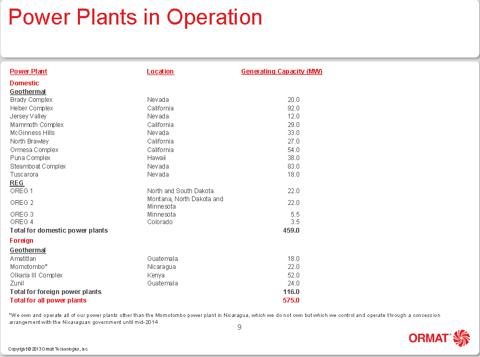 The concept of geothermal is relatively simple: drill into the earth where the natural heat turns water into steam and utilize the steam to drive turbines. There are two basic technologies, which use either high temperature or low temperature depending on the site. Below is a chart describing the process.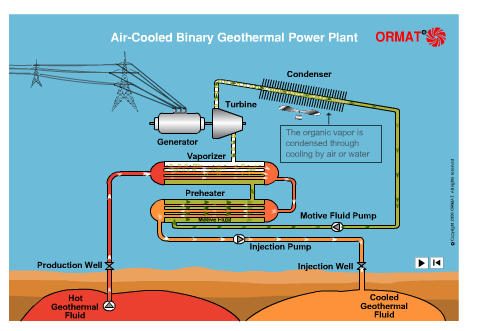 Below is a map showing areas of geothermal activity: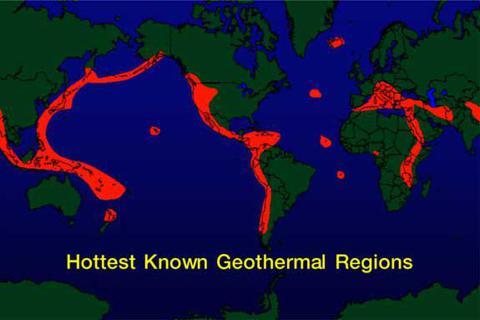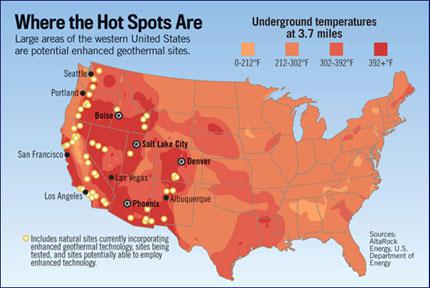 In addition to company-owned geothermal generating facilities, Ormat sells its equipment to third parties and offers operating contracts for the final facilities. The company also operates a number of industrial energy recovery facilities that are tied into client manufacturing operations, turning heat generated during the manufacturing processes into power. For example, ORA works with cement factories and gas pipeline compressor facilities.
Ormat has a checkered history with earnings peaking in 2009 at $1.51 vs. losses over the past two years. Revenue has grown from $415 million in '09 to $514 million last year. Share prices have also dropped from over $50 in 2008 and $44 in 2009 to a current $20, after hitting a low of $14 in 2011. Earnings this year are anticipated to be $0.62 a share and $0.79 in 2014. Dividends have also fallen from $0.28 a share in 2010 to $0.08 in 2012.
The main problem over the past two years has been its execution at a major project. In the 4th quarter 2012, OMA took a pretax impairment charge of $230 million relating to the North Brawley geothermal field in California. The facility was designed and built with a capacity of 50MW but has been unable to generate consistent production above 20MW to 33MW. The problem has been an underestimation of the underground reservoir capacity. This project has created investor concerns with OMA's aggressive plans to expand its generating capacity and number of facilities.
Ormat has acquired 670,000 acres of leases for exploration in California, Alaska, Hawaii, Idaho, Oregon, Nevada, New Mexico, and Utah, along with leases in Chile, Guatemala, and New Zealand. This inventory of opportunities should fuel more consistent earnings over time, if the geology turns out to be positive and if facilities can be built on a cost-efficient basis. In addition, several international prospects are beginning to develop in Indonesia, Japan and the Philippines. Japan is looking to add 670 MW of geothermal capacity by 2020.
In addition to the problems at North Brawley, competitive merchant power prices have been negatively impacted by the low natural gas prices. This problem has inflected pain among almost all non-regulated power producers, and is expected to ease over the next few years. Management recently announced a new long-term purchase power agreement with Pacific Gas and Electric (NYSE:PCG) replacing a short-run agreement with Southern California Edison (NYSE:EIX) tied to natural gas pricing. This new PPA should help with profitability at the Mammoth complex by the end of the year. The agreement covers 14MW of output, but also calls for ORA to pay EIX a termination penalty of $9 million, to be charged against earnings in the first quarter 2013.
On the plus side, OMA is the leading geothermal company with over 80 patents on its equipment and has been designing binary plants since 1965. For base-load requirements, geothermal is the preferred non-fossil, non-nuclear fuel source. The company has been successful in using renewable tax credits and cash grants for financing along with the issuance of additional corporate debt. Share count has remained unchanged over the past few years at 44 million shares outstanding. The large undeveloped acreage should provide several new locations for generating facilities over the next few years. The company has great exposure to emerging markets and their need for non-fossil fuel power generation.
On the negative, most of the easy geothermal locations in the US are being developed, leaving higher risk locals for future capacity expansions. The high cost of exploration and development with the potential for disappointing results such as the North Brawley facility are realistic concerns. An expiration of the $22 kWhr tax credit would negatively influence the economics of future US development, leaving Ormat more exposed to the political risks overseas.
More information can be found on Ormat Technologies website here and the latest investor presentation can be found here.
For utility investors seeking the higher risk and potentially higher reward of alternative energy should review Ormat. Patient shareholders could be well-compensated over time if the emerging market opportunities pan out, especially with firming natural gas prices and a few more US generating facilities.
Author's Note: Please review important disclaimer in author's profile.
Disclosure: I have no positions in any stocks mentioned, and no plans to initiate any positions within the next 72 hours. I wrote this article myself, and it expresses my own opinions. I am not receiving compensation for it (other than from Seeking Alpha). I have no business relationship with any company whose stock is mentioned in this article.